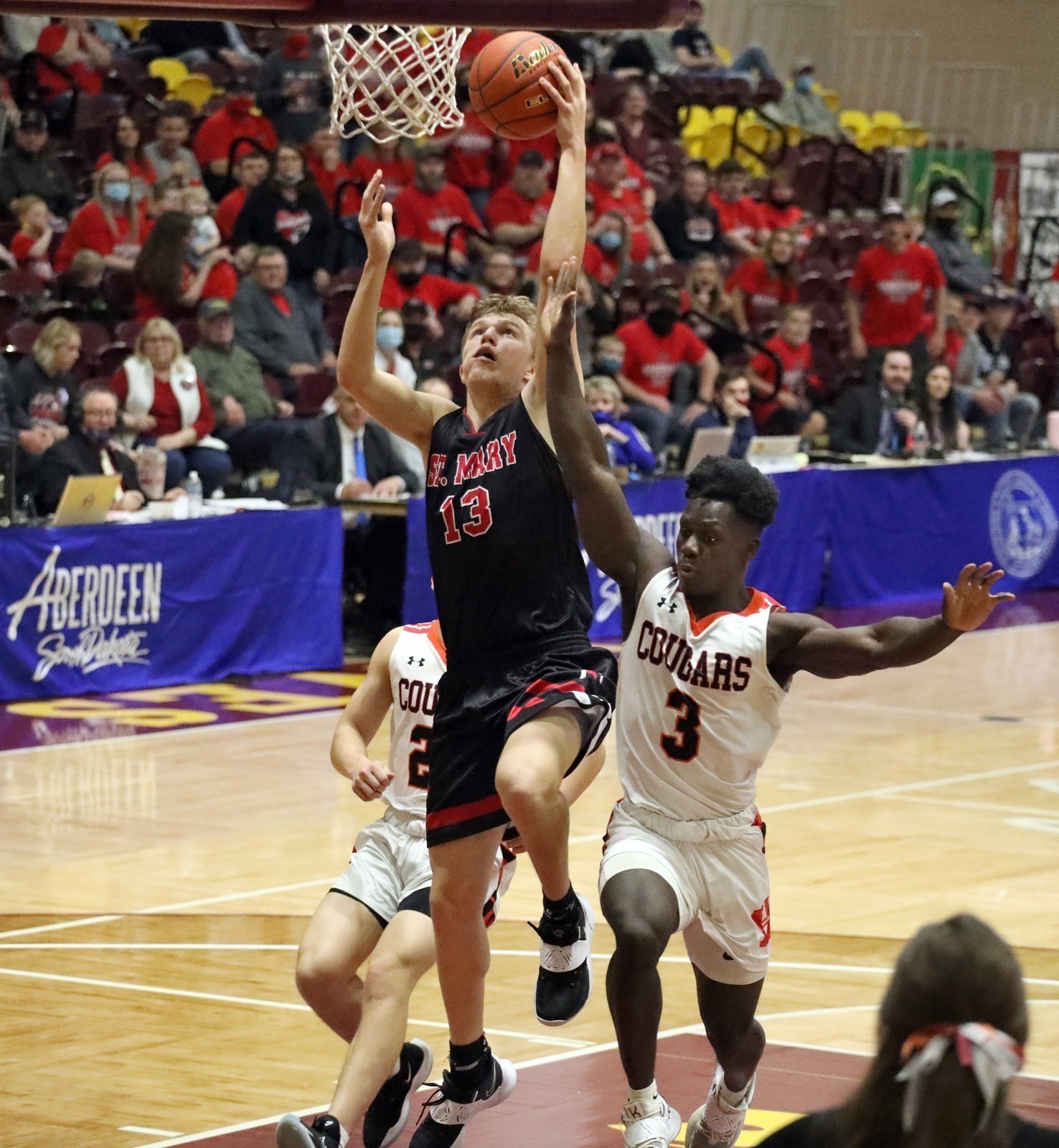 Dell Rapids St. Mary captured third place in the Class B State Boys' Basketball Tournament with a win over Viborg-Hurley by a score of 76-58 Saturday night at Wachs Arena.
The game started out with plenty of fireworks with three straight three-point makes from both teams and a combined 9-for-9 from the floor. Viborg-Hurley led 17-16 at the first media timeout.
Dell Rapids St. Mary grasped the lead at the end of the first quarter 29-26. The Cardinals and Cougars made a combined 10 three-pointers through the first eight minutes of play.
"I think the kids just came out loose and let it flow," said Viborg-Hurley coach Galen Schoenefeld in reference to the Cougars' early success from beyond the arc. Viborg-Hurley would go on to make seven three-pointers in the first half and 10 on the night.

Players on both teams oozed confidence at the start, but no one on Don Meyer Court exerted more aggressiveness and swagger than Dell Rapids St. Mary senior guard Connor Libis. The sharpshooter nailed back-to-back three-pointers from well beyond the arc at the beginning of the second quarter.
Much like Schoenefeld, Cardinals coach Colby Fitzgerald attributed his respective team's success from beyond the arc to the natural flow of the game.
"I think we were just coming out playing loose and playing together," Fitzgerald said, "and those were just the shots that we've been taking throughout the season."
Despite making eight three-pointers in the half, the Cardinals led by only four points as Viborg-Hurley closed the half on a 7-0 run to make it 46-42 entering the break.
While both teams cooled off from distance in the second half, the grit of the Cardinals' senior duo of Libis and Ashaun Roach-Valandra made the difference in Dell Rapids St. Mary going home with the third-place trophy. The Cardinals led 56-52 and the end of three quarters and held the Cougars scoreless for the first four minutes of the fourth quarter, building an 11-0 run before eventually claiming the victory.
"There's only a couple teams that get to end their season with a win and we're able to do it and end our career like this," said Libis. "I enjoyed my last game as a Cardinal."
For Roach-Valandra, the win filled the senior transfer from Todd County with even more gratitude for the program and the town of Dell Rapids as a whole. "I'm just very grateful to be here right now and I just cherish this time playing high school basketball," he said. "It's been a fun journey for me and I'm thankful for Dell Rapids."
The Cardinals, who finished the season 21-5, graduate four starters, a list that also includes Max Herber and Sam Palmer.
Libis finished with 29 points and ended his career as the state's third all-time leading scorer. Palmer followed with 17, and Roach-Valandra added 13.
Eli Boomgarden tossed in 21 points to lead Viborg-Hurley (18-7). Gradee Sherman contributed 17 points and 12 rebounds.
DELL RAPIDS ST. MARY (21-5): Ashaun Roach-Valandra 4 2-2 13, Max Herber 4 1-2 9, Connor Libis 9 7-7 29, Sam Palmer 6 3-4 17, Ty Brown 1 3-3 5, Hunter Griffin 0 1-2 1, Noah Dennis 1 0-0 2. Totals 25 17-20 76.
VIBORG-HURLEY (18-7): Carter Gust 2 0-0 5, Hayden Gilbert 1 3-6 5, Eli Boomgarden 7 0-0 21, Gradee Sherman 6 5-11 17, Grant Mikkelson 3 0-0 8, Calvin Rasmussen 1 0-0 2. Totals 20 8-17 58.
Dell Rapids St. Mary 29 46 56 76
Viborg-Hurley 26 42 52 58
3-point field goals – Roach-Valandra 3, Libis 4, Palmer 2; Gust, Boomgarden 7, Mikkelson 2. Total fouls – Dell Rapids St. Mary 15; Viborg-Hurley 18. Rebounds – Dell Rapids St. Mary 32; Viborg-Hurley 27 (Sherman 12). Assists – Dell Rapids St. Mary 16 (Roach-Valandra 5); Viborg-Hurley 13. Steals – Dell Rapids St. Mary 13; Viborg-Hurley 4.