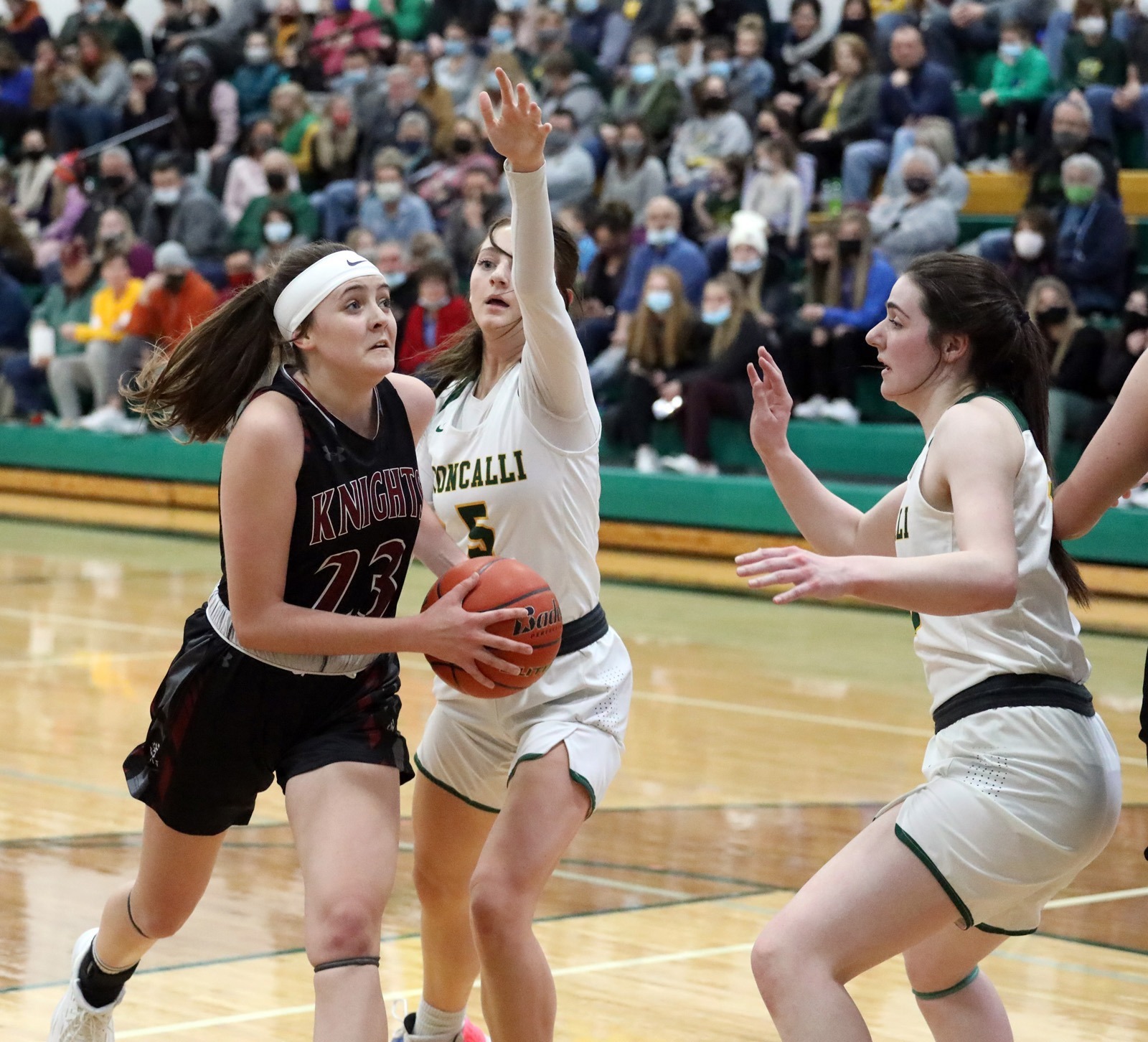 SUMMIT – Aberdeen Christian relied on its defense until the offense got going en route to a 49-21 victory over Britton-Hecla in Region 1B girls' basketball action Tuesday night.
The Knights led just 7-5 after the first eight minutes before breaking the game open in the second quarter.
"We got off to a slow start offensively. Britton-Hecla came out in a junk defense that caught us a little bit off guard," said Christian coach Michael Rohrbach. "Once we settled into it, we got some good looks, but struggled to get them to fall."
The defense was a mainstay all game, though, and eventually that defense helped to jump start the offense.

"Our defense was solid, holding them to seven points in the first half," Rohrbach said. "And our half-court trap allowed us to get some easy points and pull away in the second half."
Christian had a balanced scoring attack led by Grace Kaiser with 12 points. Joy Rohrbach and Mallory Miller each contributed nine, and Hanna Miller finished with eight.
"No matter who you play, it's tough to get a playoff win," Coach Rohrbach said. "You have to expect adversity and be able to rise above it, which we were able to do. I'm proud of the girls and their grit."
Christian, 11-8, now faces Waubay-Summit in semifinal action at 7:30 p.m. Thursday at the Aberdeen Civic Arena. The other semi pits Waverly-South Shore against Warner at 6.
BRITTON-HECLA: Marissa Sumption 0 0-2 0, Mckaelyn Zuehlke 1 1-2 3, RaeAnn Hagenson 1 0-2 2, Sterling Brassfield 1 1-2 3, Chloe Furman 1 0-0 3, Jayden Bender 2 0-0 4, Alyssa James 2 0-0 6. Totals 8 2-6 21.
ABERDEEN CHRISTIAN: Rachel Beaner 1 0-0 3, Joy Rohrbach 2 4-10 9, Kaylee Block 2 0-0 4, Hanna Miller 3 2-4 8, Grace Kaiser 5 2-2 12, Mallory Miller 3 3-6 9, Chloe Bosma 1 2-2 4. Totals 17 13-26 49.
Britton-Hecla 5 7 17 21
Aberdeen Christian 7 19 33 49
3-point field goals – Furman, James 2; Beaner, Rohrbach. Total fouls – Britton-Hecla 19; Aberdeen Chrisitan 11.