Northern State won the battle of the numbers on Saturday afternoon, except for the total that mattered most.
Despite having more yardage, more first downs and winning the time of possession, the Wolves dropped a 31-21 decision to No. 21 Augustana in a Northern Sun Intercollegiate Conference football game in the final home contest of the year at Dacotah Bank Stadium.
"They made the plays," said Northern coach Mike Schmidt, "and we didn't make the plays when we needed to make the plays."
The tone for the contest was set in the opening half when the Vikings made the most of their trips to the red zone while Northern came away empty handed.
Augie, 9-1 on the season, scored touchdowns on their first two possessions and never led by less than 10 points throughout the contest. Meanwhile, the Wolves had two drives into the red zone that resulted in missed field goal attempts on both possessions.
"We aren't that far off," Schmidt said, "but we let them turn it into seven points and we attempted for three and weren't able to convert those."
The Wolves never gave up. In fact, they always seemed to be within striking distance, but never able to make it a one possession game.
Northern outgained the Vikings 433 yards to 331, had eight more first downs, and had the ball seven more minutes. However, the Wolves could never get the stop they needed down the stretch to have a chance to make a serious run.
"That's a really good football team with a lot of guys that are veteran players," Schmidt said of Augustana. "Today we didn't make enough plays early on and then when we got it tight, we didn't make enough plays defensively."
Jacob Van Landingham, who scored NSU's first TD on a quarterback keeper, threw for 298 yards and a pair of touchdowns to Dewaylon Ingram. The senior receiver from Carthage Texas, finished with 11 catches and recorded his sixth game this season with more than 100 yards receiving.
Ingram said it was meaningful to have a pair of touchdowns in his final home game.
"It's rewarding," Ingram said. "Coach Schmidt talked about it all week, just competing whatever the scoreboard says, no matter the outcome, just competing at a high level."
Dakota Larson added 125 yards receiving, while Hank Kraft powered the NSU running attack with 82 yards.
Defensively, the Wolves were led by Trey King who recorded 10 tackles. Jake Adams added nine stops and Luke Gunderson contributed seven.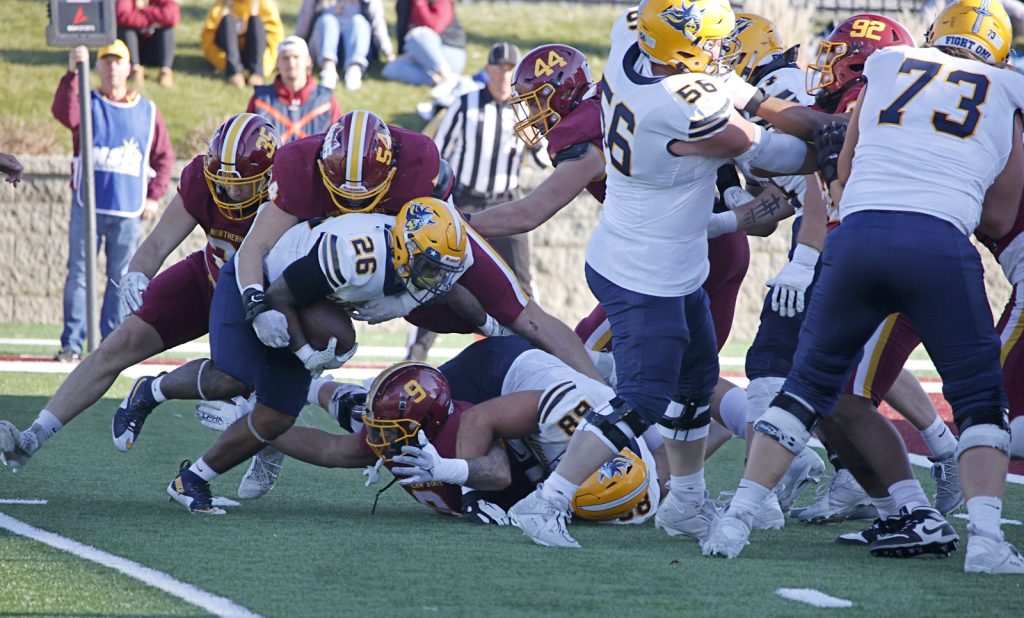 The Wolves, 4-6 on the season, conclude the season with a road game at Northern Michigan on Saturday. King, a senior from Irene, said that contest will not be taken lightly.
"Nobody wants to end a season, and furthermore end a career, on a loss," King said, "so we're all going to work this week, and we're going to work on our way out there, and we're going to work when we get there."
While the season has not unfolded the way the Wolves would have wanted, Schmidt said the team is better than its record indicates.
"The program is in a lot better spot now than it was in week one," Schmidt said. "It doesn't feel like that, the results don't feel like that, but I promise you our football program is in a better place right now at 4-6 than we were at 0-0 or 0-1 10 weeks ago."
To see a complete box score of the game, click on the following link:
https://nsuwolves.com/sports/football/stats/2023/augustana-university/boxscore/13167