RAPID CITY – It took a total team effort to pull off a memorable team victory Thursday night.
Miller received contributions from a variety of players, came up big when it mattered most and edged Wagner 25-23, 25-18, 11-25, 22-25, 15-12 in the opening round of the Class A State Volleyball Tournament at The Monument.
"These kids have more heart and hustle than anyone I know right now," said Miller coach Linda DeBoer.
She said the players always seem to find a way and they did against the Red Raiders.

"We do a lot of drills where it is you don't get off this court until you find a way to win," DeBoer said, "and I think it helps in situations like this where you've got to keep battling and not give up."
After winning the first two sets, Miller lost its footing in the third and fourth sets and suddenly found itself facing a must-win fifth set. The Rustlers trailed 5-2 to start that crucial set, but quickly tied the score and then it was a battle the remainder of the way until Gracen Werdel produced back-to-back points to finish off the match.
For the Miller players it all came down to a matter of trust.
"We never stop playing as a team, even when the score shows that we're down, we're not down in our hearts," said Miller senior Shaylee Anderberg. "It's heart over hype for us, because we're not a very tall team, so we always pull it out just for the trust that we have in each other."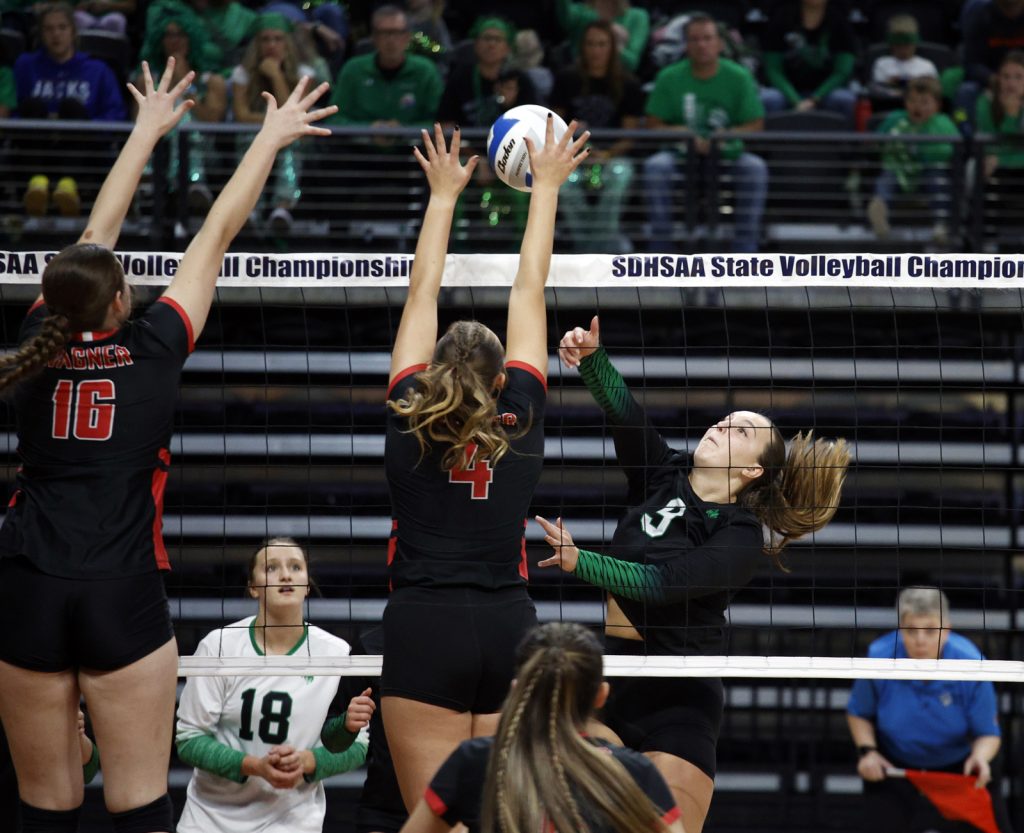 When asked how the Rustlers were able to halt Wagner's momentum heading into the fifth set, Paige Werdel responded, "It was just through my teammates and we had a lot of trust in each other, and we knew that in our hearts we could accomplish it."
Werdel helped Miller get off to a solid start in the match with her hitting in the opening sets. She showed no sign of nerves despite playing in her first state tournament.
"I was really nervous since it's my first tournament," she said, "but as soon as you get on the court, it's just a different mindset and you just lock in."
While Werdel topped the team with 20 kills and Anderberg had 16, it was a total team effort that saw Journey Palmer lead the squad with six aces, Heather Resel finish with 43 set assists, and Jolie Palmer rack up 31 digs.
"It seems like every match, somebody new leads us," DeBoer said. "The balance on this group is really exceptional."
That balance and the ability to adapt with the match on the line proved to be the difference against the Red Raiders.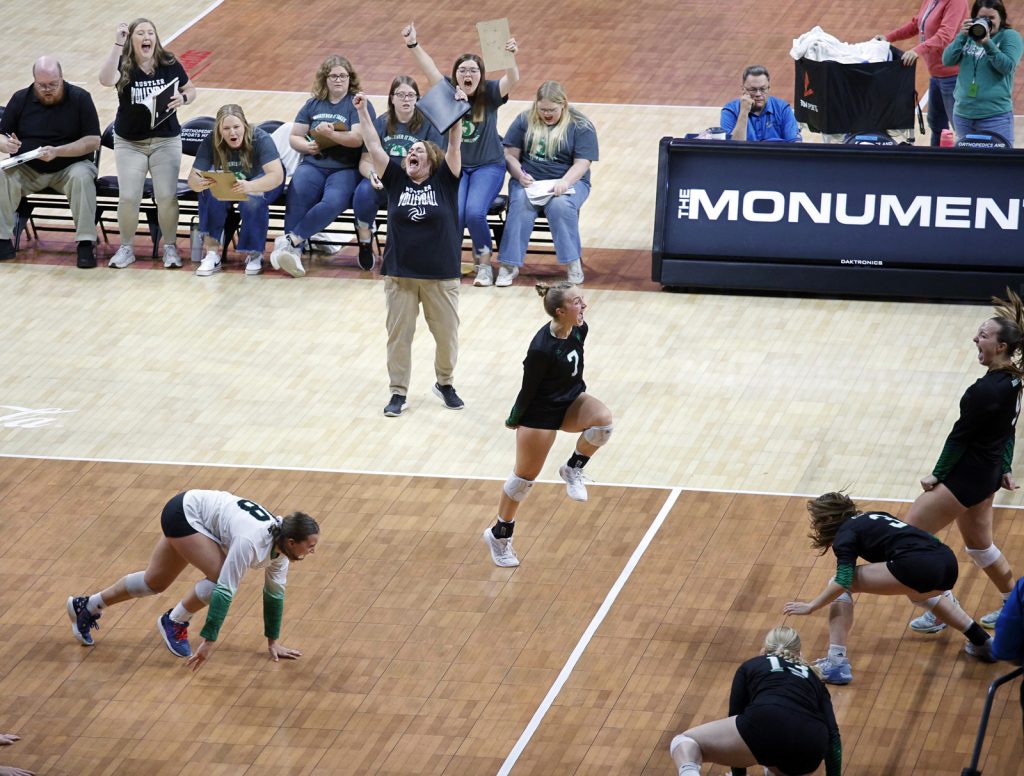 "I feel like we're one of those teams that doesn't have one or two of those go-to kids, and that's a strength to our offense, because we can move the ball around to all of them," DeBoer said. "They just were really strategic in that fifth set and we tried to move our offense around a little bit and it seemed successful, just trying to show them something that they hadn't seen in the other four sets."
Ashlyn Koupal topped Wagner with 21 kills. The Red Raiders had 102 digs on the night.
While Miller lost a lot of players to graduation from last year's state tourney squad, the mindset remains the same.
"We play a really mental game of volleyball. We call it smarter not harder and so we find the open spots," Anderberg said. "We talk to each other. When one person's having an off game or having an off hit, we always trust the next person and we bring it right back."
The Rustlers (29-6) will square off against Rapid City Christian in the semifinals at 6:45 tonight. The Comets won their own five-set opener to advance in the tourney.
"Good quality ball club. Lots of good kids on that team," DeBoer said. "They fought hard in their five-setter too, just to keep finding a way to win and to score."
Regardless of what happens this evening, one thing is for sure, the Rustlers will go to battle together.
"I'm just so proud of the heart and hustle in my team and their determination," DeBoer said. "They really stepped up and pulled it together when they needed to. I think this just proves that they're stronger together."
Serving: Wagner 3 aces (Macy Koupal 1, Madi Knebel 1, Shona Kocer 1); Miller 13 aces (Journey Palmer 6, Aleah Schlechter 2, Jolie Palmer 2, Gracen Werdel 1, Kate Lichty 1, Heather Resel 1).
Hitting: Wagner 54 kills (Ashlyn Koupal 21, Kya Kjeldgaard 14, Kocer 8); Miller 55 kills (Paige Werdel 20, Shaylee Anderberg 16, Schlechter 9).
Setting: Wagner 43 assists (M. Koupal 41); Miller 49 assists (Resel 43).
Digs: Wagner 102 (Knebel 26, M. Koupal 23, Kjeldgaard 18, A. Koupal 16); Miller 64 (Jolie Palmer 31, Anderberg 14).
Blocks: Wagner 1 solo 20 assists (Kjeldgaard 1 solo 3 assists, Ravyn Medricky 6 assists, Kocer 4 assists, Aubrey Medricky 4 assists); Miller 2 solo 9 assists (Lichty 1 solo 3 assists, P. Werdel 1 solo 2 assists, G. Werdel 2 assists).
Records: Wagner 26-7; Miller 29-6.