Aberdeen Central struggled to find its way on Tuesday night.
The Golden Eagles fell to Sioux Falls Roosevelt 25-23, 25-17, 25-23 in a non-conference volleyball match at Golden Eagles Arena.
The Rough Riders took the opening set with solid defensive play at the net. The Golden Eagles also struggled a bit at the service line in an attempt to get the visitors out of system.
"I thought they came out and they blocked really well, and then that kind of slowed us down at the net," said Central coach Jackie Bindenagel. "We knew we wanted to serve really aggressive and finally we got that rolling a little bit. Missed some serves in set one, but the kids were trying to go for some things. It just didn't go our way."

While the Golden Eagles struggled with serving in the opening set, Sawyer Bahr provided a bright spot. Down 16-12 after a timeout, Central scored, allowing Bahr to come to the service line. The senior then hammered three consecutive aces, tying the set at 16 all.
Bahr felt the team had positives and negatives during the first set.
"That was a fun set," Bahr said. "We couldn't put a good swing on the ball, but our serving was pretty good. Our defense and our serve receive was amazing."
Bahr added a fourth ace in the second set, and while Bindenagel was pleased with her performance, she said the Golden Eagles were unable to sustain momentum from the service line.
"She went back to the service line and did a really nice job for us, and I felt like some other kids served well, too," Bindenagel said. "But then maybe like a strange play would happen and they couldn't retain their serve, even though they served a good ball, so, yeah, just didn't go our way."
The Rough Riders were also able to find open spots offensively, which threw the Golden Eagles out of rhythm during the match.
"We just couldn't find much of a rhythm," Bindenagel said. "They hit some really good shots, and I can't say we weren't ready for them, but they found the open spots for us."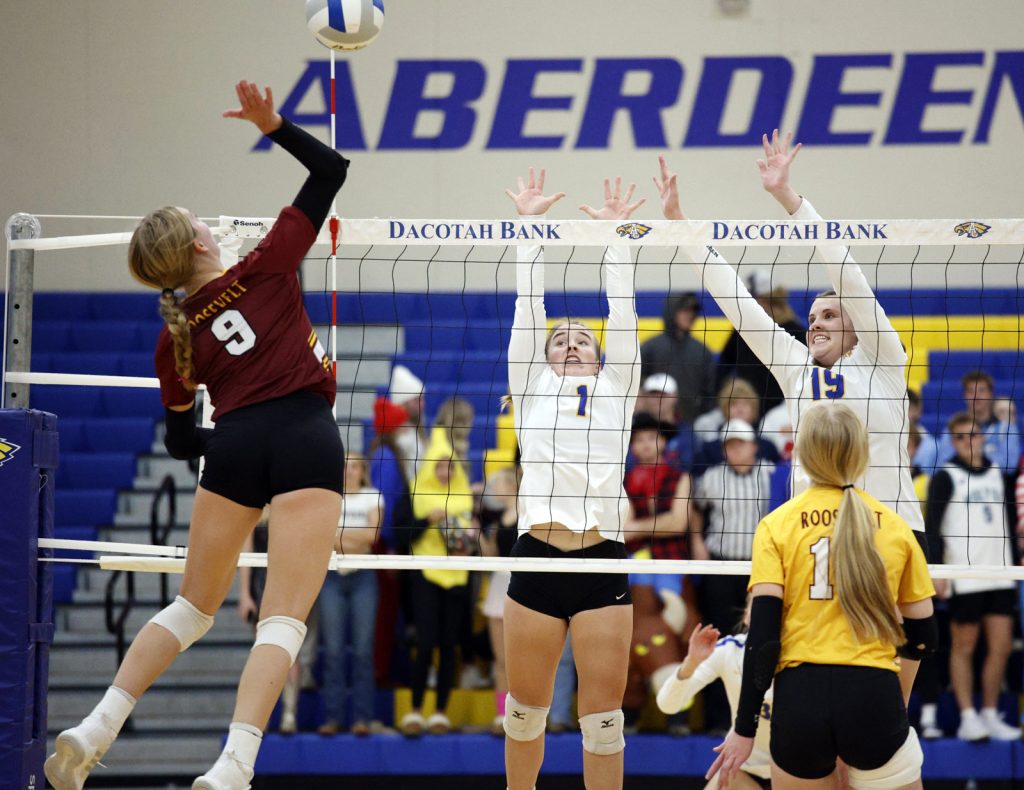 After Roosevelt took set two, the Golden Eagles fought hard in set three, creating a back-and-forth set, determined to force a fourth set. However, after a Central timeout and the score tied at 21-21, Roosevelt ended the set on a 4-2 run, cementing the sweep.
"They got into a rotation where they had three really strong hitters in the front row and we didn't slow them down like we should have," Bindenagel said.
Lauryn Burckhard led a balanced hitting attack for the Golden Eagles with seven kills.
Despite the loss, Bahr, who finished with 15 digs along with the four aces, was proud of her team's effort.
"I think we played awesome," Bahr said. "They're a good team. They really came out and they put a lot on the ball. They had a great block, and so did we, but it was a tough game. We tried our best and hopefully on Thursday we can go get Jefferson."
The Golden Eagles, now 13-10 on the season, will travel to third-rated Sioux Falls Jefferson for their regular-season finale. Bindenagel said the team will need to be ready to go.
"We're going to have to come in and just be really aggressive with everything we do and just give it our best shot," Bindenagel said.
Serving: Sioux Falls Roosevelt 65-74 10 aces (Kate Wiebesiek 12-14 4 aces, Katie Bleeker 15-16 2 aces); Aberdeen Central 52-61 5 aces (Sawyer Bahr 16-17 4 aces).
Hitting: Sioux Falls Roosevelt 97-112 33 kills (Kaylee Evenson 36-38 11 kills, Rylie Brouwer 15-17 6 kills, Avery Goebel 12-14 6 kills); Aberdeen Central 75-94 22 kills (Lauryn Burckhard 24-27 7 kills, Ashley Wangler 10-20 4 kills, Kenadi Withers 15-18 4 kills, Taryn Nieman 11-13 4 kills).
Setting: Sioux Falls Roosevelt 31 assists (Wiebesiek 28); Aberdeen Central 20 assists (Ayrlie Waldo 18).
Digs: Sioux Falls Roosevelt 56 digs (Bleeker 25, Christy Moncur 10); Aberdeen Central 50 digs (Bahr 15, Waldo 7, Burckhard 7).
Blocks: Sioux Falls Roosevelt 9 solo (Avery Allenstein 4 solos, Goebel 3 solos); Aberdeen Central 1 solo 2 assists (Wangler 1 solo, Waldo 1 assist, Nieman 1 assist).
Records: Sioux Falls Roosevelt 12-17; Aberdeen Central 13-10.