MELLETTE – Hitchcock-Tulare put Faulkton in a tough spot to start their Class B SoDak 16 volleyball match Tuesday night, so the Trojans got defensive.
Faulkton picked up the pace at the net, began covering the court like a blanket, and pulled away for a 25-22, 25-16, 25-20 victory in front of a packed and loud Northwestern gym to advance to next week's state volleyball tournament.
"We've been priding ourselves on our block and our defense for this second half of the season," said Faulkton coach Mallory Schlechter. "We knew it was a process, it's a work in progress, but we've really done well with that lately. We knew that was going to be to our benefit tonight."
The Patriots got Faulkton's attention early on, racing out to an 11-5 lead with the margin eventually reaching 18-11 before everything turned.

"We got them off kilter right away. We were hitting, we were serving aggressively, we got them out of system, which that really helped," said Hitchcock-Tulare coach Jordan Opp. "And the tide turned and they had us on the opposite end. We kind of shut down, quit hitting, we were pushing, we were tipping and with a good team like that, I knew they were covering that stuff."
Faulkton scored six straight points, eventually caught the Patriots at 20-20, and then finished off the opening set on a 5-2 surge.
It was Faulkton's ability to take control of the net that led to the Trojans taking control of the match. They were able to slow down Hitchcock-Tulare standout Katleyn Schroeder, who hurt them when the Patriots won a previous match during the regular season.
"Katelyn is a good girl," said Faulkton's Carley Cotton. "We were not ready for that (the first time) and I felt the past work that we put in, like focusing on her, because she was really big for them, we put in the work and we fought."
Soon, the Patriots were forced to look for other options and Faulkton made sure those were covered up as well. Multiple Trojans made diving attempts throughout the match to keep the ball from hitting the floor.
"Every team we play we just set up a defense for and we focus really hard to make sure no ball ever touches the floor," said Faulkton senior setter Tegan Baloun. "It's just a big goal that we strive towards."
Faulkton's air-tight defense is something that the Trojans take pride in and it served them well in their biggest match of the season.
"We can cover a lot of ground. We've got defensive players that can play a lot of places," Schlechter said. "We're just proud of them and the effort they always put in every time they step on the court."
Once the Trojans had the momentum, they were not about to relinquish it. Faulkton pulled away from the Patriots in both of the final two sets to secure the sweep.
"We stress that a lot in practice," Cotton said. "Our coach, she's all about energy, energy, energy. When we got that energy, we just had to put it to them."
Faulkton's offense soon followed the lead of the defense and kept the Patriots off balance most of the night.
The Trojans racked up 36 kills using multiple hitters, led by Cotton with 17 kills and Addison Melius with 14.
"I have great hitters all the way round," said Baloun, who led the team with 15 set assists. "It's just really nice, because I can mix it up and no team ever knows where we're going or who we're looking towards, because I can go to anybody whenever."
In the end, though, it was the defense that paved the way to the state tournament for the Trojans.
"They played outstanding defense," Opp said. "They covered the tip, they covered the three. We tried to throw about everything at them."
Schroeder still led the Patriots with 15 kills, but that was just half of the total she had in the team's Region 1B semifinal win.
"They did an excellent job on her," Opp said. "You have to give credit where credit's due."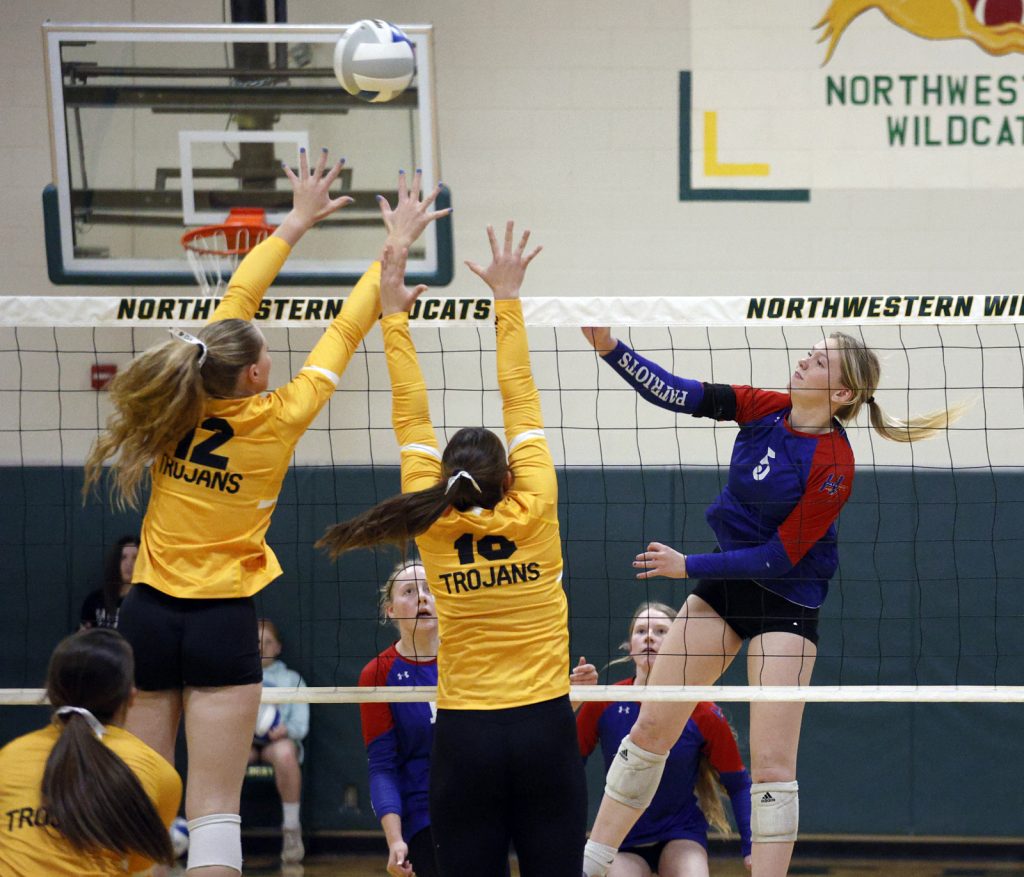 Hitchcock-Tulare concluded the season with a 24-8 record and returns most of its players for next season, which gives the Patriots optimism for the future.
"We have basically our whole rotation coming back," Opp said. "Our girls are going to be out for a terror next year, honestly."
Faulkton, 24-9, will enter the state tournament as the seventh seed and take on second-seeded Chester Area in the opening round at 5 p.m. (MDT) Thursday, Nov. 16 in Rapid City.
The trip to the state tourney is something the Trojans have targeted for a long time.
"It's crazy," Cotton said. "We fought all year, all year, big goal of ours, and we did it."
Serving: Faulkton 72-75 1 ace (Tegan Baloun 17-17 1 ace, Kelli Stoecker 14-14); Hitchcock-Tulare 50-56 5 aces (Gracyn Bixler 12-14 2 aces, Lila Johnson 11-11 1 ace, Isabel Gilbert 9-10 1 ace).
Hitting: Faulkton 108-120 36 kills (Carley Cotton 46-50 17 kills, Addison Melius 40-45 14 kills); Hitchcock-Tulare 105-123 29 kills (Katelyn Schroeder 37-41 15 kills, Rebecca Huizenga 18-19 6 kills, Ella Johnson 31-41 5 kills).
Setting: Faulkton 119-120 32 assists (Tegan Baloun 56-57 15 assists, Micah Martinmaas 43-43 12 assists); Hitchcock-Tulare 140-141 28 assists (Lila Johnson 99-100 22 assists, Bixler 25-25 6 assists).
Digs: Faulkton 85 (Cotton 28, Melius 17); Hitchcock-Tulare 81 (Cambree Hoekman 19, Schroeder 16, L. Johnson 12).
Blocks: Faulkton 1 solo 6 assists (Jaymi Senn 1 solo 1 assist, Kelli Stoecker 2 assists, Baloun 2 assists); Hitchcock-Tulare 1 solo 4 assists (Gilbert 2 assists, L. Johnson assists).
Records: Faulkton 24-9; Hitchcock-Tulare 24-8.