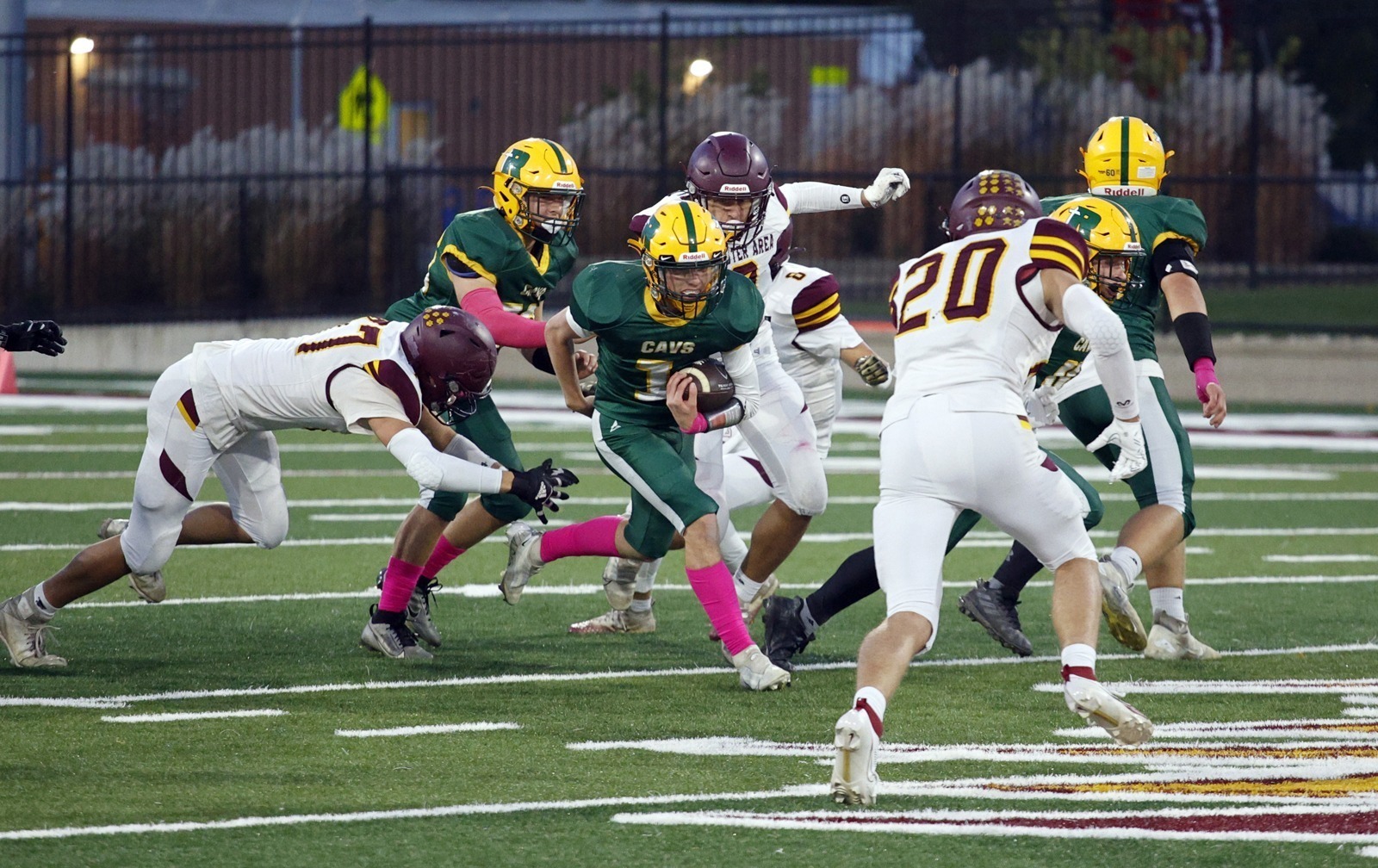 WINNER – Aberdeen Roncalli overcame many challenges this season, but was unable to take down its final foe Thursday night.
The Cavaliers saw their season come to an end in a 28-0 setback to top-seeded Winner in the quarterfinals of the Class 11B football playoffs.
"Before our season even started a lot of people had these guys counted out just for the fact that we lost 15 seniors. People just assumed it was going to be a rebuilding year," said Roncalli coach Billy Young. "I told our guys after the game they've proven people wrong since day one, since we started."
A young team got even younger when several key starters were injured during the season, but the Cavaliers kept winning games, eventually finishing with a 7-3 record.

"When we lost those injured players the last few weeks, people kind of were ready to stick a fork in us," Young said. "We just kept trucking along and finally ran into an opponent we couldn't beat tonight."
Nobody has been able to beat Winner so far this season as the Warriors improved to 10-0.
The contest was close for a half as Winner led just 6-0 at the break. However, when Karson Keiser broke free for a 65-yard touchdown run on the first play from scrimmage in the second half, it marked the beginning of the end for Roncalli.
"The one long touchdown run they had to start the second half we had two defenders there and then they collided with each other, and the guy just kind of slipped out and went," Young said.
Meanwhile, the Cavaliers were unable to mount a comeback. Roncalli put the ball on the ground six times, losing two of the fumbles.
"We didn't help ourselves at all offensively, by putting ourselves in bad positions," Young said. "It was just hard to hold onto the ball. It was cold and wet. The quarterback and center couldn't feel their hands, which makes it tough."
While the Warriors tacked on two more second-half scores, it was their second touchdown that changed the complexion of the game, forcing Roncalli into a spot it didn't want to be in.
"If you're going to win, you can't let it get to a more than one possession game, because it takes you out of your element. You have to start doing things that you're not used to doing," Young said. "It was hard to overcome, not just how good they were, but some of our own mistakes, and then the weather. We're not a throwing team and we got in a situation where we had to throw the ball in those elements, and that made it really tough."
Winner attempted only one pass in the game and that resulted in an interception by Aiden Fisher. However, the Warriors racked up more than 300 yards rushing in the contest led by Aiden Barfuss with 106 yards and Keiser with 97. One of Winner's touchdowns came on defense when the Warriors returned a fumble three yards for a score.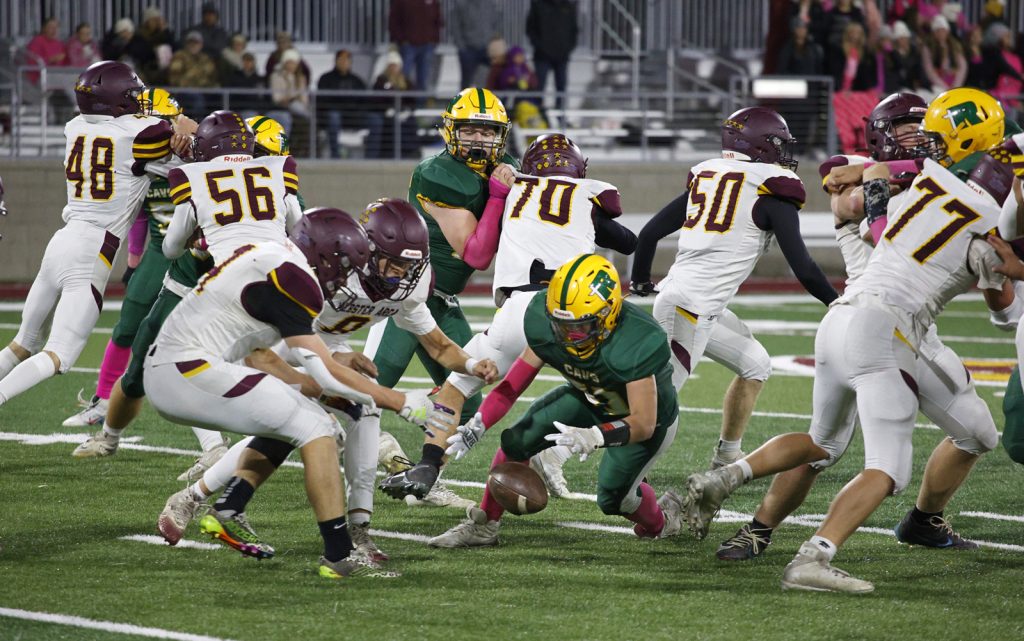 Young felt that his team's defense (led by Brad Harms with nine tackles) played solid the entire way.
"I just felt like the whole game our defense just played really well," Young said.
He noted that the Warriors didn't have many big plays.
"You take away that one long run," Young said, "we made them convert several fourth downs."
Winner will host Elk Point-Jefferson in the semifinals next week in a rematch of last year's state championship game.
Roncalli will now look to the future, which looks bright with the majority of the players returning.
"Just really proud of our guys. We lose four seniors that have been a lot to our program. They're going to be a big loss," Young said, "but we do have a lot of guys coming back next year, seven starters on both sides of the ball and multiple other guys who contributed, who maybe started a game here or there."
Aberdeen (7-3) 0 0 0 0 – 0
Winner (10-0) 6 0 14 8 – 28
First Quarter
W – Aiden Barfuss 21 run (run failed), 7:10.
Third Quarter
W – Karson Keiser 65 run (run failed), 11:46.
W – Stratton Morehart 9 run (Barfuss run), 4:21.
Fourth Quarter
W – Gus Bartels 3 fumble recovery return (Jude Sargent run), 5:09.
OFFENSE: Aberdeen Roncalli, rushing 23-33 (Aiden Fisher 13-20, Kaden Larson 8-11), passing 7-16-1 or 57 (Fisher 7-16-1 for 57), receiving (Keegan Stewart 2-33, Jett Johnson 3-20, Zane Backous 1-6), first downs 5; Winner, rushing 51-312 (Barfuss 15-106, Keiser 10-97, Ryken Orel 4-38, Sargent 6-38, Morehart 4-17, Bartels 8-15), passing 0-1-1 for 0, first downs 16.
DEFENSE: Aberdeen Roncalli, Brad Harms 9 tackles, Josh Schaunaman 7 tackles, Noah Kramer 5 tackles, Joey Johnson 5 tackles, Fisher 3 tackles and 1 interception; Winner, Shawn Hammerbeck 5 tackles including 1 sack, Bartels 4 tackles and fumble recovery, Keiser 1 interception.