WARNER – The Warner Monarchs have been the gold standard for Class B volleyball in recent seasons and nobody has been more golden than the person who orchestrates it all. At the helm of the top-rated and undefeated juggernaut is four-time all-state setter Ava Nilsson.
While the senior is at the hub of the action, Nilsson is quick to note that she is just a piece of the puzzle.
"I love the connection that I have with every single person on the court," Nilsson said. "Whether it's a defensive player or a hitter, a setter really connects with every single person."
Nilsson said it takes the backrow to send a pass that she can handle and it's the hitters that finish off the points.
"There's just really a lot of connection with defensive players, because they give you that first contact," Nilsson said. "And then when it comes to hitters, that is definitely a connection that you need to have."
There was little question that Nilsson would be the next in a long-line of standout setters for the Monarchs. She was a member of the varsity as a seventh-grade and became an unmovable fixture and team leader as an eighth-grader, when she was named team captain.
"In seventh grade, we knew that she would be the next setter," said Warner coach Kari Jung, "just because she knew the game so well."
Through the years, Nilsson grew up on the court, literally and figuratively. Now standing six feet, Nilsson has the size to do damage at the net, the guile to move opposing blockers, and the unselfish disposition to put team goals ahead of individual accomplishments.
"That's what makes her hard to defend. The size is definitely an advantage," Jung said. "What's really good about her, she really wants her hitters to do well first."
While Nilsson set a school record last season with a remarkable 4,000 career assists with the number still growing, she downplays the accomplishment.
"I think that's just a stat," Nilsson said of her assist total. "All in all it comes down to how many team victories you can have. The best thing at the end of the day is to have a big win as a team."
And the Monarchs have had plenty of those this season, currently boasting a record of 28-0.
Jung said that this year's team has the athletic hitters to allow Nilsson to pull out all the stops.
"Right now, she's got an amazing team with the players that are athletic," Jung said. "They work so hard to run quicker routes and they have the desire and the athleticism to do that, so it even makes her perform to a higher level because of those hitters. She's got so many hitters that are able to run routes that we haven't always been able to run."
Nilsson, ever the student of the game, understands and appreciates her role in the entire process.
"For example, Kyleigh Schopp, her hitting percentage right now I believe is .404, which is spectacular. I love playing with her and our outsides are being super consistent and smart from the pins," Nilsson said. "So the hitters that I have the opportunity to set right now are unbelievably awesome and I'm fortunate to be able to play with them."
And make no mistake, Nilsson knows exactly what to do with the weapons at her disposal. In fact, the only thing that has been able to slow down the standout setter this season is an injury which forced her to miss the first few weeks of the season.
While it was a difficult time watching from the sidelines, Nilsson found a benefit in that setback.
"It was definitely difficult during that time frame, but I think that's one of the best things that could have happened," she said. "I think it made me much more appreciative of the ability to play and gave me a whole another appreciation of my teammates, also."
Libby Scepaniak and Reagan Wood helped fill the void, but when Nilsson returned, she was reunited on the floor with teammates that she has built a rapport with through the years. Nilsson said that's what makes the current Warner squad so unique.
"What is making this team so special is how close we are and on and off the court right now," Nilsson said.
That closeness allows for productive and sometimes candid conversations in the middle of a match.
"Definitely having an open communication with the hitters," Nilsson said, "not being afraid to let me know, 'Hey Ava, I think that was a good set, but I think I need that a little bit higher,' and just knowing that we can trust each other to not take it as an insult, but as construction criticism, because we've played with each other."
Nilsson is a multi-sport athlete for Warner, also competing in basketball as well as track and field.
She said those sports play a role in her development in volleyball.
"I think it is super important to be a multi-sport athlete, because that makes you even better at whatever sport you're focusing on," Nilsson. "There's so many skills in basketball that will translate back to volleyball that will make you an even better volleyball player."
With her size and demeanor, Nilsson has drawn comparisons to past Warner standout Ashley (Rozell) Fries, and that's just fine with Nilsson, who looked up to her when she was growing up.
"I always loved how she carried herself," Nilsson said, "how she was to her teammates and just how she was as a setter."
Nilsson is honored when others make the comparison.
"That's such a compliment," Nilsson said.
While Nilsson followed in Rozell's footsteps at Warner, she will also follow the same path when it comes to college volleyball.
"I am excited to go to Northern State University and play volleyball next year," Nilsson said. "It is just a great atmosphere and I think their volleyball program is only moving up from there. It is also cool to keep the Monarch blood going to Northern."
Before then, there is this matter of a third straight state championship and the pressure will be on the top-rated Monarchs. That's OK with Nilsson, who has no problem being in the center of the spotlight.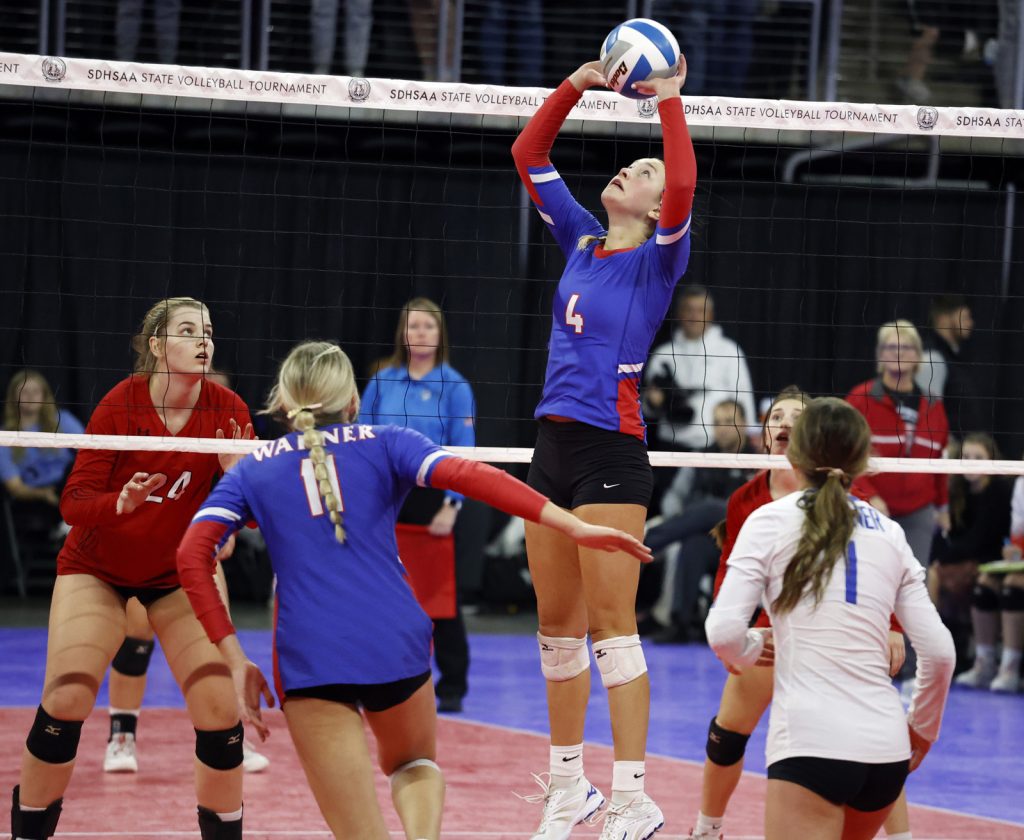 "Pressure is privilege," Nilsson said, "and being in a situation where you feel that someone is relying on you is a great feeling."
Nilsson is a lock to become a rare five-time all-state selection this season, but the unselfish leader of the Monarchs has a much bigger goal in mind.
"At the end of the day, it is much more rewarding to go back to the hotel on Saturday night and feel a state championship than to have an all-state on your record," Nilsson said.
It has already been a remarkable fall for the Warner athletic program. The football team is top rated and unbeaten, and so is the volleyball squad.
"Obviously our boys are having a great season, so it is a great time to be a Warner Monarch," Nilsson said. "The boys are going undefeated heading into the last parts of the season and the Monarch girls are undefeated going into the last part of the season. Overall, it's just a great to feeling to be a Monarch and I love it."
It's safe to say the volleyball team has loved having Nilsson be an integral part of the team for the past five seasons as well.
"Her teammates love her and she loves her team," Jung said. "It's a great connection."