MITCHELL – On Saturday, Aberdeen Central experienced the thrill of a shootout victory and on Tuesday night, the Golden Eagles experienced the agony of a shootout defeat.
Central had its season come to an end with a 3-2 setback to top-seeded Mitchell in the semifinals of the Class AA girls' soccer playoffs. The Kernels outscored the Eagles 4-2 on penalty kicks.
"It's one of those games, it's a lot of fun to be a part of," said Central coach Merle Aske. "The problem is one team has to go home on the other end."
And on this occasion it was the Golden Eagles.

Both teams scored on their first two shots to start the shootout (Deshani Peters and Kailyn Poppen scoring for the Eagles). The Kernels added a third straight goal and when Mitchell goalkeeper Tenley Peterson stopped Central's third attempt it gave the hosts a big edge. When the Kernels added a fourth goal, it meant that the Eagles had to score to stay alive, but their attempt hit the post and bounded away giving Mitchell the victory.
"Their goalie made a couple of good saves," Aske said. "That's just the way it goes when you come down to a shootout. You're not going to get them all. It didn't break our way today."
Aske said that Peterson got a fingertip on Central's final shot, enough to deflect the ball into the post.
Last week, Central was able to jump out to an early lead on the way to a shootout win over Spearfish, but this time it was the opposition who put that pressure on the Eagles.
"We kind of wanted to be the second kicker like we were Saturday. We just didn't find any way to get pressure on them in the shootout," Aske said. "They were calm and cool like we were on Saturday, and they just put their balls in."
The Kernels jumped out to a 2-0 lead in the opening six minutes of the game, but Central stayed the course and Eagles goalie Ciara Frank did not allow a goal the remainder of regulation and two overtime periods.
Central eventually sliced the margin in half on a free kick by Peters in the 38th minute. The Eagles then tied the game on a long shot by Lauren Joosten that found its way into the left corner of the Mitchell goal.
Both teams had multiple chances to score more goals throughout the contest, but failed to put the ball in the back of the net.
"We thought we deserved to slide one in there, but that's not always going to happen in soccer. We were all over their goalie," Aske said. "They had a couple of good opportunities. Ciara came up big a couple of times. We hit the post a couple of times. It's one of those things, in soccer sometimes the ball just doesn't bounce your way."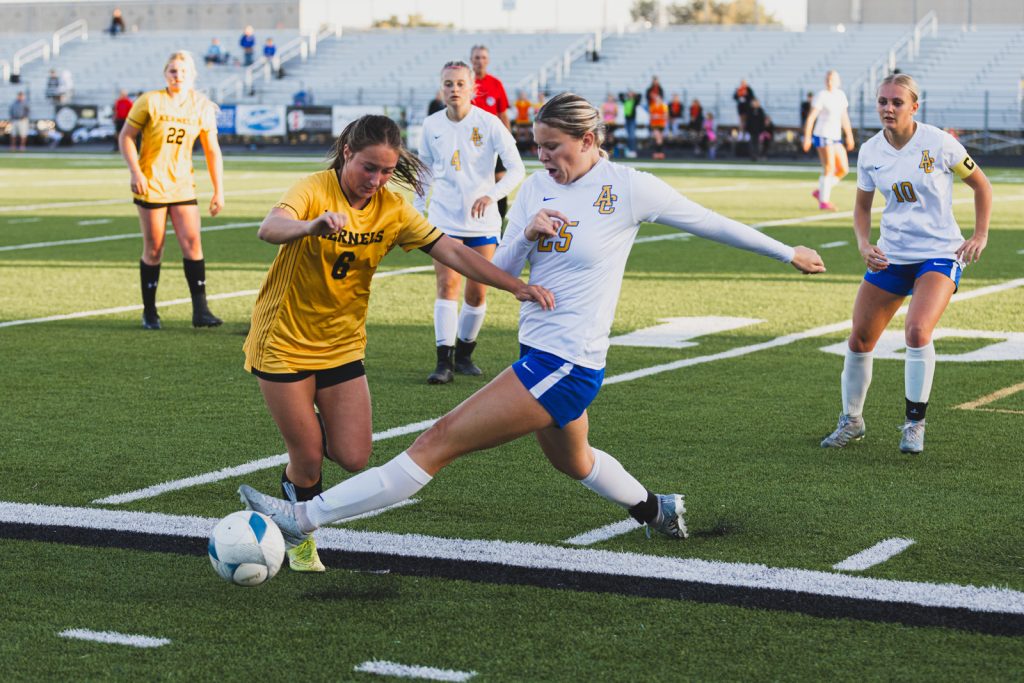 Aske was proud of the way his players responded after falling behind early and battling back against a top-seeded foe on the road.
"The girls did a good job. Going down early like that, it would have been easy to fold up our tents, but they held their own. We got a goal before half and then we kept momentum up and kept the pressure on. We got the second goal, we just couldn't find a third tonight."
Central finished the season with a 12-3 overall record in a season that saw the Golden Eagles earn a share of the Eastern South Dakota Conference championship. Aske noted how the team had to defeat both Mitchell and Pierre the final week of the regular season to do that after a long trip to Yankton the weekend before.
"I couldn't expect much more out of these girls than what they put out there," Aske said.
The team will say goodbye to nine seniors, most of whom have been with the program for the past five seasons.
"These girls, our nine seniors, will accomplish a lot in their lives, with all the work and energy they put in to what they do," Aske said.
Aberdeen Central (12-3) 1 1 0 0 (2) – 2
Mitchell (16-1) 2 0 0 0 (4) – 3
First Half: 1, M, own goal, 4th minute; 2, M, Mia Mullenmeister, 6th minute; 3, AC, Deshani Peters (free kick), 38th minute.
Second Half: 4, AC, Lauren Joosten.
First Overtime: No score.
Second Overtime: No score.
Shootout: Mitchell 4, Aberdeen Central 2.
Shots: Aberdeen Central 32 (16 on goal); Mitchell 25 (16 on goal).
Goalies: Aberdeen Central, Ciara Frank (14 saves); Mitchell, Tenley Peterson (14 saves).