Some are region champions, others are part of solid teams, and a few runners will be making their first ever appearance on the big stage when the State A Cross Country Meet takes place at Yankton Trail Park in Sioux Falls on Saturday.
The Aberdeen Roncalli girls' team qualified for the state meet. The Cavalilers are led their lone returning state qualifier in eighth-grader Addison Cassady.
"That's awesome that they were able to get the whole crew in," Roncalli coach Brady Lesnar said. "Five of them did get into the top 20 at the region meet, which was really cool to see."
Cassady placed 84th at last year's state meet, and no doubt will look to improve that placement this weekend. Other runners for the Cavaliers include Hazel Kannegieter, Paige Schmidt, Sarah Schmidt, and Claire Peterson.
Lesnar said the team has taken big strides throughout the season.
"(Addison) and Hazel have really come a long way this season. They've gotten to be stronger runners," Lesnar said. "Paige and Sarah have been really good leaders for them."
Lesnar said he has high hopes for each girl at the meet.
"The biggest thing for them is just getting themselves in position and holding on," Lesnar said. "Hopefully the excitement and adrenaline can help carry them and they can do well at the state meet."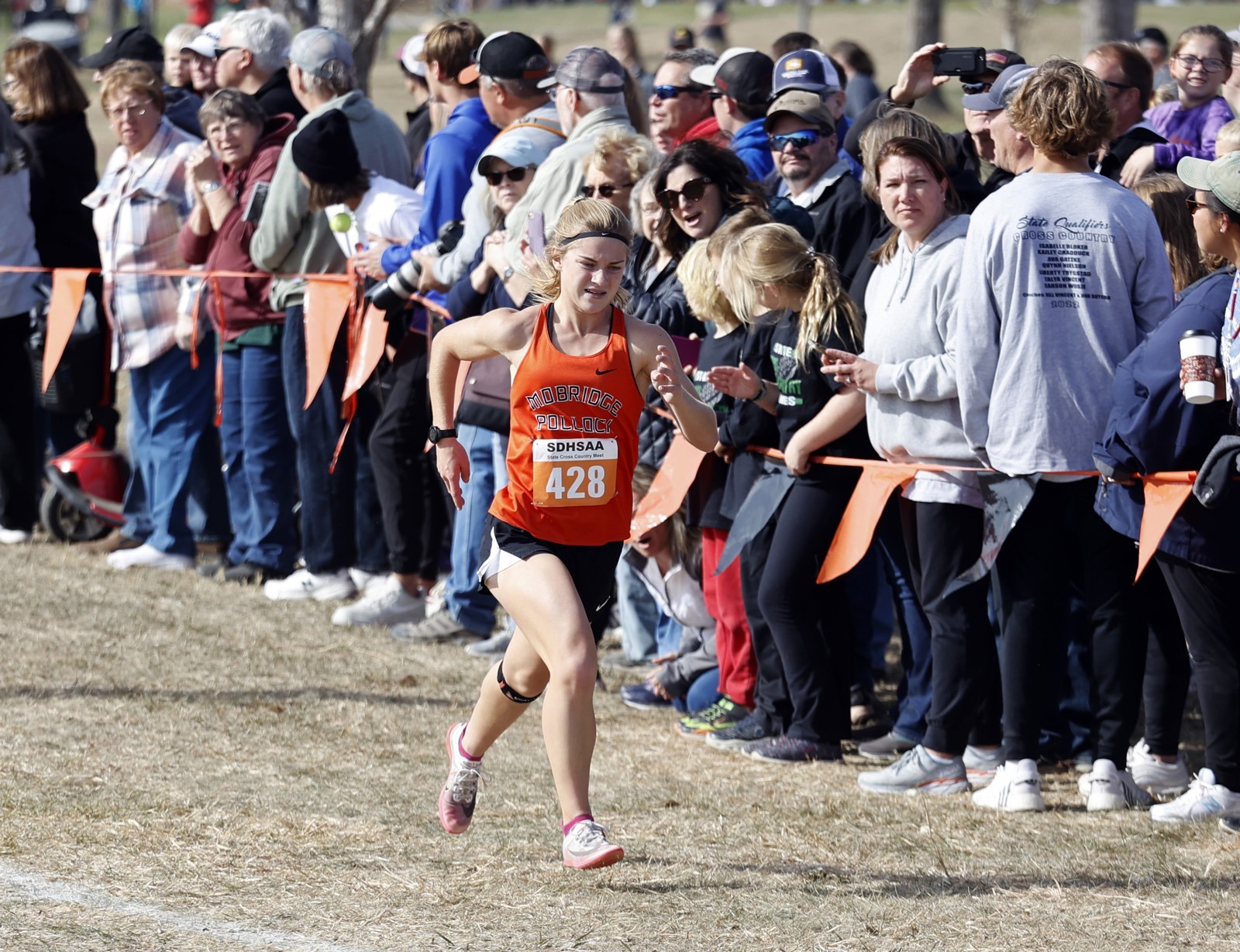 Other area girls' runners to keep an eye on in Class A will be Milbank Area's Ashlynn Batchelor, who won the Region 1A meet last week. Batchelor, a sophomore, placed 38th at the state meet last season. Mobridge-Pollock's Heidi Olson will also be a key runner to watch this weekend. Olson finished fourth in the Region 4A meet and returns to state where she placed fifth last season.
Clark-Willow Lake eighth-grader Kamryn Nesheim returns to the state meet as one of the area's top runners, placing second in the Region 1A meet behind Batchelor, as well as winning several meets this season. Nesheim finished 15th in last season's state meet, while teammate Cadence Bochek finished fourth in the region meet and will look to improve on her 94th place finish at state a year ago.
Waubay-Summit's Madison Zirbel and Deuel's Jaycee Hourigan both return to the state meet where Zirbel finished 19th and Hourigan finished 22nd last season.
On the boys' side, Roncalli has one state qualifier in senior Paul Gutenkauf, who recorded an eighth-place finish at the Region 1A meet. The senior finished 73rd at last season's state meet, and Lesnar said was glad to see Gutenkauf's hard work pay off.
"Paul has a good combination of talent and hard work that he's put in," Lesnar said. "Hopefully going into (state), we can expand on that and hopefully have a good showing at the state meet."
Lesnar said he wishes that more kids could get into the state meet, but knows the state meet is about the efforts the runners have put in throughout the season.
"The state meet is more of (being) proud of the kids and the hard work that they put in to get to the level that they're at and to be able to compete at the state meet, taking it in and enjoying it, and giving it our all," Lesnar said.
Other Class A area boys' runners to watch include Milbank Area's Payton Brown, who finished sixth at last season's state meet. This season the senior won the Region 1A meet.
The Bulldogs had six runners qualify individually for the meet, while the team also qualified after winning the region meet team title. James Batchelor, Bryan Meyer, and Isaac Graham all earned top five finishes in the region meet to qualify for state.
Tri-State senior Kaleb Foltz placed second at the region meet and will look to improve on his 21st place finish from a year ago.
Miller brings back a pair of strong runners from last season in junior Pierce Baumberger and senior Alex Schumacher, who placed first and second at the Region 4A meet. Baumberger earned a top ten finish (7th) at last year's state meet, while Schumacher finished just outside the top ten (in 11th). Isaiah Gortmaker also qualified for state for the Rustlers.
North Central also qualified for state as a team, while sending four runners to Sioux Falls, including Gabe Johnson, who placed ninth at the region meet.
(Note: the Class AA preview ran on Monday, and the Class B preview will run later this week)