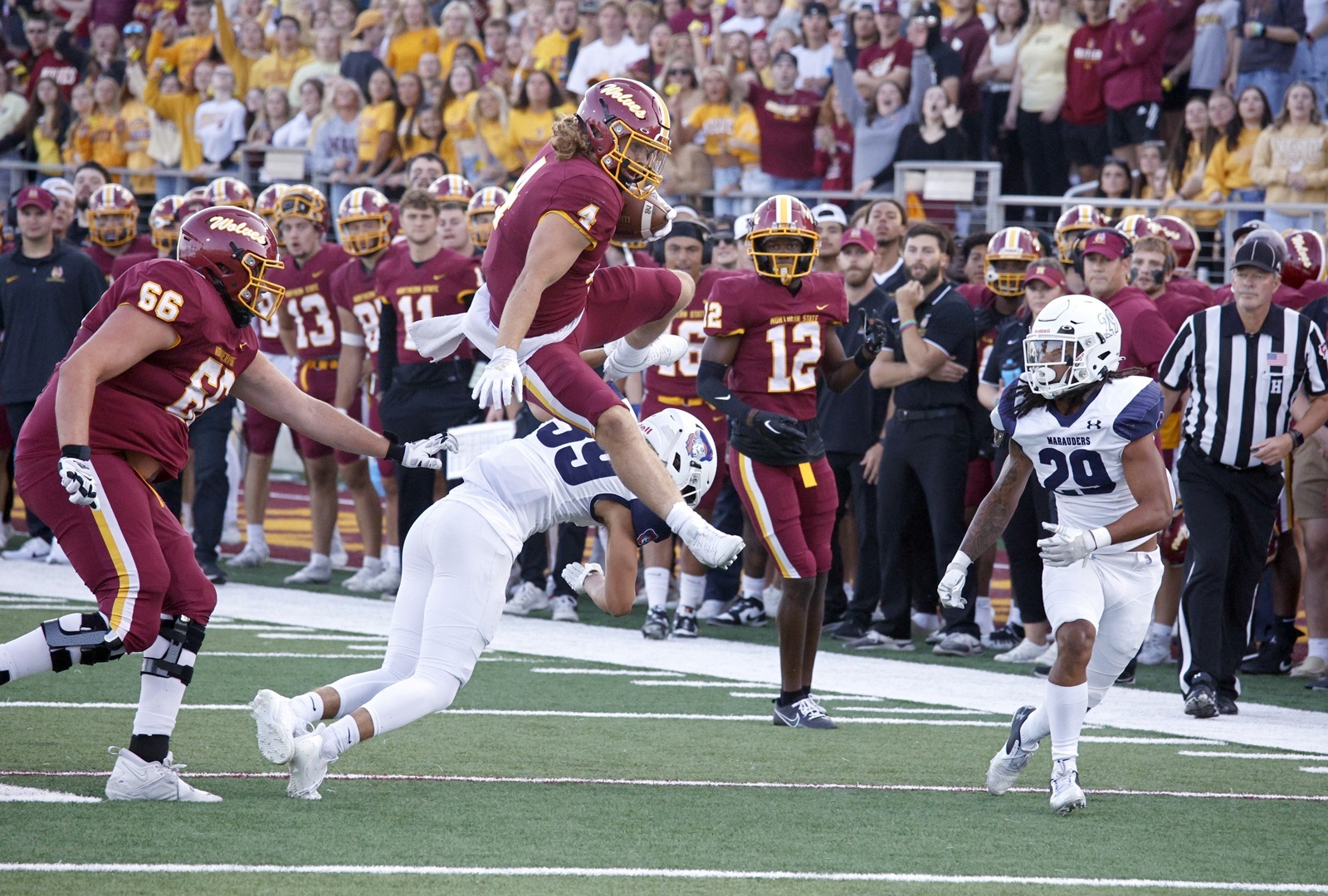 Northern State was firing on all cylinders on Saturday night.
The Wolves used an explosive offense and a physical defense to pull away from the University of Mary for a 41-10 Northern Sun Intercollegiate Conference football win at Dacotah Bank Stadium.
The win snapped a two-game losing streak to the Marauders, and gave the Wolves their first victory of the 2023 campaign.
"We're glad that we got the win. It's nice to get back on that side of the column here for us," Northern State coach Mike Schmidt said. "Guys that have been around here a couple of years, that's a pretty big one for us. It feels like a thousand-pound gorilla off of my back, personally."

Northern State received the opening kickoff and drove the ball down the field for a touchdown less than three minutes into the game, capping the drive on a 26-yard touchdown run by Stanley Haskins Jr.
Schmidt said it was important to establish the running game early.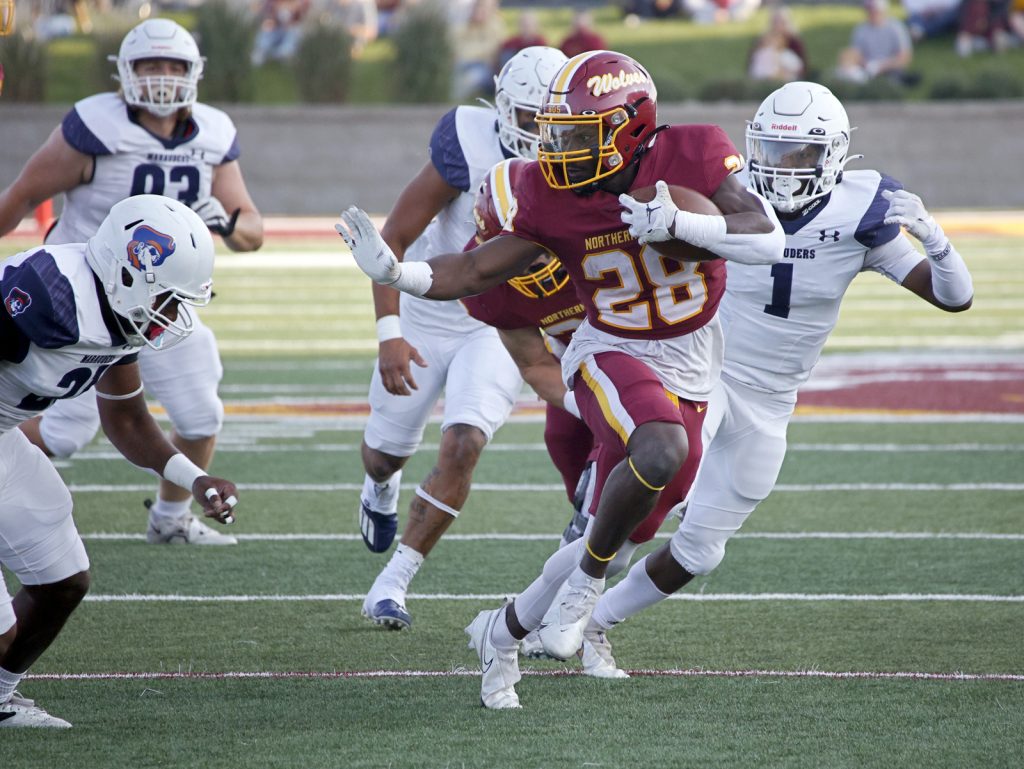 "We want to establish the run. The last two weeks we've wanted to establish the run as well," Schmidt said. "I think this week we finally played some defense early on, and we just didn't get enough stops early on in those first two games to make sure we can establish the run all the time."
The Wolves added a 38-yard Drew Smook field goal to lead 10-0 after one quarter. Northern State also used a pair of interceptions to aid in building the lead. Schmidt pointed out Smook's efforts.
"Really proud of Drew Smook coming in and knocking down some field goals and knocking down some kickoffs," Schmidt said. "I thought we had a good plan on special teams and he helped us execute that."
Brett Brenton added to the Wolves lead in the opening minutes of the second quarter, plunging in from four yards out. The Marauders added a field goal just seconds before halftime to make the score 17-3.
Despite the lead, the Wolves committed eight penalties in the first half, and 13 in the game, something Schmidt says needs to be corrected with practice.
"To me a lot of that stuff is just how you practice. If you're practicing really, really hard, you're practicing your emotions," Schmidt said. "I'm on the edge, I'm playing with a ton of intensity, a ton of emotion, and you practice how you keep it in check during practice, so when you get out in a game, you've been through that."
Throughout the game, Northern's defense made it difficult for the Marauders to find a rhythm on offense. Lynden Williams and Corey Scott provided the first-half interceptions which ended Mary drives, while Trey King and Luke Manos led an aggressive defense with five tackles each.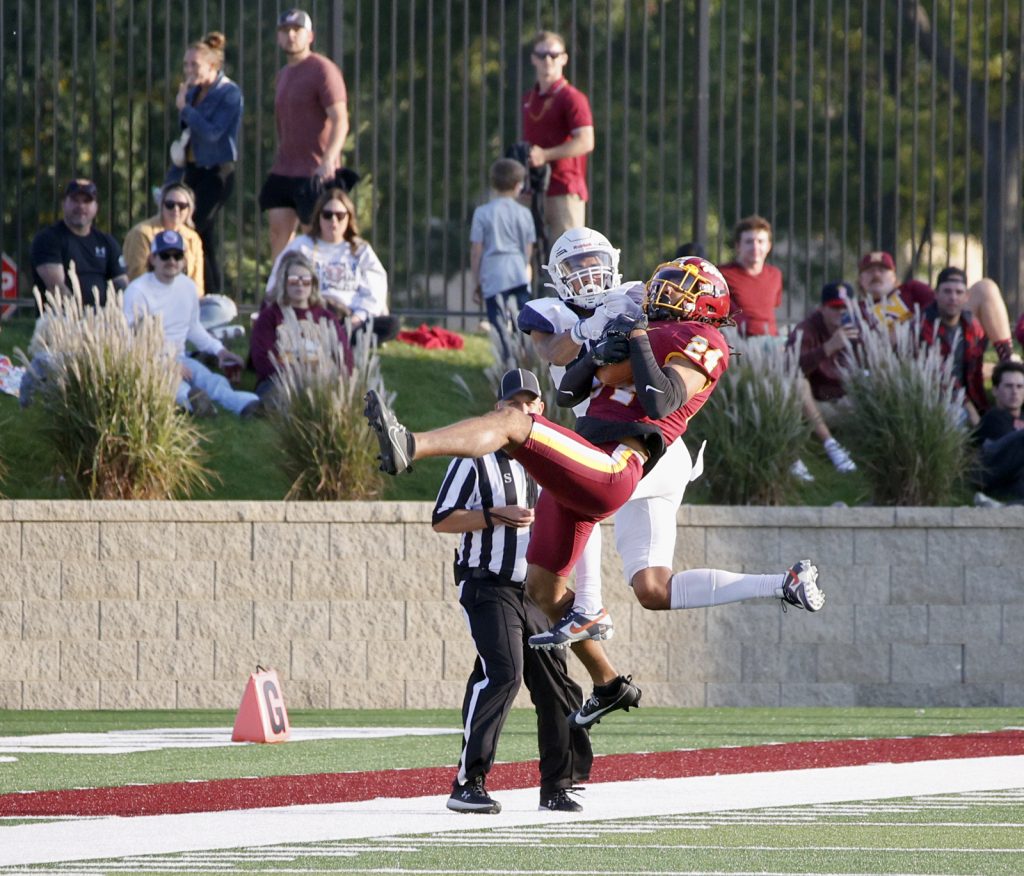 King, Brock Longville, and Ian Marshall each had one sack. Marshall described the defensive tenacity the Wolves defense played with.
"Hair on fire and flying around to the ball; that's how we want to play every game," Marshall said. "We have to go out there and just pin our ears back and go to work. That's really all we're trying to do."
The Wolves continued to build their lead in the third quarter. Colton Hackel connected with Dewaylon Ingram on a 14-yard touchdown pass before Haskins added his second touchdown run of the night.
Ingram led the Wolves with 120 receiving yards on eight receptions, and noted that it felt good to keep drives alive.
"I just like to keep the drive going and keep the guys on the field," Ingram said. "I try to just dominate every time I'm on the field and do whatever for my teammates so we can score and get the win."
Hank Kraft added a rushing touchdown, while Smook added a 43-yard field goal in the final period. Mary added a touchdown pass in the closing seconds to add to the final margin.
Hackel finished with 234 passing yards and a touchdown pass. Schmidt was pleased to see Hackel perform well.
"That's a good game for Colton. It's nice to keep him upright after the beating that he took last week," Schmidt said. "He only had a couple of carries and one sack, so that's a good night."
Northern State, now 1-2 on the season, will travel to Winona State next Saturday. Schmidt said his team will need to prepare for a challenge.
"We've got a big one and a really good opponent, especially defensively, that is going to present a lot of problems for us," Schmidt said. "We still like our matchup there, but it's going to be a really, really, really, big challenge for us with that road trip, and it's a tough place to play. It's just nice to win and we just get right back to work tomorrow and get ready for big, meaningful game next week."
To see complete stats from the Northern-Mary game, click on the following link:
https://nsuwolves.com/sports/football/stats/2023/umary/boxscore/13160