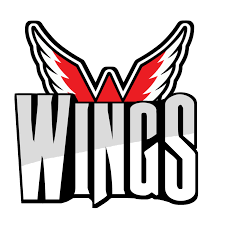 BLAINE, Minn. – The Aberdeen Wings closed out action at the NAHL Showcase with a 4-3 win over the Minnesota Wilderness. The Wings scored three unanswered goals to rally for the hockey victory Saturday.
The Wilderness jumped out to a two-goal lead to start the contest. Aberdeen responded with a goal by Riley Sharum. However, Minnesota extended to margin to 3-1 before the Wings took control.
Simon Pollock scored a goal to close out the second period, and then Aberdeen tied the game in the third on Logan Gravnik's third goal of the season. Grant Kohnan provided the game-winner about midway through the final period.
The Wings finished the Showcase with a 2-2 record, both wins coming in the same fashion as Aberdeen scored three unanswered goals to defeat Corpus Christi in the opening round.

The Wings open their home season against Bismarck at 7:15 p.m. Friday at the Odde Ice Center.
To see Saturday's complete box score, click on the following link: