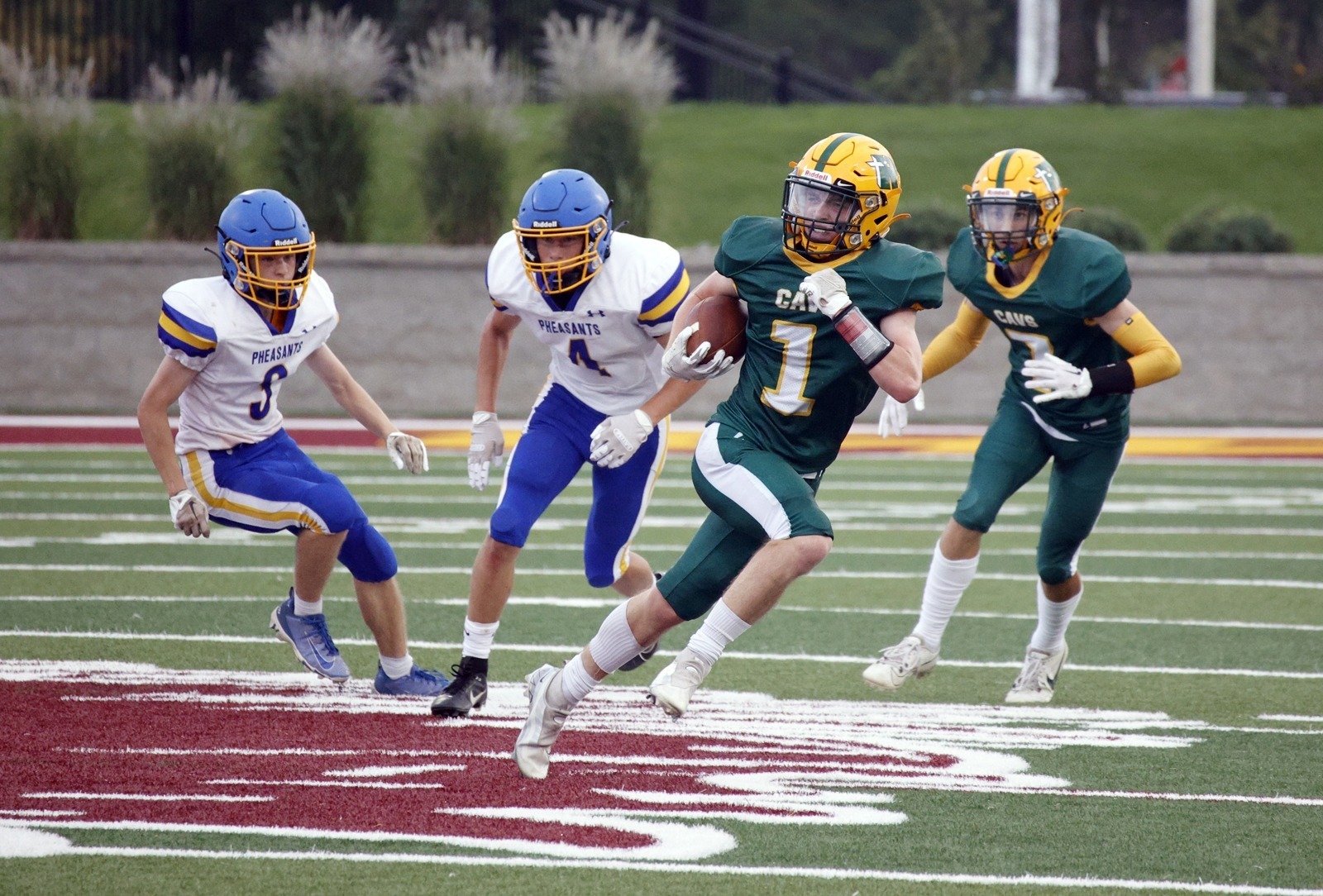 After last week's loss to Deuel, Aberdeen Roncalli coach Billy Young sent a message to his players. Friday night, the Cavaliers responded with a message of their own.
Roncalli dominated play up front on defense, used big plays on offense, and rolled to a 35-0 Northeast Conference football win over Redfield at Dacotah Bank Stadium.
"We kind of challenged them this week to pick it up a notch, and start playing like they're the defending conference champs," Young said. "I think we had some self-doubt that crept in last week and we kind of put it to them a little bit this week and they responded well."
The Cavaliers set the tone for the night when they held Redfield to a three-and-out and soon started to rack up one sack after another, finishing with seven sacks on the evening led by Joey Johnson with three.
"We knew that we had to be more physical. We knew that last week's performance was not how we perform," Johnson said. "We knew that it was time to be more physical and that we could send a message after this game, and just start getting on a roll here and get some momentum."
Roncalli, known for its outside blitz, was able to do damage in the middle of the line during the opening half because the Pheasants were focused on the perimeter.
"We prepared for them to blitz off the edge all week," said Redfield coach Hank Brassilo, "so we worked on sliding to the outside and they just beat us in the middle."
When the Cavaliers got on offense, they used the run to set up the pass and it worked to perfection.
Aiden Fisher was able to get in behind the Redfield secondary and Zane Backous spotted him for three touchdowns on the night, the first on a 67-yard pass late in the opening quarter.
"We've been holding onto that play for a while," Young said. "We needed to set it up with some successful running plays before we could throw it, but finally it worked."
Fisher said everybody did their jobs on those pass plays.
"My quarterback, Zane Backous, just threw it to a spot with no defenders and I caught it," Fisher said, "did my job, he did his job, and linemen, great protection."
Fisher finished the night with 137 yards receiving to go along with 34 yards rushing and additional yards in the return game.
When asked if he was the new offensive weapon for the Cavaliers, Fisher responded, "I hope so. I want to be."
Those pass plays worked like a charm because the Redfield defensive backs got caught looking into the backfield.
"We were just getting lost. Our eyes were bad, especially at the safety position," Brassilo said. "We just had bad eyes looking at the line of scrimmage instead of at the man. They were just kind of booting away and they were just throwing it deep on us. We were getting turned around, not looking at the man."
Fisher also scored on pass plays covering 21 and 37 yards in addition to his first scoring catch. Brody Weinmeister and Backous both added touchdowns on short runs as well.
That was more than enough offense for Cavaliers, who made life miserable for Redfield, forcing three turnovers and also recording a safety when Backous tackled Pheasants' quarterback Chase McGillivary in the end zone.
Again, it all started up front on the defensive line.
"If I got the sack or Landon (Zikmund) got the sack, we were always there," Johnson said. "Everyone was always closing in around it, so it was just about good pass rush, being physical, good hands."
Young said that defense has been Roncalli's calling card when it has had success the past few seasons.
"Our defensive interior played really, really well and our secondary did, too. They kept those receivers locked down," Young said. "We hang our hat on defense. If our defense plays well, we normally fare pretty well on the scoreboard."
Roncalli, 2-1 on the season, plays host to Dakota Hills at 7 p.m. Friday on homecoming. The Cavaliers will try to build on the momentum it gained against Redfield.
"I think our team is really meshing, getting some momentum, kind of figuring everyone out," Johnson said of some new faces in new positions this season. "You lose a lot of people, but I think we're really starting to figure out each other."
Redfield (0-3) 0 0 0 0 – 0
Aberdeen Roncalli (3-0) 12 23 0 0 – 35
First Quarter
AR – Brody Weinmeister 1 run (run failed), 7:48.
AR – Aiden Fisher 67 pass from Zane Backous (kick failed), 2:46.
Second Quarter
AR – Safety, Zane Backous tackled Redfield ball carrier in end zone, 11:39.
AR – Backous 4 run (kick failed) 9:31.
AR – Fisher 21 pass from Backous (Weinmeister run), 7:36.
AR – Fisher 37 pass from Backous (Fisher kick), 4:38.
OFFENSE: Redfield rushing 26-20 (Chase McGillivary 19-310, passing 1-7-1 for 8 (McGillivary 1-7-1 for 8), receiving (Justin Ratigan 1-8), first downs 4; Aberdeen Roncalli rushing 33-148 (Weinmeister 8-59, Fisher 3-34, Kaden Larson 4-23, Luke Kaiser 4-16, Backous 5-10, Aiden Schaunaman 1-6, Austin Fisher 3-5), passing 6-10-0 for 216 (Backous 6-10-0 for 216), receiving (Fisher 4-137, Keegan Stewart 2-79), first downs 16.
DEFENSE: Redfield, Jacob Buranen 6 tackles including 1 sack, Elijah Morrisette 5 tackles, McGillivary 4 tackles, Grady Fey 4 tackles; Aberdeen Roncalli, Joey Johnson 6 tackles including 3 sacks, Backous 3 tackles including 2 sacks, Noah Kramer 3 tackles, Fisher 3 tackles, Gabe Eichler 3 tackles, Josh Schaunaman 1 fumble recovery, Grady Jett 1 fumble recovery, Kaiser 1 pass interception.