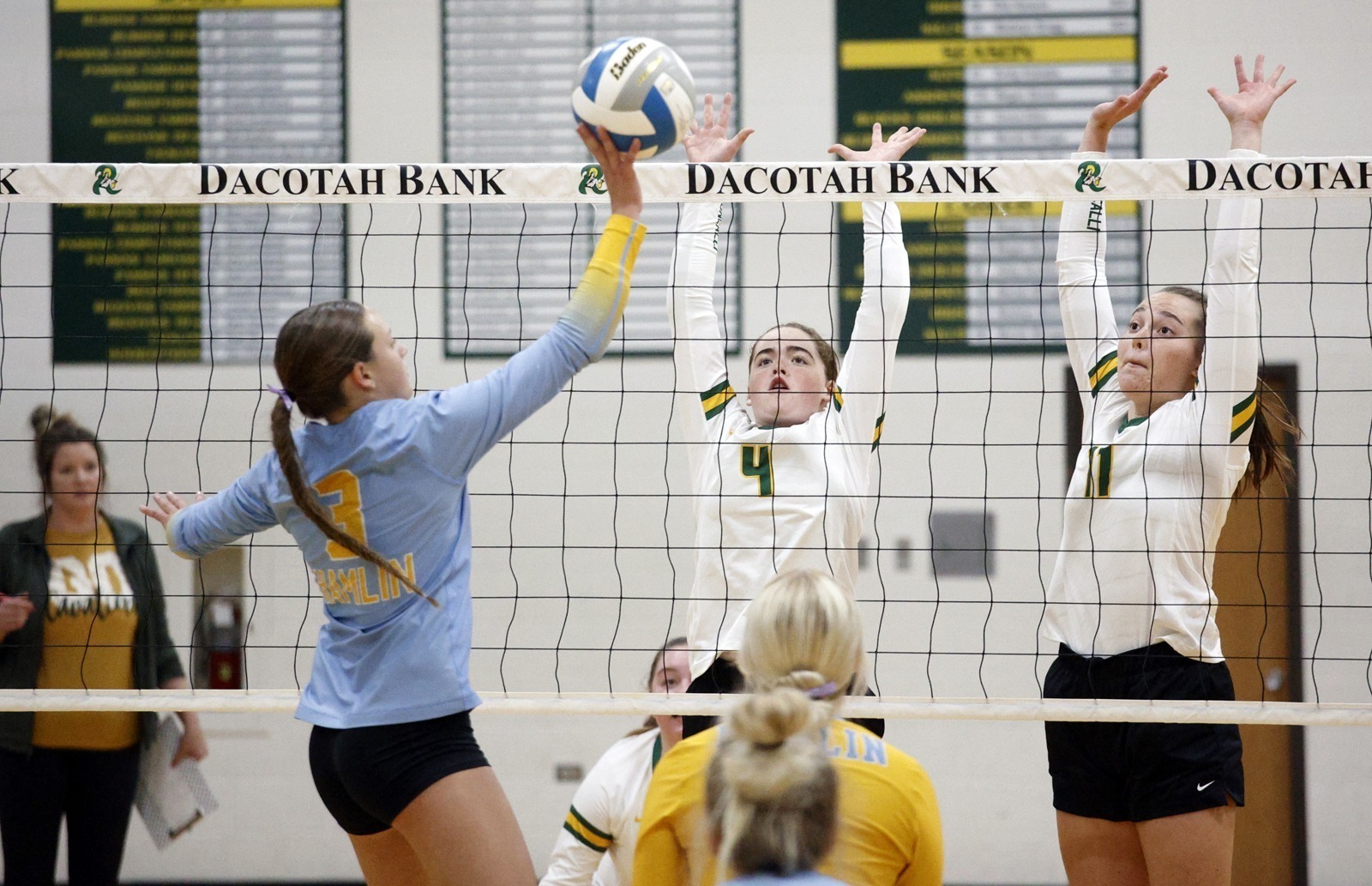 Aberdeen Roncalli handled the pressure on Tuesday night in straight sets.
The Cavaliers took a 25-21, 25-20, 25-20 victory over the Hamlin Chargers in a Northeast Conference volleyball match at Roncalli Gym.
The opening set was a seesaw affair as both squads fought tooth and nail to take an early lead in the match, with the Cavaliers eventually taking the set 25-21. It was the beginning of a battle for the conference foes.
"It was a battle back-and-forth. It was a battle on our side," Roncalli coach Mandy Smid said.

The battle was being waged in the Roncalli huddle as the team struggled to maintain momentum throughout much of the match, and Smid said the team had to learn to play through the struggles.
"We were just a little off kilter tonight," Smid said. "The girls could feel it and I think that ultimately they had to just be ok with being off kilter a little bit and just playing through that."
Roncalli setter Maddie Huber said the team lacked energy during the opening set.
"It's hard to get going when you don't have that much energy on the court, and so we called a timeout," Huber said. "We got the energy back up and just went up from there."
Meanwhile, on the Hamlin side of the net, the Chargers were struggling with a major problem of their own.
"That we beat ourselves," Hamlin coach Ashley Heinrich said. "They are a solid team, but unfortunately we didn't show up to compete tonight."
However, Hamlin jumped on top early in the second set, building a 12-7 lead before the Cavaliers called a timeout. Smid said the Chargers were forcing her team into tough situations during the set.
"They had some aggressive serves that we had a hard time handling," Smid said. "We were playing things a little bit close to the net. We just don't have the height to play that close to the net, and so I think that they definitely were forcing us to have to adjust some things on our side."
Huber said the team had to encourage each other during the timeout.
"We just had to get out of our heads and know that we want this game more than they do," Huber said.
After the timeout, Roncalli took back control of the set, and ultimately the match. It was the tipping point of the match, as the Chargers struggled to regain the momentum they had earned early in the second set.
"Obviously we came out pretty strong, a lot of good things going, things were feeling good there, and then just mental mistakes," Heinrich said. "They have good hitters. They were creating points for themselves, but ultimately, we just got in a lull and couldn't figure out how to get back out of it."
The Cavaliers took firm control of the third set en route to a straight-set victory. McKenna O'Keefe led Roncalli with 17 digs, 6 kills, 2 aces, and 1 block, while Ava Hanson had a team-high 13 kills. Camryn Bain had 18 digs and 2 aces, while Faith Danielson had 17 assists.
Addie Neuendorf led Hamlin with 9 kills, 9 assists, 5 digs, and 2 aces, while Marissa Bawdon had 6 kills, 10 assists, and 2 aces.
Huber, who had 14 assists, said the message was clear as the Cavaliers move forward with the rest of the season.
"Just keep our heads high and keep encouraging each other," Huber said.
Heinrich noted that her team will need to be prepared for the Chargers upcoming matches against Tiospa Zina on Thursday, the Hamlin Invitational on Saturday, and once-beaten Estelline-Hendricks next Tuesday.
"Obviously, this is a tough loss for us, and so I'm looking for them to show up in practice," Heinrich said. "I'm looking for them to respond and show up big for these next games."
Roncalli, now 6-1 on the season, will travel to Webster on Thursday. Smid is expecting another tough conference match with the Bearcats.
"Another game that notoriously is back-and-forth (and) scrappy," Smid said. "We still have to keep picking these off one at a time and focus on each wrung of the ladder as we keep working our way through the season."
Serving: Hamlin 6 aces (Addie Neuendorf 2 aces, Marissa Bawdon 2 aces); Aberdeen Roncalli 68-73 6 aces (McKenna O'Keefe 2 aces, Camryn Bain 2 aces).
Hitting: Hamlin 22 kills (Neuendorf 9 kills, Bawdon 6 kills, Emily Everson 5 kills); Aberdeen Roncalli 97-114 35 kills (Ava Hanson 24-29 13 kills, O'Keefe 6 kills).
Setting: Hamlin 19 assists (Bawdon 10 assists, Neuendorf 9 assists); Aberdeen Roncalli 101-102 31 assists (Faith Danielson 59-60 17 assists, Maddie Huber 14 assists).
Digs: Hamlin 16 (Grace Opdahl 5, Neuendorf 5); Aberdeen Roncalli 65 (Bain 18, O'Keefe 17).
Blocks: Aberdeen Roncalli 1 solo 4 assists (O'Keefe 1 solo).
Records: Hamlin 4-2; Aberdeen Roncalli 6-1.