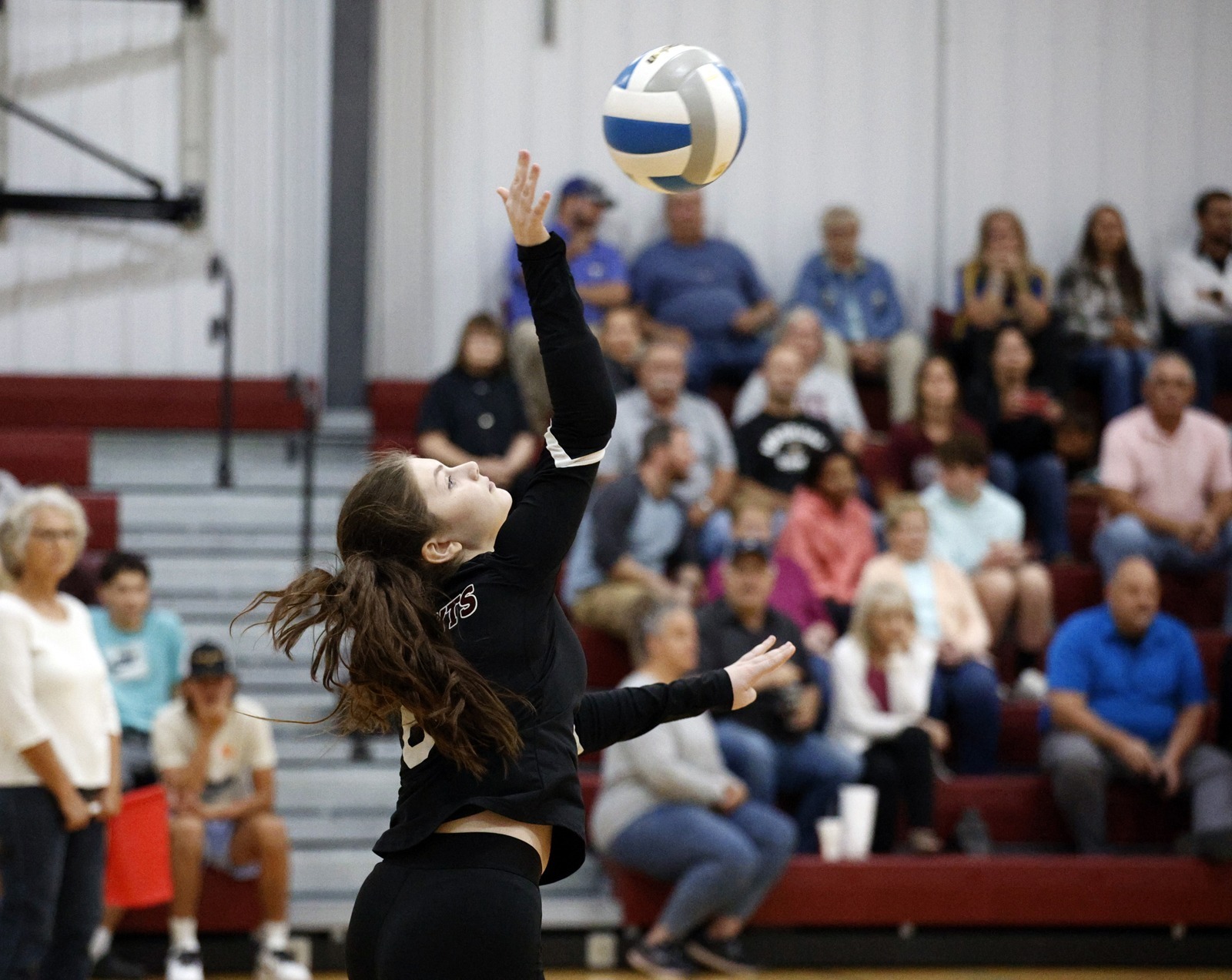 Aberdeen Christian did some major business from behind service line Tuesday night, and the Knights also had a huge impact from in front of that line as well.
Christian racked up 13 aces and kept the ball off its side of the floor on the way to a 25-17, 25-14, 25-15 non-conference volleyball sweep over Waubay-Summit at the Aberdeen Christian School Gym.
The Knights have won three of their last four matches and coach Sara Powell pointed out one key element in the recent surge.
"Our biggest thing was serve receiving," Powell said. "That's something that we have really been working hard on to get the ball set up to our hitters, because we've got some really strong hitters and if we're not hitting, we're not going to win games."

The ball got to those hitters and they took advantage of it with 24 kills on the night.
Christian trailed 10-9 in the opening set before Arianna Johnson sparked a surge that resulted in a 21-11 advantage. Johnson had four kills in that streak, which saw the Knights score nine unanswered points to take control of the first set.
"Ari, as an eighth-grader, she had a great game (Monday) night. She had a great game tonight," Powell said. "I think they're finally getting in a groove a little bit."
The Knights used another run to fuel a second-set win. Christian turned a one-point edge into a 15-7 advantage with seven straight points. Chloe Bosma keyed that surge with three kills.
Christian also reeled off seven consecutive points in the third set to turn a two-point deficit into a 12-7 lead, which they never lost on the way to closing out the match.
Johnson finished with six kills, Sophia Eichler had five, and Bosma finished with four.
The Knights kept Waubay-Summit on its heels thanks to aggressive serving throughout the match.
"The girls like to spot serve," Powell said. "They've been working on that a lot at practice."
Sawyer Schwan finished the night with four aces and nailed all 15 of her service attempts.
"I just try to be smart with where I serve and not how I serve, like how hard I hit it," Schwan said. "I just serve to a specific spot."
The freshman said she keeps a couple of things in mind when she steps up to serve the ball.
"If I see an open spot or if there's a passer that's struggling in the back row or something, then I'll just aim towards them," Schwan said.
Christian finished with 55 digs on the evening, led by Alexis Isakson with 21 and Schwan with 10.
"They know that I expect that from them, so if they have a little bit of an off time, they get a little frustrated," Powell said. "We've been working on next point, getting the next one, work on getting the next one, next one up, forgetting the errors, and move on to the next one. Mindset is what we've really been working on, too."
The Mustangs had their moments in the match as well, but those Christian scoring streaks were too much to overcome.
"Two or three points and just can't catch back up," said Waubay-Summit coach Karlie Karst.
She said her team has shown improvement throughout the season.
"We do communicate better on the court," Karst said, "but we can communicate even more."
Christian, 4-11 on the season, heads to Bowdle on Thursday to take on North Central. The Knights will look to continue their recent surge.
"Hopefully, we keep our energy," Schwan said, "and stay confident."
Serving: Aberdeen Christian 71-76 13 aces (Sawyer Schwan 15-15 4 aces, Payton Skarin 18-18 4 aces, Alexis Isakson 6-6 1 ace).
Hitting: Aberdeen Christian 79-92 24 kills (Ari Johnson 12-12 6 kills, Sophia Eichler 12-14 5 kills, Chloe Bosma 14-17 4 kills).
Setting: Aberdeen Christian 84-86 16 assists (Jolie Fogarty 36-36 7 assists, Schwan 25-29 7 assists).
Digs: Aberdeen Christian 55 (Isakson 21, Schwan 10, Fogarty 9).
Blocks: Aberdeen Christian 3 (Johnson 2, Eichler 1, Fogarty 1).
Records: Waubay-Summit 0-13; Aberdeen Christian 4-11.
Waubay-Summit stats not available