It was a day of firsts for the Aberdeen Central boys' soccer team on Saturday afternoon.
The Golden Eagles scored their first home goal, recorded their first shutout of the season, and claimed their first home victory of the year with a 2-0 Eastern South Dakota Conference triumph over Brandon Valley at Brownell Activities Complex.
"First home win, more importantly first home goal," said Central coach Lance Mohr. "These poor people had to come and watch us for a couple of games and didn't see a goal, so we had to get that figured out and we did. It was just nice to hear the school song and really nice for these guys to get that monkey off their back. Going 0-3 is a tough start, but they're mentally back now."
Central, which won for the second straight game, had to figure out how to deal with Brandon Valley's style and handled it well throughout the contest.

"Their style of play is very different and unique in the sense that they play every thing so long, so every time we're coming out of the back we're having to go 100 yards," Mohr said. "It's uncommon to play against it. We talked about it before, but when you have a young team, it's new and they're going to have to learn on the fly a little bit."
The Eagles got a boost when Manuel Munoz outraced his defender for a goal in the 26th minute. However, it wasn't until Tyler Bain added a goal in 70th minute that the Eagles were able to breath a bit easier.
"At the beginning of the second half was pins and needles," Mohr said, "and then the huge goal, a great finish by Tyler, to really seal off the game at that point. It was huge for us."
The goal came off a corner kick in which the Eagles played the ball in short and eventually Bain worked free across the middle of the pitch for a shot that he put in the back of the net.
"We took a corner. We played it short," Bain said of the play. "We've been working on that in practice, because sometimes they only have one guy come up so we do kind of a 2-v-1 over there. I had kind of dribbled across and picked out where I wanted it, and that's where I went."
It turned out that Central did not need that insurance goal, because Camden Fauth was rock solid in net, recording the shutout.
"I think we've just gotten better every single day at practice," Fauth said after keeping the Lynx off the scoreboard. "These guys are a pretty solid squad. To put up a zero against them is nice. We hadn't put up a zero all year, so getting that first shutout of the year is awesome, but we've got to keep working, some things we have to build on still."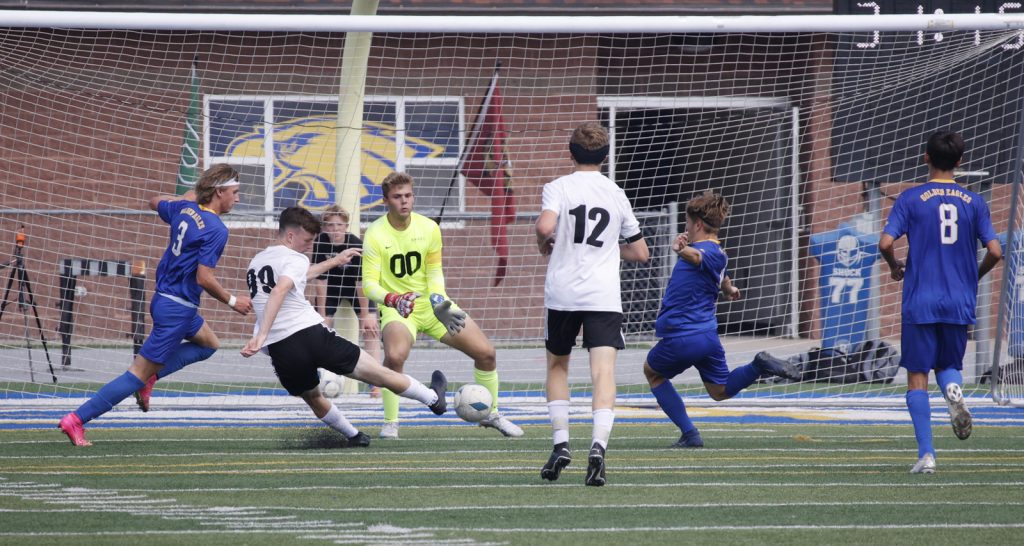 Fauth was tested a couple of times, most notably in the opening half when a Lynx player fired a rocket that Fauth blocked with his body on the edge of the box.
"I just have to get in front of the ball and do whatever I can to not let it in," said Fauth, who recorded his 21st career clean sheet in four years as a varsity goalie.
With the all-state keeper in net, it helps to lower the stress level for Mohr.
"When you have a goalkeeper like Camden who is that good, that's what they do. When you need them they show up. They're always reliable," Mohr said. "He had some big catches in the second half. He just doesn't make you worry. That's his best trait. It's wonderful to have him, and he proved it with that huge save which gave us some momentum."
Central, 2-3 on the year, hosts Sioux Falls Roosevelt at 4 p.m. Tuesday. The Eagles will take momentum from their latest win into that contest. Mohr was pleased with how his players executed against the Lynx en route to the victory.
"As the game went on we started to finally slow down and win the ball a little bit more and then connect a few passes and then that really prevented their chances, because they like to play long and win the first and second ball, get in quick and try to counter," Mohr said. "We knew that coming in and we did a really good job of dealing with it. I was really proud. We got our first shut out of the year which is huge for these guys' confidence."
Brandon Valley (2-4-1) 0 0 – 0
Aberdeen Central (2-3) 1 1 – 2
First Half: 1, AC, Manuel Munoz, 35th minute.
Second Half: 2 AC, Tyler Bain, 69th minute.
Shots on Goal: Brandon Valley 4; Aberdeen Central 4.
Goalies: Brandon Valley, Quin Biever (2 saves); Aberdeen Central, Camden Fauth (4 saves).