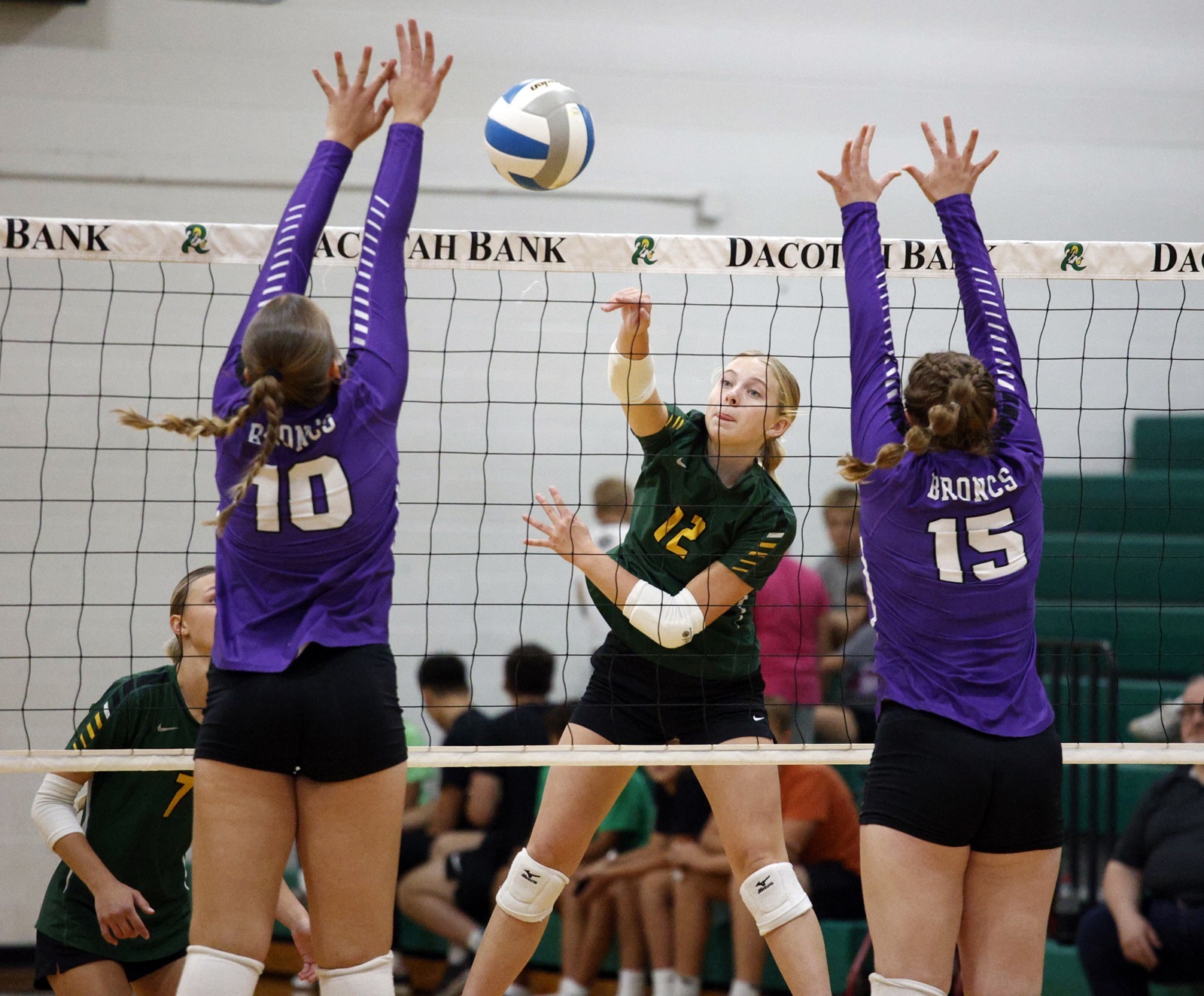 Aberdeen Roncalli was unable to finish what it started Friday evening.
The Cavaliers set the pace in multiple sets before falling to Belle Fourche 25-27, 25-18, 25-22, 25-14 in non-conference volleyball action at Roncalli Gym. The setback was Roncalli's second of the week after winning nine straight matches.
"This week was a test in lots of areas," said Roncalli coach Mandy Smid.
The first set was a tight battle that the Cavaliers eventually pulled out in extra points. Neither squad owned more than a three-point edge throughout the set.
Roncalli then appeared to have all the momentum after bolting out to a 7-0 lead to start the second set. Camryn Bain had three aces to fuel the surge.
However, that's where the momentum and match began to turn.
Belle Fourche responded with a 15-3 surge of its own to take control of the set. Mataya Ward sparked the run with three aces and a pair of kills to ignite the Broncs.
"We just couldn't get going," Ward said. "So then once we got that one good pass, and that good set and swing, it started off our momentum, kind of like a firecracker, and from then on we just kept it rolling. It just took that one ball."
After the match was leveled, Roncalli again pulled away in the third set and owned an 18-13 advantage, thanks in part from back-to-back aces by McKenna O'Keefe. Again, the Broncs did not panic.
"We just have a lot of trust in ourselves that even if we are down, we can get it back," Ward said. "We can crawl ourselves out of a hole, basically."
Belle Fourche did just that with Ward again leading the way with four kills in a five-point stretch and soon the Broncs were on the way to securing the third set.
"One of the things that we talked about that we've kind of struggled with a little bit is, you a lose point and then trying to control those runs and trying to change our mindset," said Belle Fourche coach Loree Schlictemeier.
While the Cavaliers led in each of the first three sets, it was the Broncs who controlled the fourth, pulling away from a 6-5 edge and opening up a seven-point lead. Again, it was Ward who did some major damage.
The multi-sport standout (who is a state-place winner in the triple jump, plays basketball and competes in rodeo) finished with a match-leading 22 kills, three aces and four blocks.
"We gave her lots of opportunities up there nice and close to the net and she definitely dictated our hitters with her block," Smid said. "Credit to her and we just had a really hard time against her answering it."
The Cavaliers also struggled handling Ward's powerful serve during the match.
"It's hard when it's an aggressive serve. She's good at switching where she's going to hit it at the court," Bain said. "Sometimes it's harder to read than others, and if we're not in the right spot, and it's hit hard enough, we can't move quick enough to get it."
The victory was the third straight for Belle Fourche over Roncalli on its home court and each one has been a hard-fought, intense affair.
"Roncalli always has a tough team for us to battle with," Schlictemeier said. "Just some nice players here. It's always a challenge."
Sloan Young added 10 kills for the Broncs, who will compete in the Redfield Invitational today.
The Cavaliers featured a balanced attack led by Jaidyn Feickert with 11 kills and Ava Hanson with 10. Bain and O'Keefe each had four aces, and Bain had 25 digs.
Bain, who did not miss a serve in 18 attempts, said she has a spot in mind when she goes to serve the ball.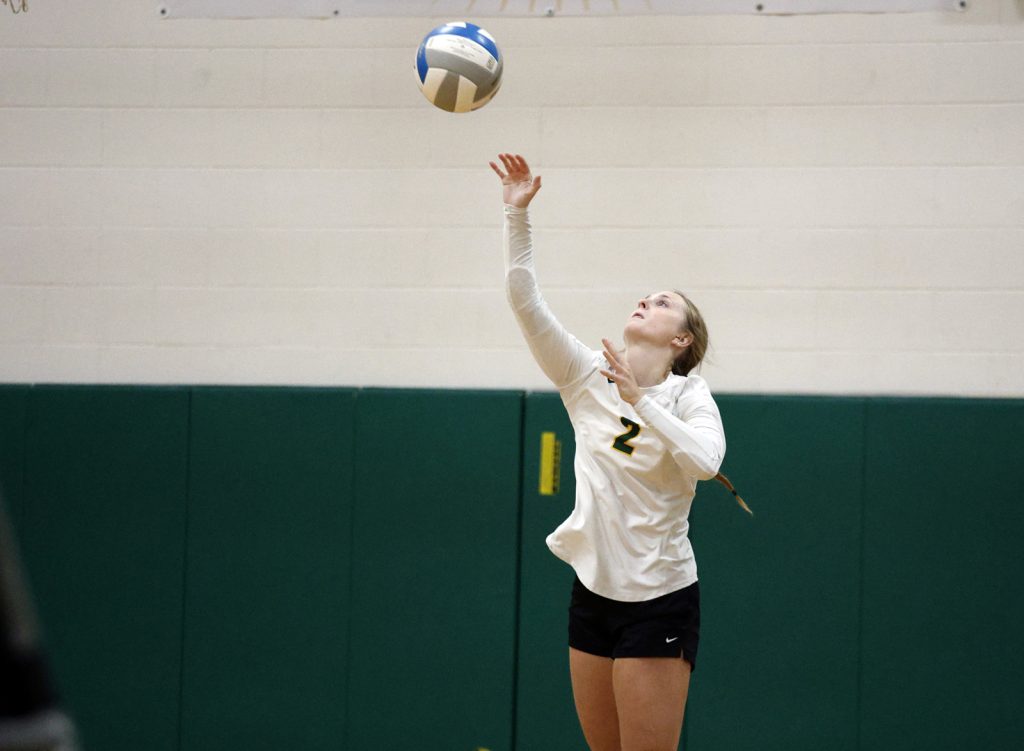 "I try to spot serve," Bain said. "Sometimes it will hit off my hand wrong, but most of the time it's where I want to go."
In the end, though, the Cavaliers were just a bit off their normal game in falling to Belle Fourche.
"We just really didn't play well together tonight. We've been so accustomed to being comfortable with people right next to us and we know where everyone's going and that trust is there, and that was lacking tonight," Smid said. "We had a lot of balls that two people would go for and then just kind of pull away and hesitate. We were lacking that trust in each other."
The Cavaliers, 10-3 on the season, will try to get back to their winning ways when they play at Langford Area on Tuesday.
"I'm hoping that after two losses in a week we can come back and go back to winning like we were before," Bain said.
Serving: Belle Fourche 12 aces (Reese Larson 4, Mataya Ward 3, Sarah Juelfs 3); Aberdeen Roncalli 74-83 11 aces (Camryn Bain 18-18 4 aces, McKenna O'Keefe 21-21 4 aces).
Hitting: Belle Fourche 40 kills (Ward 22 kills, Sloan Young 10); Aberdeen Roncalli 126-158 38 kills (Jaidyn Feickert 38-38 11 kills, Ava Hanson 28-36 10 kills).
Setting: Aberdeen Roncalli 148-148 31 assists (Maddie Huber 126-126 31 assists).
Digs: Aberdeen Roncalli 66 (Bain 25, Hanson 11).
Blocks: Belle Fourche 7 (Ward 4); Aberdeen Roncalli 7 assists (Hanson 2, Rylee Voeller 2).
Records: Belle Fourche 11-6; Aberdeen Roncalli 10-3.