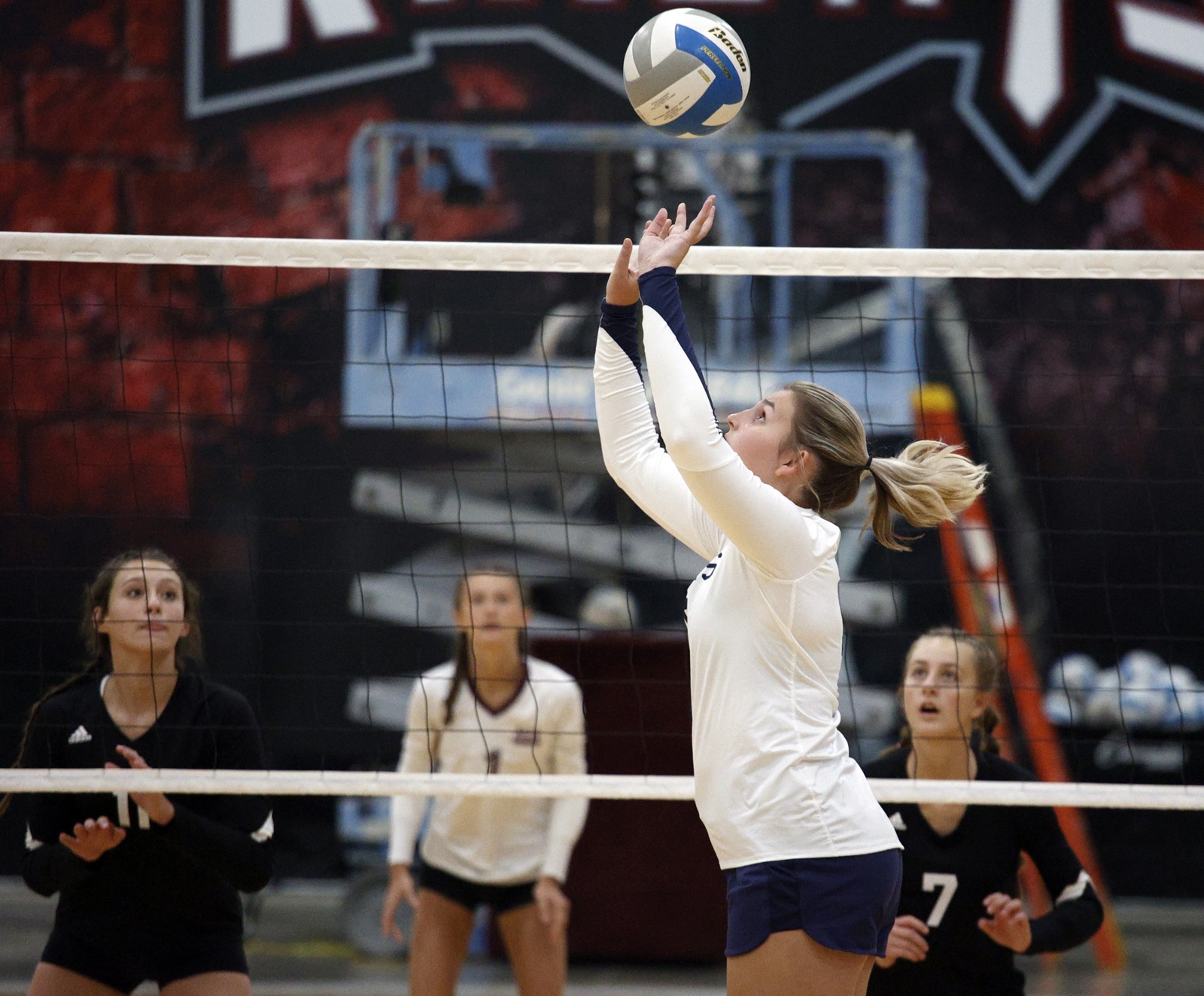 It was a see-saw affair at the Aberdeen Christian School Gym on Saturday afternoon.
The Leola-Frederick Titans picked up a 25-23, 23-25, 25-16, 25-22 win over the Aberdeen Christian Knights in Lake Region Conference volleyball action.
Leola-Frederick coach Leesa Ware said the match made her a little uneasy for a while.
"It made my blood pressure boil a little bit," Ware said. "We have things to work on. We've been trying, in practice, to eliminate unneeded errors and unforced errors, so that's really been kind of a concentration of ours is eliminating a lot of errors that occurred today."

Both teams locked horns throughout the match, beginning with a first set that was tight all the way through, ending with the Titans winning by two points. Set two was much like the first set, as both the squads traded points before Christian pulled ahead to take a 20-13 lead. After a timeout, however, the Titans came roaring back, cutting the deficit down to two before the Knights finally captured the set, 25-23.
Christian coach Sara Powell was pleased with her team's effort in the second set.
"I told the girls, I said you know that we know how to play, and we have some big hitters," Powell said. "I said we just need to go out there and hit the ball, and so that's what they came out and did."
Ware said her players felt the pressure in the second set and it took a toll on them.
"I think the girls just kind of got down and they got so far down on themselves that we just couldn't snap out of it," Ware said. "But I was super proud of them the remainder of the game. They came back and they dug deep and they showed a lot of heart, I think, out here."
The highlight of the match came early in the third set when Leola-Frederick senior Jocelynn Ellwein tallied her 1,000th career set assist. Ellwein said it took hard work to get to the milestone.
"It feels really good," Ellwein said. "We were not the best team for a long time, so we fought through many hard times, so to get here feels really good."
The milestone not only ignited Ellwein, but it ignited the entire Titans team. Leola-Frederick seized the momentum in the third set, and led by as many as nine, before winning the set 25-16.
Ware encouraged her players to keep attacking.
"I told the girls keep up the momentum. Keep being aggressive," Ware said. "That's one thing that we've been working on a lot this season is even if we do get down or do get scared, we have to continue to be aggressive towards our opponent."
The Knights, meanwhile, struggled to establish themselves in the set.
"(We) kind of started losing steam," Powell said. "We had too many errors. Just not playing smart volleyball on our part."
The fourth set was a culmination of the entire match, as both teams fought tooth and nail to the end. Leola-Frederick had firm control for much of the set and appeared well on the way to victory only to have the Knights fight back, cutting the deficit down to one, before the Titans finished off the match 25-22.
Ware said she encouraged her team to finish the match strong.
"I told them, I said don't let them in. You have the momentum right now. You have to dig deep and keep on pushing, just don't let them back in. Get to 25," Ware said. "That's one thing we've been working on, too, this season, is we need to learn how to finish."
Powell said that despite the loss in the final set, her team was not going down without a fight.
"These girls know how to put up a fight, and they do that," Powell said. "We've just got to be able to finish it."
Ellwein said she enjoyed playing in the tightly-contested match.
"I feel like even though they were a younger team, they played really well on their part," Ellwein said. "But then, on our part, we also played well, so it was a very fun match to play in."
Ellwein noted that the team can learn from the match moving forward.
"It was a tough game, but I feel like it's good to have games like this because then we can get better throughout the season," Ellwein said.
Leola-Frederick (2-1) travels to Langford Area on Tuesday, and Ware noted that gaining experience, as well as cleaning up errors, will be key moving forward.
"I think, honestly, just putting them in those tight-game situations again. We'll work a lot on just game-like situations, and just finishing those situations," Ware said. "And just errors. We have to eliminate those unforced errors that were occurring."
Powell said there were positives and negatives that can be taken from the match.
"I think just getting the ball and hitting it and the placement of it," Powell said. "Our serving was really on tonight, so that was a good thing. We had Ari (Johnson) with some really big hits. We have some adjusting to do on some set receive that we definitely need to work on."
Aberdeen Christian (0-2) will play at Langford Area on Sept. 5.
Serving: Leola-Frederick 84-92 5 aces (Laura Sumption 15-17 2 aces, Jocelynn Ellwein 22-22 1 ace); Aberdeen Christian 79-87 15 aces (Sawyer Schwan 21-22 6 aces, Natalie Biel 11-11 2 aces, Arianna Johnson 14-15 3 aces).
Hitting: Leola-Frederick 69-81 42 kills (Sofia Losure 16-22 13 kills, Kaitlyn Mueller 14-19 10 kills, Jillian Ellwein 10-15 10 kills); Aberdeen Christian 102-134 33 kills (Ari Johnson 27-36 12 kills, Jolie Fogarty 16-17 6 kills, Chloe Bosma 21-29 5 kills).
Setting: Leola-Frederick 82-82 42 assists (J. Ellwein 71-71 33 assists); Aberdeen Christian 137-140 25 assists (Schwan 102-102 14 assists, Jolie Fogarty 57-58 10 assists).
Digs: Leola-Frederick 89 (Losure 16, Mueller 14, Sumption 14); Aberdeen Christian 73 (Alexis Isakson 30, Payton Skarin 13, Biel 7).
Blocks: Leola-Frederick 4 solo 2 assists (Mueller 3 solo); Aberdeen Christian 5 (Jolie Fogarty 2, Sophia Eichler 1, Johnson 1).
Records: Leola-Frederick 2-1; Aberdeen Christian 0-2.