June 29: The Sacramento Kings invited former SDSU standout Mike Daum to join its NBA Summer League roster. Daum, 28, scored 3,067 for the Jacks from 2016-19. He has had a successful pro career in Spain and Italy since graduating from SDSU.
July 1: Two Yankton golfers playing in the same foursome made back-to-back holes-in-one at Fox Run Golf Course in Yankton. Ward Youngblom (9-iron) and Kyler Johnson (7-hybrid) each aced the par-3, 141-yard Hole No. 4. The PGA lists the odds of two golfers in the same foursome making a hole-in-one on the same hole as 17 million-to-1.
July 4: In dramatic fashion, Harrison Good gave Rapid City Post 22 its first Firecracker championship in four years. Good hit a two-run, walk-off homer in the bottom of the seventh to give Post 22 (36-19) a 5-4 win in the title game against Next Level Baseball of North Carolina. This was the 48th annual Firecracker Tournament hosted by Post 22 at Fitzgerald Stadium in Rapid City.
July 6: Kurtiss Riggs announced he is stepping down as head coach of the Sioux Falls Storm indoor football team at the end of this season. In 19 seasons under his leadership, the Storm have won 11 titles in 15 championship game appearances and have amassed a 264-66 record.
July 7: Former SDSU standout golfer Teresa Toscano didn't make the cut for the final two rounds at the 2023 U.S. Women's Open Championship at Pebble Beach (CA) Golf Links. The 2021 SDSU graduate, who played in her first LPGA event last month, shot a +9 over her two rounds, with scores of +6 or better making the cut. Allisen Corpuz, a 25-year-old from Hawaii, won the tourney with a score of 9-under to earn the $2 million first-prize.
July 8: Olympic silver medalist and 2020 USD graduate Chris Nilsen (Kansas City, MO) won this third straight U.S. Outdoor Championship pole vault title. Nilsen, ranked second in the world, cleared 19-4.75.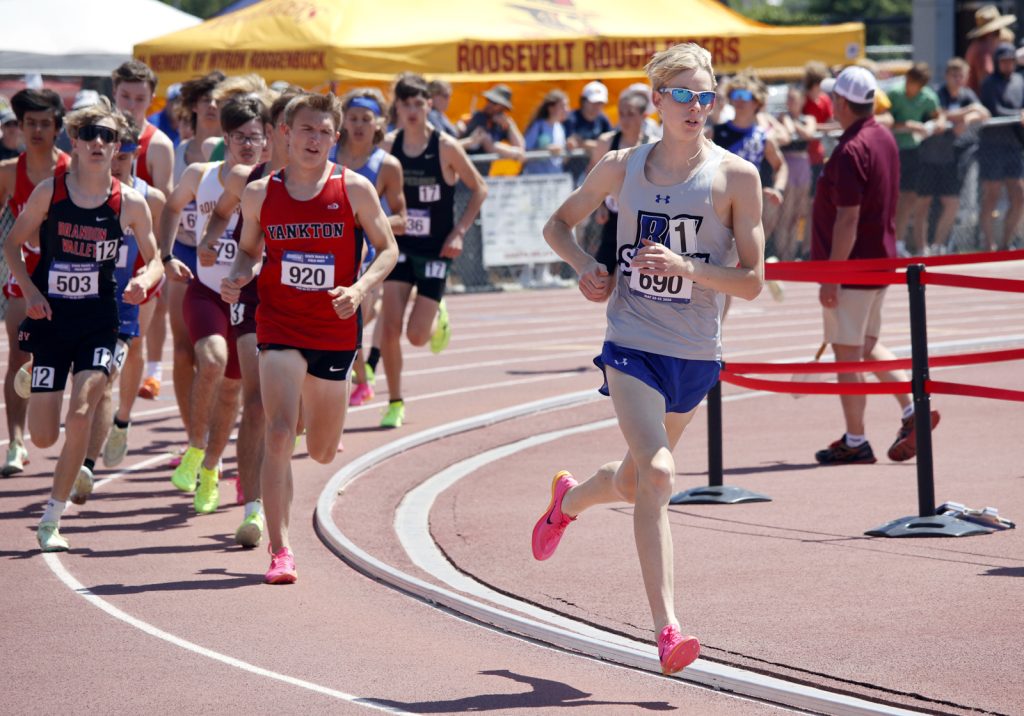 July 8: Rapid City Stevens graduate and incoming University of Oregon freshman Simeon Birnbaum finished second in the 800 meters at the USA Track and Field Under 20 National Championships. Birnbaum ran a personal best of almost two seconds faster to register a 1:47.96. Winner Tinoda Matsatsa of Maryland ran a 1:47.76.
July 9: SDSU basketball coach Aaron Johnston along with the USA Basketball FIBA Women's AmeriCup team secured a silver medal at the 2023 FIBA Women's AmeriCup. The U.S. fell to Brazil 69-58 in the championship game in Mexico. Johnston served as an assistant for Team USA.
July 9: Former Coyote six-time All-American and 2017 USD graduate Emily Grove (Pontiac, IL) finished fifth in the pole vault at the U.S. Outdoor Track and Field Championships in Eugene, OR. She cleared 14-9.5 while winner Katie Moon cleared 16-0.75.
July 10: A group of South Dakota girls defeated some of the best 17-and-under basketball teams in the nation to win 17U Tournament of Champions at the Elite Youth Basketball Nike Nationals in Chicago. Emilee Fox of Mount Vernon/Plankinton was the tourney MVP as she led her Sanford Sports Academy team past the Southeast All-Stars of Georgia 97-65 in the championship game that was televised live nationwide on ESPNU. Others on the Sanford team were Macy Koupal of Wagner, Katie Vasecka of Tea Area, Mahli Abdouch of Sioux Falls O'Gorman, Claire Sheppard of Flandreau, Dani Highum of Lennox and two Iowa players from Sioux City, Brooklyn Stanley and Alex Flattery. Fox, Vasecka, Abdouch and Sheppard are SDSU recruits.
July 10: The Sioux Falls Public School District has dropped gymnastics as 2023 has not been a kind year for the sport. Earlier, Rapid City dropped the sport and the Corn Palace in Mitchell declined an agreement with the South Dakota High School Activities Association to host the state gymnastics meet in 2026. Instead, Corn Palace officials choose to host the more profitable two-day high school basketball DWU Classic which has the same February dates in 2026 as the state gymnastics tourney. The loss of the four Sioux Falls (Washington, Lincoln, Roosevelt and Jefferson) and the two Rapid City (Central and Stevens) gymnastics teams leaves South Dakota Class AA gymnastics with only nine programs (Aberdeen Central, Brookings, Harrisburg, Huron, SF O'Gorman, Pierre, Watertown, Yankton and defending champion Mitchell). Pierre will host the 2024 state gymnastics tourney on Feb. 9-10.
July 12: A South Dakota non-profit organization designed to create more athletic opportunities for young women that was started by two SDSU basketball players was honored in Los Angeles. On behalf of Her Turn, co-founders Letcher native Myah Selland and teammate Tori Nelson (Mendotz Heights, MN) were awarded a $25,000 grant at the Gatorade Player of the Year Awards. Her Turn provides scholarships for recipients to attend SDSU athletic camps at no cost. The duo also attended that night's ESPYs.
July 12: A Webster native and former standout NSU quarterback shared an ESPY award with his teammates. Buffalo Bills head trainer Nate Breske accepted the Pat Tillman Award in Los Angeles on behalf of his staff and the many others who helped save the live of Bills defensive back Damar Hamlin after he went into cardiac arrest on the field during a game in Cincinnati on Jan. 2. Hamlin, who is planning to return this season after a nine-day hospital stay, fought through tears to announce the honor.
July 12: Watertown Post 17 defeated Brookings in a doubleheader to give coach Ryan Neale, a former Post 17 standout, his 200th and 201st wins with the program. Former Post 17 coach Mitch Johnson is the all-time leader with 205 wins. This is Neale's sixth season (2010-11 and 2019-) as the Post 17 coach.
July 12: The Mitchell Baseball Association terminated the rest of the baseball season for its Mitchell Post 18 American Legion team. The Mitchell Daily Republic reported that the team's season had been suspended after it last played a game on June 20. Earlier, South Dakota Attorney General Marty Jackley issued the following statement regarding an investigation into the program: "Based upon the serious nature of the allegations that have been received and the public nature of the investigation, I am confirming that the State Division of Criminal Investigation and assisting agencies are engaged in an ongoing investigation of complaints surrounding the Mitchell American Legion baseball program."
July 13: J.T. Rock, who will turn 18 on March 1, announced he is graduating from Sioux Falls Lincoln early and will join the Iowa State basketball program this fall. Rock was to be a senior this fall at Lincoln. The 7-foot-1, 245-pound Rock is targeted to redshirt this coming season under Iowa State coach and former SDSU coach T.J. Otzelberger.July 15: Former SDSU standout Mike Daum made the most of his time with the Sacramento Kings in the NBA Summer League. Daum helped the Kings to a 3-2 record by collecting 50 points, 24 rebounds, nine blocked shots and six assists. Several reports said the 27-year-old performance might help him catch on with an NBA team in the fall. Daum, who played with Portland in the 2019 NBA Summer League and has been playing overseas, is one of only a handful of players to score more than 3,000 points (3,067 from 2015-19 at SDSU) in his college career.
July 15: Rapid City native Becky Hammon coached her second team in the WNBA All-Star Game in just her second year of coaching in the league. Hammon's Team Wilson, which won the 2022 All-Star Game, lost to Team Stewart 143-127 in Las Vegas where Hammon is the coach of the defending WNBA champion Aces.
July 21: Pro golfer John Daly had buddy Ben Graham of Sioux Falls caddy for him at the 151st British Open in England. Daly, 57, won the 1995 British Open in Scotland, but did not make the cut in 2023.
July 21: The Aberdeen Smittys defeated Watertown 1-0 to advance the State A American Legion Baseball Tournament for the first time since 2017. Phillip Zens led the Smittys (27-16) with the pitching shutout, giving up only five hits and striking out six. Zens also had the game's only RBI. Casey Vining and Ethan Kjenstad had the only two hits (both singles) in the game for the winners.
July 22: Piper Cordes of Wall and her horse Fiesta won the barrel racing world title at the National High School Finals Rodeo in Wyoming. Cordes, who will be a senior this fall, is the first South Dakotan to win a national title at the NHSFR since Cash Wilson of Wall won the saddle bronc title in 2018. Cordes is the fifth South Dakotan and the first since 1968 to win a barrel racing national championship. The others were Maxine McCullough of Highmore in 1968; Jean Vroman of Belle Fourche in 1967; Rose Mary D'Arta of New Underwood in 1966; and Connie Stinson of Viewfield (in Meade County near New Underwood) in 1960.
South Dakota also had two national runners-up at the 2023 NHSFR as Kashton Ford of Sturgis finished second in bareback riding and Eastan West of New Underwood finished second in saddle bronc. Those two plus Cordes helped South Dakota finished third in the combined team standings behind Utah and national champion Texas. The SD girls finished fourth and the SD boys finished sixth in the national standings.
July 23: Lake Norden defeated Clark 12-2 in the District 1B Amateur Baseball Tournament. Matt Stevenson (three-run homer in fifth) and son Kale (solo homer in third) accomplished a rare father-son amateur baseball feat as each had home runs for Lake Norden.
July 24: The Dakota Alliance 17U girls' soccer team based in Sioux Falls won the U.S. 17U Youth Soccer national championship. Abby Flanagan had the game-winning goal on a penalty kick as her team defeated Texas SC Solar 5-4 in Orlando, FL. It was the first such national title in South Dakota soccer history.
July 23: A youth athletic academy based in Fort Yates, ND, won the 20th annual Native American Basketball Invitational in Phoenix. Team Akichita defeated the Oklahoma Runners 85-67 for the title. The winners, made of players from North Dakota and South Dakota, are the first team from the Dakotas to win the event. On the team were Lance Bradley, Keetan Eagle and TJ Brown Otter Jr. of Standing Rock Nation; Deng Deng, Bucky St. Pierre, Dalen Left Bear and tourney MVP Mark Fasset Jr. of Spirit Lake Nation; and Justin Hale, BJ Zarazua Jr. and Little Hail Perkins of the Three Affliated Tribes, also known as the Mandan, Hidatsa and Arikara Nation.
July 25: Selby native and former SDSU football coach John Stiegelmeier threw out the first pitch at Target Field before the Minnesota Twins hosted Seattle (Mariners scored seven runs in final two innings to win 9-7). Stiegelmeier coached the Jacks to the national championship last season. On Sept. 16, the Jacks will host Drake on the same field, the third college football game hosted in the 14-year history of Target Field.
July 26: SDSU will host the University of Michigan in a wrestling dual at the Sanford Pentagon in Sioux Falls on Jan. 4. Michigan returns six All-Americans from last year's team that won the Big Ten Conference and finished as national runners-up. Michigan has had wrestling for 102 years, and this will be the Wolverines' first meeting with the Jackrabbits.
July 27: Former SDSU basketball standout Myah Selland of Letcher was named the Summit League's 2023 NCAA Woman of the Year nominee. The program honors the academic achievements, athletics excellence, community service and leadership of graduating female college athletes. The award's selection committee will choose a Top 30 (10 women from each of the NCAA's three divisions of I, II and III). In October, the committee will select the 2023 NCAA Woman of the Year recipient from the Top 30.
July 28: The Clark-Willow Lake Post 60 Senators made their first appearance in the American Legion Baseball State B Tournament since 1987. In 1986 and 1987, Clark won back-to-back state titles. Coach Chris Bokinskie's CWL team is led by Lucas Kannegieter, Trey Huber and Mitchell Larson.
July 28: Recently retired Don Barnes of Sioux Falls O'Gorman was named the National High School Athletic Coaches Association's 2023 girls' tennis coach of the year. His SFO boys' and girls' tennis teams registered more than 1,000 victories, 20 team state titles, 19 team state runner-up finishes, 30 Flight 1 singles state titles and 21 Flight 1 doubles state titles. Barnes was named national boys' tennis coach of the year in 2005. Inducted into the 2023 NHSACA Hall of Fame were Ken Bruckner of Menno and Doc Michel of Black Hawk. Former South Dakota sports administrator Ruth Rehn of Greeley, CO also was selected as the Kathy Holloway Woman of Inspiration Award recipient and Virg Polak of Watertown received the NHSACA Distinguished Service Award.
July 28: Harrisburg won its first American Legion Baseball state title. Coach Jake Adams and his Tigers won the State A title 3-2 over Brookings when Coen Cook hit a walk-off single to drive in teammate Tate Larson for the winning run in Yankton.

July 29: The first quarterback Ohio State coach Ryan Day mentioned when asked about his quarterback room at Big Ten Media Days was true freshman Lincoln Kienholz of Pierre. "I've been really impressed with how it doesn't seem too big for Lincoln," Day said. Currently two former five-star prospects, junior Kyle McCord and redshirt freshman Devin Brown, are the leading candidates to become the Buckeyes' starting quarterback.
July 29: The Sioux Falls Storm have rallied around the only coach their indoor football franchise has ever known. Since coach Kurtiss Riggs announced that he is stepping down at the end of this season after 20 years, his Storm have gone 3-0 in pulling three comeback upsets. First, the Storm rallied from deficits to beat Massachusetts twice, and then cameback from a 27-10 halftime deficit to stun the Frisco (TX) Fighters 45-44 in the Eastern Division championship. The Storm trailed by seven with 12 seconds left when quarterback Lorenzo Brown scored a touchdown followed by a two-point conversion to seal the win. The Storm (11-6) lost to the Fighters (14-3) 56-15 in Frisco on July 1. Sioux Falls will play for an indoor championship for the 16th time in Riggs' 20 years in charge, going for what would be the team's 12th title.
July 29: Baseball is back at Columbia for the first time in six years as the first game was held on its newly dedicated Wahl Memorial Field, named after former MLB player Kermit Wahl (played in majors from 1944-51 for Cincinnati, Philadelphia and St. Louis) of Columbia. The old baseball field and city park were abandoned having experienced flooding in recent years leaving the city with a rich, century-old baseball history without a field to host games. Columbia native and Chicago resident Dean Buntrock and his family funded the new field and city park. Wahl (Nov. 18, 1922-Sept. 16, 1987), who played his last MLB game 72 years ago on July 29, 1951, went on to become a teacher and coach at Groton along with an administrator at several colleges such as Northern State after his retirement from baseball.

Email us at dave@sdsportscene.com if you think we missed something or if you have an event you would like us to consider for this feature.