This week, teams from across the state will begin the high school football season and look to accomplish their goal of reaching the DakotaDome in Vermillion in mid-November for a shot at a state championship. Here is a look at some of the top teams, games, and players to watch in northeast and north central South Dakota.
Defending champion Hitchcock-Tulare leads 9B ranks
Defending Class 9B champion Hitchcock-Tulare will once again be among the favorites to win the title this season. The Patriots received 12 first-place votes while beginning the season ranked No. 1. They return six starters – three on each side of the ball – and will feature one of the best running backs in the state in senior Erik Salmen. The Patriots schedule includes key games against Faulkton, Avon, and De Smet.
Herreid-Selby Area has finished runner-up in three of the past four seasons, including last year in 9B, and will once again be one of the top teams competing for the title. Despite losing running back Brenden Begeman – South Dakota's all-time leading rusher – and several other key players to graduation, the Wolverines return five starters on offense and six on defense. All-state selections Trevor Gill and Collin Tisdall will be among the senior leaders for this year's team. The Wolverines enter the season ranked third in the preseason poll and their first contest of the season against Leola-Frederick on Friday will be a good indicator of where the team will be after losing the state's all-time leading rusher.
Faulkton returns a wealth of experience from a 4-5 campaign last season. The fifth-rated Trojans total 18 returning letterwinners and bring back eight starters on offense and seven on defense. Senior Layne Cotton returns to lead the team at quarterback. Cotton threw for 1,480 yards and 15 touchdowns last season, while adding nine rushing touchdowns. The Trojans are ranked fifth in the preseason poll and will play some quality contests this season, including against Ipswich, Hitchcock-Tulare, and Warner.
Potter County and Sully Buttes have had strong football programs through the years and could see improvement on the field in 9B this season.
Warner, Wolsey-Wessington among Class 9A favorites
Warner looks to return to the DakotaDome for a third time in four years after finishing runner-up in Class 9A in 2020 and 2022. The second rated Monarchs return several key players, including senior running back Hunter Cramer. The senior is a do-it-all player who can line up at multiple positions on the field. Warner also returns several linemen, backs, and receivers to complement Cramer. The Monarchs schedule features a few key dates, including traveling to Castlewood on Sept. 15 and to Dacotah Bank Stadium on Sept. 22 to face Faulkton. But arguably the Monarchs' biggest challenge will come on Sept. 29 when they travel to Hayti to take on the Hamlin Chargers. Warner narrowly defeated Hamlin last season, 8-6, and this year's contest has all the makings of another knockdown, drag out fight. Mark your calendars – this should be one of the biggest games in northeast South Dakota this season.
Wolsey-Wessington enters the season rated third in the Class 9A preseason poll. The Warbirds will be a relatively young team, but will have the talent to match up with anyone on their schedule. Home games against 9A defending champion Gregory, 9AA runner-up Parkston, and Avon will be challenges, along with a road trip to De Smet. The Warbirds roster boasts some of the best track and field stars in Class B, including quarterback Caleb Richmond and wide receiver Moshe Richmond. Wolsey-Wessington will be a tough out come playoff time.
Castlewood returns six starters on both offense and defense from a team that lost in the quarterfinal round last season. The fourth-rated Warriors will be led by all-state selection Quincy Thu, who totaled over 1,000 all-purpose yards last season. Castlewood's schedule includes several challenging games. The Warriors begin the season at De Smet and also play road games at Dell Rapids St. Mary and Hamlin, as well as a home contest against Warner.
Hamlin begins season as Class 9AA title contender
Hamlin will begin its quest for a trip back to the DakotaDome for the first time since finishing runner-up in 9AA in 2020. The Chargers received one first-place vote and stand fourth in the preseason poll. Hamlin boasts a dynamic offense, led by quarterback Tyson Stevenson and running back Luke Fraser. The senior quarterback/running back tandem should be one of the best duos in the state, and both have the potential to put up big numbers this season. Hamlin's schedule includes the aforementioned home games against Castlewood and Warner, as well as a trip to Dell Rapids St. Mary on Aug. 25.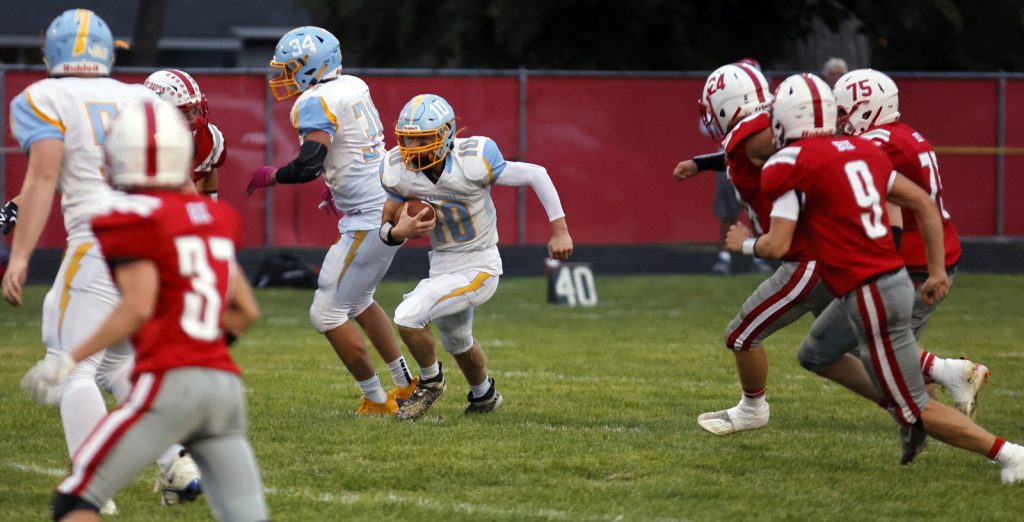 Ipswich and Leola-Frederick must replace several key players lost to graduation, but could still test their opponents and end up with solid seasons.
Deuel receiving votes in initial Class 11B poll
The Deuel Cardinals begin the 2023 season receiving four votes in the initial Class 11B poll after finishing 8-2 and losing to 11B runner-up Winner in the quarterfinals last season. The Cardinals must replace several key players, but return their signal caller in senior quarterback Trey Maaland. Deuel will travel to Clark-Willow Lake in the season opener before heading to Dacotah Bank Stadium to face Aberdeen Roncalli. Other key games for the Cardinals will include a trip to Groton, as well as a home game against Redfield.
Groton looks to improve on a 3-5 campaign a year ago. The Tigers return several key players, including seniors Lane Tietz, Colby Dunker, Logan Ringgenberg, and Holden Sippel. Key games for the Tigers will be home games against Aberdeen Roncalli and Deuel.
Clark-Willow Lake, Redfield, and Mobridge-Pollock must replace several key members of their squads from last season, but could be difficult challenges for their opponents.
(Note: The Aberdeen Roncalli preview ran earlier this week, and the Aberdeen Central preview will run in the near future).