ORIENT – Siblings Tricia and Jimmy Lammers share a passion for rodeo and in one event share their combined talents as well.
The Lammers will be among the more than 300 athletes competing in a variety of events at the State High Rodeo this weekend in Fort Pierre, including team roping, where the duo is a formidable tandem.
Tricia has been participating in the sport since she for about 10 years, while Jimmy has been participating for about eight years. They got started through their family.
"My dad and my grandpa and that whole side of the family have always rodeoed, so I was just kind of born into it," Tricia said.

Tricia participates in several individual events, including goat tying, pole bending, barrel racing, and breakaway roping, while Jimmy's individual events include steer wrestling and calf roping. Both say they enjoy the family affair that the sport brings to them.
"It's a lot easier, I guess, since there's a couple (of people) and it's not just you on your own," Jimmy said.
"It's nice, but it also can be challenging sometimes," Tricia said. "I also have another little brother, but he's in junior high, so we all practice together pretty much every night so, it's really nice to have help and just to have people around you that are doing what you are doing. We all help each other out with everything, and we ride each other's horses, so it's nice."
The team roping event where they get to combine their talents and love for the sports is something that is special to both of them.
"It's pretty nice. We're always together, so we get to practice together, so that helps," Jimmy said.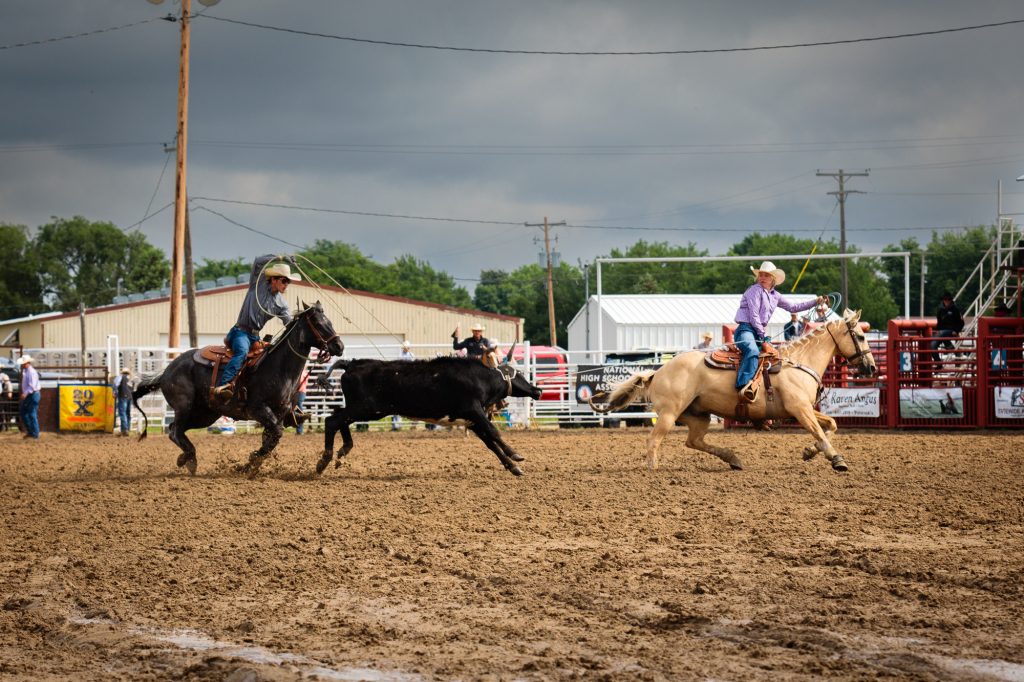 Tricia noted that competing with each other brings a different aspect to the competition.
"It's definitely different because we can't really be competitive against each other and we have to do it together," Tricia said. "If one of us messes up, there's definitely a little bit of hard feelings, but in the end, we are pretty good and we understand."
So far this season, the pair has done well in their events. Both are looking forward to the state rodeo as Tricia has qualified for four events, while Jimmy qualified in all three of his events.
Jimmy participated in the state rodeo last year, while Tricia has participated in each of the past three years. Entering this year's state event, both have similar goals they want to accomplish.
"To make it on the national team in at least one event," Tricia said.
Tricia also said she is looking to make a comeback after qualifying for the national team two years ago, but failing to do so last year.
Jimmy added that he wants to "be solid and make the round."
While Jimmy only participates in rodeo, Tricia has had several other athletic endeavors throughout her high school career, including participating in volleyball, basketball, and track and field for Miller. While she has enjoyed the opportunities in every sport, she says rodeo is by far her favorite.
Jimmy is still in high school, while Tricia is a recent graduate of Miller High School. She will be attending Central Wyoming College in Riverton, Wyo., where she will compete on the college rodeo team. Tricia plans on studying Health Science before pursuing another degree in Radiology. She plans on becoming a radiology technician.
The Lammers make their home near Orient, a town about 70 miles southwest of Aberdeen.
Both say they appreciate the support that the small community of around 50 people has brought to them through the years.
"Not a lot of people know where it is, and it's fun to have a small community because they support me a lot," Tricia said. "We have church in Orient, and whenever I go in, they all are asking how rodeo is going and they support me."
Jimmy echoed his sister's words.
"(It's) pretty nice," Jimmy said. "A lot of people around here are very involved with (rodeo), so they like to support it."