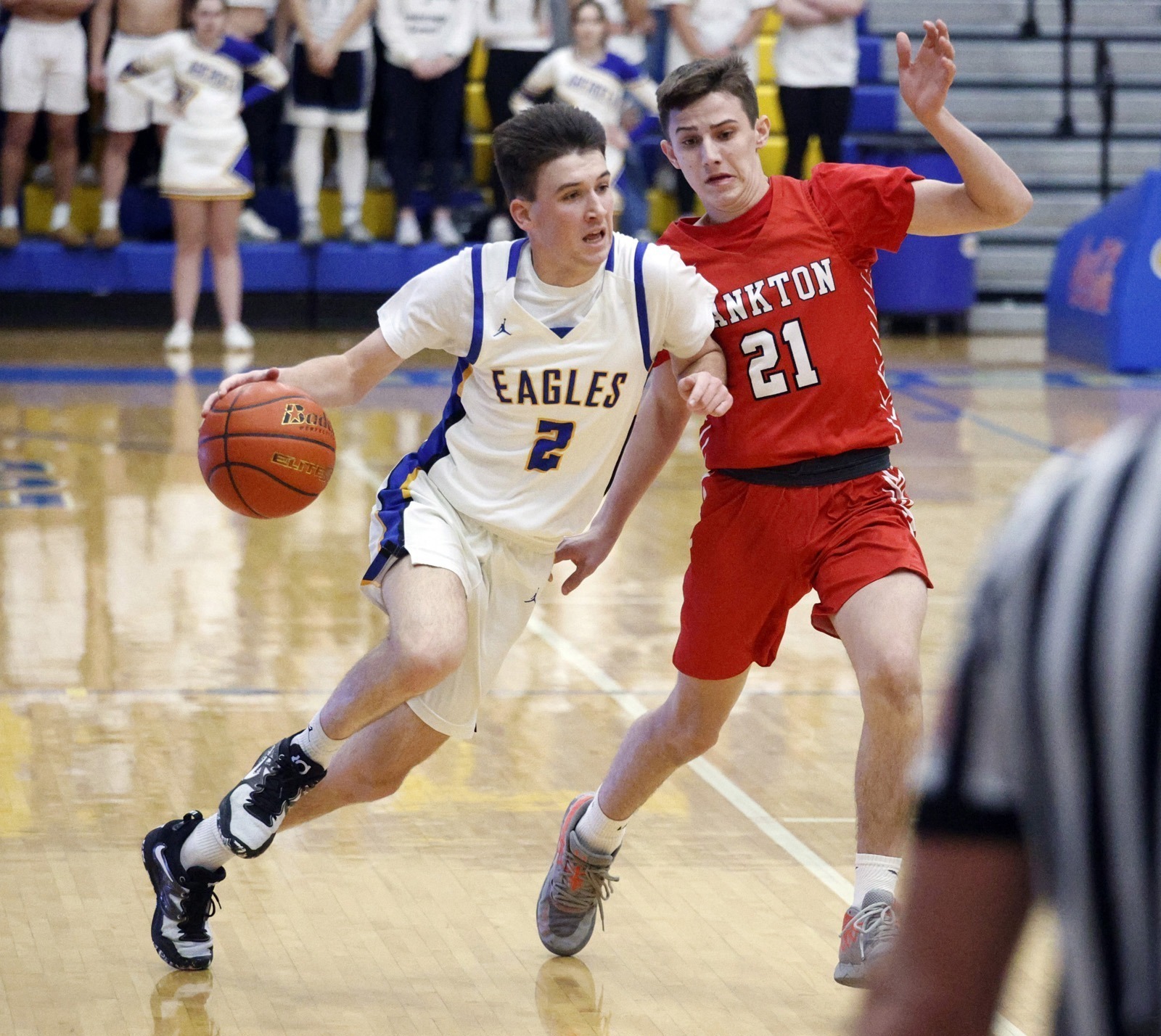 Aberdeen Central struggled to find a rhythm on the offensive end of the floor and Yankton made the Golden Eagles pay, fending off a late run to take a 59-47 Eastern South Dakota Conference boys' basketball win over Central Tuesday night at Golden Eagles Arena.
"First half, especially, we didn't do much very confidently on the offensive end," said Central coach Brent Norberg. "We didn't attack the rim, we didn't turn the corner hard, we didn't come off ball screens very aggressively."
Central's offensive struggles turned into a 33-22 deficit midway through the third quarter, but a string of 3-point buckets from Carter Dingman and Cooper Eisenbiesz helped turn the tide, albeit briefly. Dingman's shot at the buzzer from the far wing cut the Bucks' advantage to just four at 33-29 and gave the Golden Eagles a burst going into the final stanza.
Eisenbiesz, meanwhile, cut the lead to just one at 41-40 midway through the quarter.

"Second half, we did a better job of getting some stuff going," Norberg said. "We'd get the ball inside and free up some other guys, some shooters."
But as quickly as the Golden Eagles made up ground, the Bucks gained it right back, pushing the lead back to double digits, then converting on free throws down the stretch to keep it there.
"I thought the guys did a good job of battling all night," Norberg said. "They could have dropped their heads, but they kept playing hard. We just weren't able to get a rhythm offensively."
Dingman, who had four three-pointers in the game, led the Golden Eagles with 17 points. Karson Carda added 10 points, despite playing limited minutes in the first half with foul trouble. Spencer Barr finished with eight points and six assists.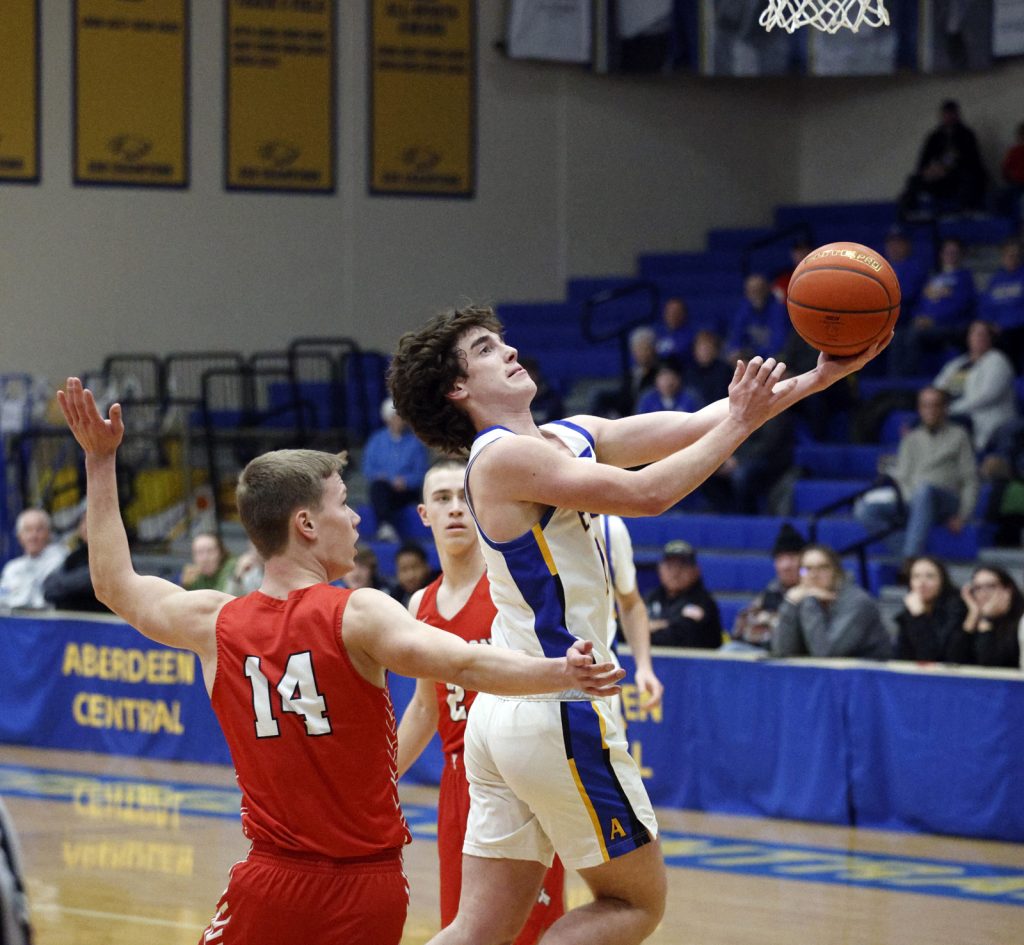 Yankton got 25 points from Drew Ryken, while the trio of Drew Ryken, Mac Ryken and Rugby Ryken combined for 46 of the Bucks' 59 points. Michael Mors chipped in with 10 points.
Yankton also had nine steals as part of Central's 17 turnovers.
"The problem in the first half was those turnovers led to baskets at the other end," Norberg said. "Second half, not as much, but still we turned it over and limited our opportunities. But when they lead to baskets and layups, that really hurts us."
Central heads to Harrisburg Friday.
YANKTON (6-4): Drew Ryken 7 8-8 25, Mac Ryken 5 0-0 10, Rugby Ryken 3 4-7 11, Cody Oswald 1 1-2 3, Michael Mors 4 2-3 10. Totals 20-40 15-20 59.
ABERDEEN CENTRAL (3-7): Carter Dingman 6 1-1 17, Karson Carda 5 0-2 10, Jett Carlson 1 0-0 3, Parker Lemer 2 0-0 6, Spencer Barr 4 0-0 8, Cooper Eisenbiesz 1 0-0 3. Totals 19-48 1-3 47.
Yankton 12 25 33 59
Aberdeen Central 12 18 29 47
3-pt FG — YAN 4-16 (D. Ryken 3, Oswald); AC 8-21 (Dingman 4, Carlson, Lemer 2, Eisenbiesz). Fouls — YAN 9; AC 19. Rebounds — YAN 31 (Oswald 9); AC 21 (Dingman 5, Carlson 5). Assists — YAN 4 (R. Ryken 2); AC 10 (Barr 6). Turnovers — YAN 16; AC 17. Blocks — YAN 1 (R. Ryken); AC 1 (Grant Fritz). Steals — YAN 9 (R. Ryken 5); AC 5 (Carda 2).