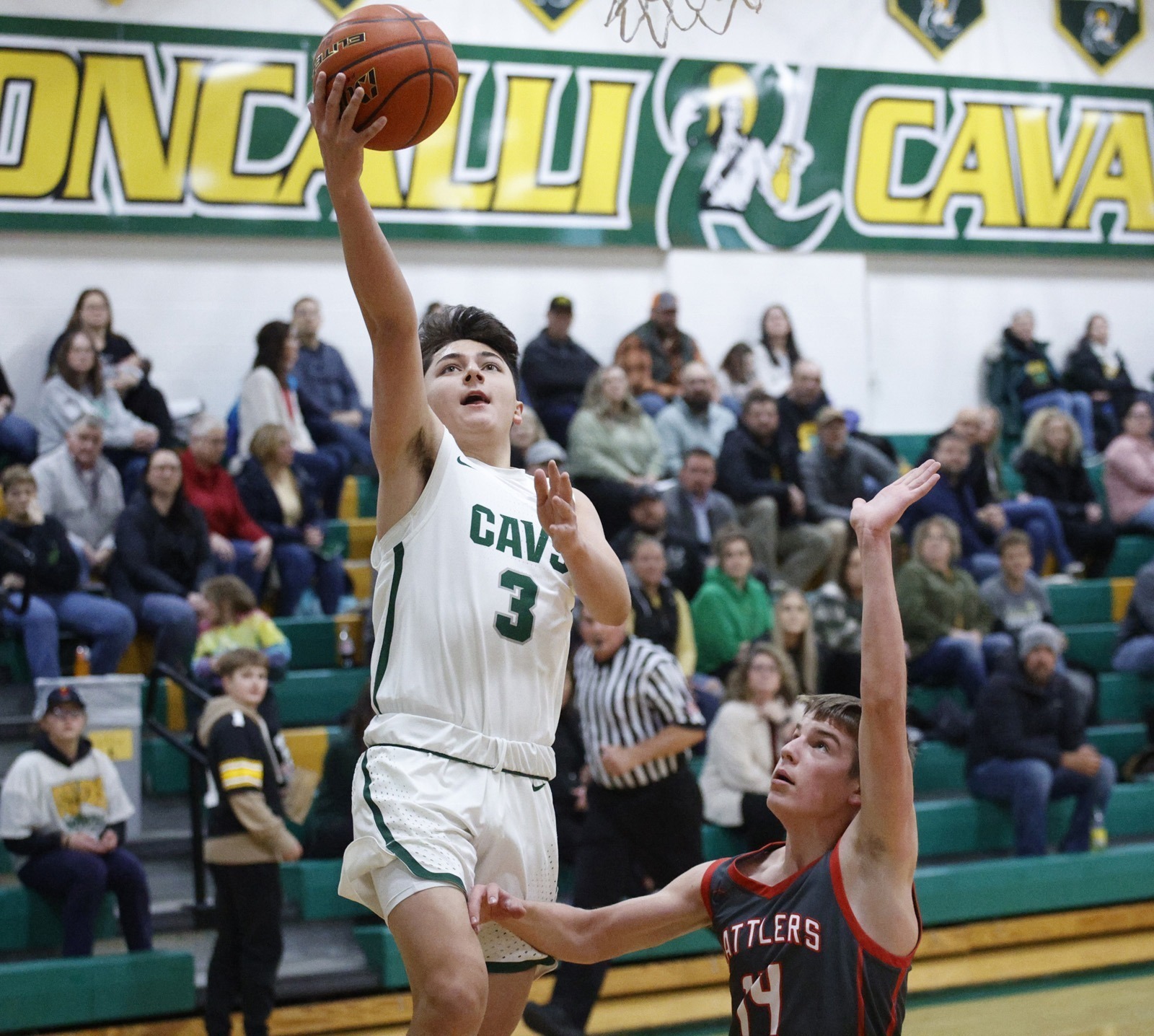 Miller went on a 12-0 run in the first two minutes of the second quarter, then held Aberdeen Roncalli to just four fourth-quarter points en route to a 47-39 boys basketball victory Tuesday night at the Roncalli Gym.
"We had a slippage in the second quarter, as far as defense goes," said Roncalli coach Dan Gallagher. "We gave up 19 points, and fourth quarter, we just didn't put the ball in the basket. Combine those two, and it definitely hurt us. Our guys played extremely hard, we just weren't able to get shots to fall."
It wasn't for lack of execution, however. The Cavaliers created open looks down the stretch, but fell victim to what, at times, seemed like the unlucky bounce.
"We had some that went halfway down and came back out," Gallagher said. "If we get some of those to fall, it's going to be a different story. But it is what it is. We've got to go back to the drawing board and see what it is we did really well in that third quarter to score 15 points, all of which were in the paint. We've got to find ways to be successful without shooting the three."

After giving up a chunk of scoreboard real estate in the second quarter, the Cavaliers did manage to reclaim some of it in that third quarter, as five different players recorded at least one field goal, while Jayden Munroe went 3-for-4 from the free throw line to give the Cavaliers a slim 35-34 lead heading into the final stanza.
But the fourth quarter was not as kind, as the Rustlers turned to the big-man tandem of Trevor Werdel and Spencer Fernholz for all 13 of their fourth-quarter points.
Fernholz finished with 19 points off the bench to lead the Rustlers, including eight points in that fourth quarter. Alex Schumacher, the Rustlers' leading scorer was held to just eight points, all in the second quarter.
"Our defense was phenomenal," Gallagher said. "Our guys played extremely hard. We wanted to limit their scorers, and we held Alex to eight points, all in the second quarter. So we did our job and executed our (defensive) game plan well. Now it's just about improving our offense."
Maddox Miller had 12 points to pace the Cavaliers. Maddox May added seven points, and Caden Shelton tallied six.
The Cavaliers will host Aberdeen Christian Thursday.
MILLER (6-9): Treyton Anson 3 0-0 6, Alex Schumacher 3 0-1 8, Dylan Hass 0 0-2 0, Isaak Hunter 3 0-0 7, Trevor Werdel 2 3-7 7, Spencer Fernholz 7 4-5 19. Totals 18 7-15 47.
ABERDEEN RONCALLI (9-8): Maddox Miller 5 0-0 12, Caden Shelton 2 0-0 6, Aiden Fisher 1 3-4 5, Jayden Munroe 1 3-4 5, Maddox May 3 1-2 7, Brody Weinmeister 0 0-3 0, Zane Backous 1 0-2 2, Parker Grieben 1 0-0 2. Totals 15 7-15 39.
Miller 7 26 34 47
Aberdeen Roncalli 9 20 35 39
3-pt field goals – Schumacher 2, Hunter, Fernholz; Miller 2. Total fouls – Miller 17; Aberdeen Roncalli 16.