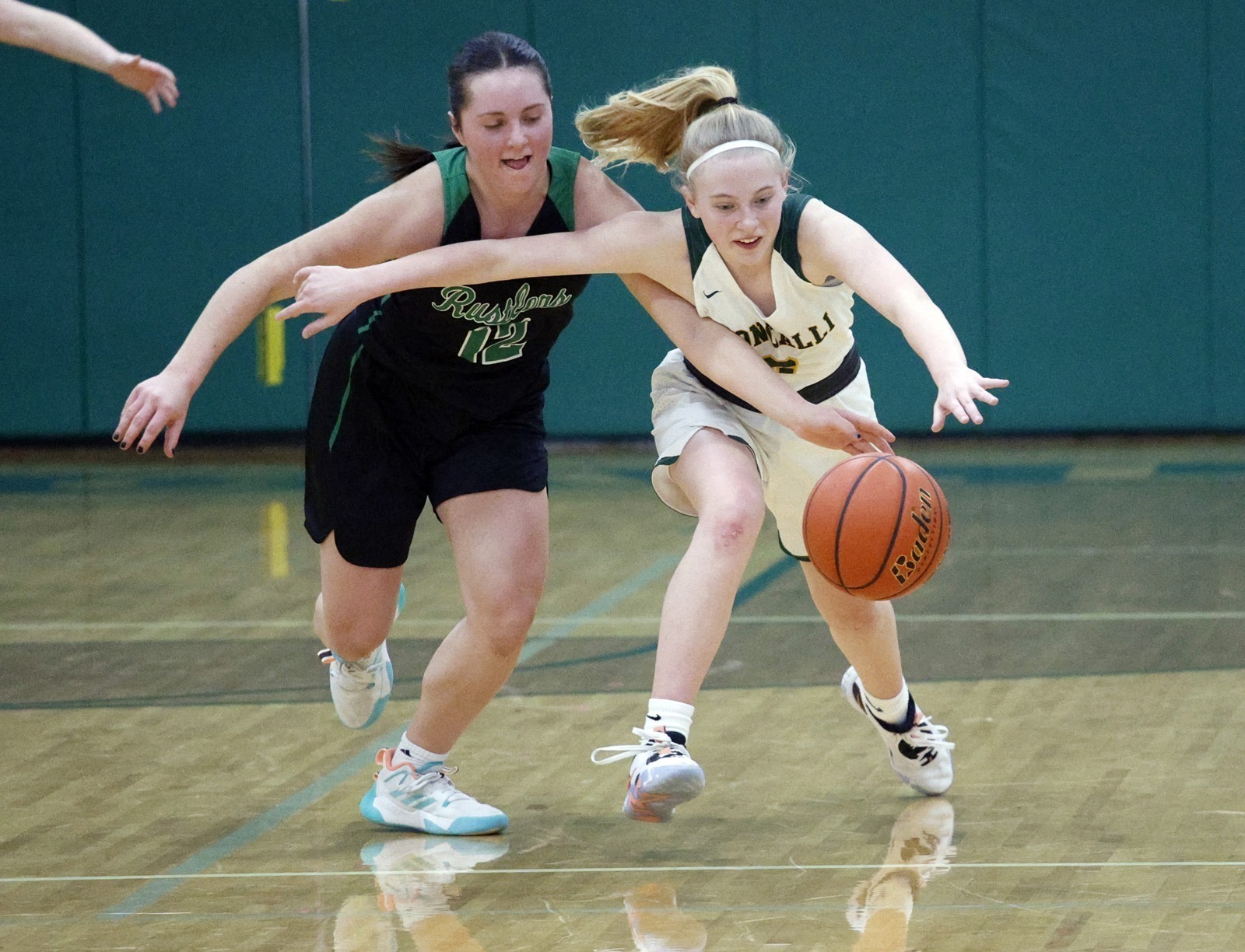 Heroes weren't hard to find for the Aberdeen Roncalli girls' basketball program Tuesday night.
The Cavaliers got clutch contributions from a handful of players in a 73-67 double-overtime win over Miller at the Roncalli Gym.
Camryn Bain, for instance, banked home a 3-pointer at the end of regulation to force the first overtime, but only after Maddie Huber hit a three of her own to pull the Cavaliers within two with under 20 seconds to play.
Huber came up big again in the first overtime with two free throws with 17.8 seconds remaining that would have given the Cavaliers the win if not for the driving efforts of Tyra Gates, who managed to bank home her own shot to force another overtime period.

Huber, a sophomore, and Claire Crawford, a freshman, had 3-pointers in that stanza, while McKenna O'Keefe, another sophomore, stole an inbounds pass and hit a layup with under 40 seconds to play that took much of the fight out of the Rustlers.
"It wasn't one person in either overtime or the end of regulation," said Roncalli coach Derek Larson. "We ran a lot of sets down the stretch and executed really well. We made some big ones."
Huber finished with just seven points, but all seven came at critical points in the late stages of the win, including her fourth-quarter 3-pointer, sent heavenward with a prayer.
"Please go in," Huber said of that bucket. "Please don't block it. I was just praying it went in."
In it went, of course, sparking a wild finish to what started out as a Miller-dominant contest.
The Rustlers, who suffered just their fourth loss of the season, pressured the Cavaliers into a fistful of turnovers in the first half and pressed their advantage to 22-8 by the midway point of the second quarter and 28-19 at the half.
"We weathered the storm early," Larson said. "We turned it over a ton. Didn't matter if it was in the full court or the half court, we just gave up some possessions. When you turn it over 10 times in the first half and give them 10 more opportunities at the rim, it's tough to battle."
Roncalli, however, turned a corner in the third period, as Bain drilled a pair of 3-pointers right away, spurring the Cavaliers to a 21-point stanza and the lead. O'Keefe joined the 3-point barrage, as did Ava Hanson.
"Halftime, we just got into the mindset that we have to go out there and shoot the ball," Huber said. "If you're open, you have to take shots. We knew their defense was going to be tough. We knew that coming in, so we just had to be ready for it."
"It was definitely a team effort," Larson said. "It wasn't like it was one person. It seemed like everyone made jumpers throughout the night."
Miller recovered, however, and started the fourth quarter on a similar charge, scoring 11 straight points to begin the stanza, but the Rustlers could not convert on enough chances down the stretch to fend off the Cavaliers.
Bain finished with 28 points for Roncalli. Hanson added 15 and O'Keefe finished with 12.
Gates had 25 points to lead the Rustlers, 15 of which came in the fourth quarter and beyond. Morgan Kolda added 16 points for Miller.
Roncalli will host Aberdeen Christian in a non-conference doubleheader Thursday.
"Hopefully, we can grow from this and not let this be a high and the next (game) be a low," Larson said. "We talk to our kids a lot about trying to be more consistent, because we haven't been the most consistent team around. That's something we're trying to strive for."
MILLER (12-4): Tyra Gates 9 6-9 25, Jaden Werdel 5 2-2 15, Morgan Kolda 5 5-6 16, Ally Mullany 3 0-0 7, Aleah Schlechter 2 0-0 4. Totals 24 13-17 67.
ABERDEEN RONCALLI (8-8): McKenna O'Keefe 5 1-3 12, Camryn Bain 9 4-7 28, Maddie Huber 2 2-2 7, Claire Crawford 4 0-0 9, Ava Hanson 6 0-0 15, Rylee Voeller 0 2-2 2. Totals 26 9-14 73.
Miller 14 28 33 52 61 67
Aberdeen Roncalli 9 20 41 52 61 73
3-pt field goals – Gates, Werdel 3, Kolda, Mullany; O'Keefe, Bain 6, Huber, Crawford, Hanson 3. Fouled out – Werdel. Total fouls – Miller 14; Aberdeen Roncalli 15.