MITCHELL – Aberdeen Central had one individual champion and finished third in the team standings at the girls' Eastern South Dakota Conference Tournament in Mitchell on Tuesday.
The Golden Eagles finished with 66 points, three points behind second place finisher Harrisburg. Pierre won the team title with a score of 152.
Central assistant coach Jake Flakus was proud of how the team wrestled.
"I think they wrestled hard, even in the matches that we lost," Flakus said. "They were kind of getting after it and trying some stuff, and some of them we just came up short. You never want to come up short, but it wasn't for a lack of effort."
Flakus was also happy with the matches that the team did win.
"In the matches that we won, we got a lot of pins, so we kind of dominated in that aspect," Flakus said. "So overall, I was pretty happy with the results."
Madyson Gillen was the lone champion for the Golden Eagles. Gillen won in a 6-2 decision over Pierre's Lexie Hillmer in the title match.
"In her championship match, she had a pretty tight one with a girl from Pierre," Flakus said. "She's beaten her a couple of times before, and she found herself in a tough match, tied up, close to the end, and she managed to get the takedown."
A downfall for the team was that one of Central's top wrestlers did not see the mat in the tournament. Katrina Gibson, rated third in the latest wrestling ratings at 154 pounds, did not wrestle due to an illness.
"It's too bad because she's been fun to watch all year with her little reign of dominance," Flakus said. "She's been pinning people left and right, so it would've been fun to watch her wrestle, but obviously illnesses and things like that happen, so we'll look forward to seeing her at the state tournament."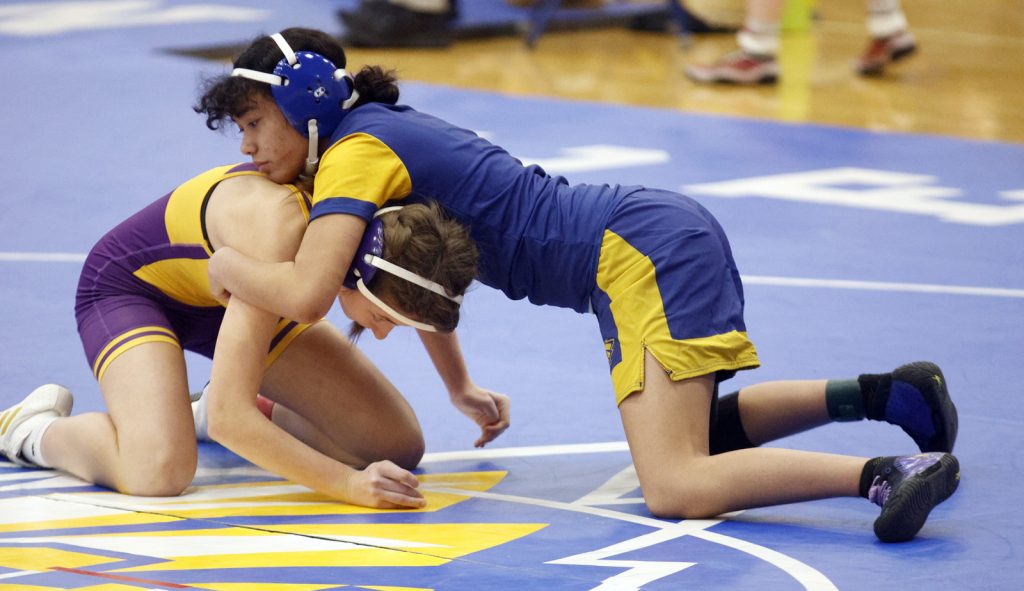 The Golden Eagles will now begin to set their sights on the state tournament next week in Rapid City.
"Today was the last day that you could enter in information for state tournament seeding," Flakus said. "The top 16 girls go, so some of our other girls had to battle and had to win some tight matches in order to pave their way into the state tournament."
To see complete ESD Tournament results, click on the following link:
https://www.trackwrestling.com/tw/predefinedtournaments/VerifyPassword.jsp?tournamentId=701983132
AVERY BENDEWALD: lost to Chalie Sah, Huron, 1-0; pinned Rinoah Gabriel, Brandon Valley, 2:41; def. Bailey Tekrony, Brookings, 7-6; lost to Chalie Sah, Huron, 5-3. FOURTH PLACE.
AUTUM GAUER: bye; pinned by Ciara McFarling, Pierre, 1:39; bye.
MADYSON GILLEN: bye: pinned Kendall Clayton, Brandon Valley, :32; def. Lexie Hillmer, Pierre, 6-2. FIRST PLACE.
JASMINE MAAS: def. by EhLer Kay, Huron, 7-5; pinned by Johanna Steinlicht, Brookings, 1:42; pinned by Sammie Reil, Harrisburg, 3:56.
ULA MARTIN: def. Jaclyn Kyte, Yankton, 8-0; pinned by Htee Htoo, Huron, :38; pinned Ljiljana Shellum, Brandon Valley, :45; sudden victory over Jaclyn Kyte, Yankton, 4-2. THIRD PLACE.
ALLISON NEITZEL: pinned by Kami Erickson, Brookings, 5:47; bye; pinned by Kezrey Benning, Pierre, 4:24.
LIN PAW JONE: pinned Say Glay, Huron, 3:07; pinned by Nevaeh Leonard, Yankton, 3:14; pinned Brenna Reker, Brandon Valley, 1:42; pinned by Addi Viox, Harrisburg, 4:13. FOURTH PLACE.