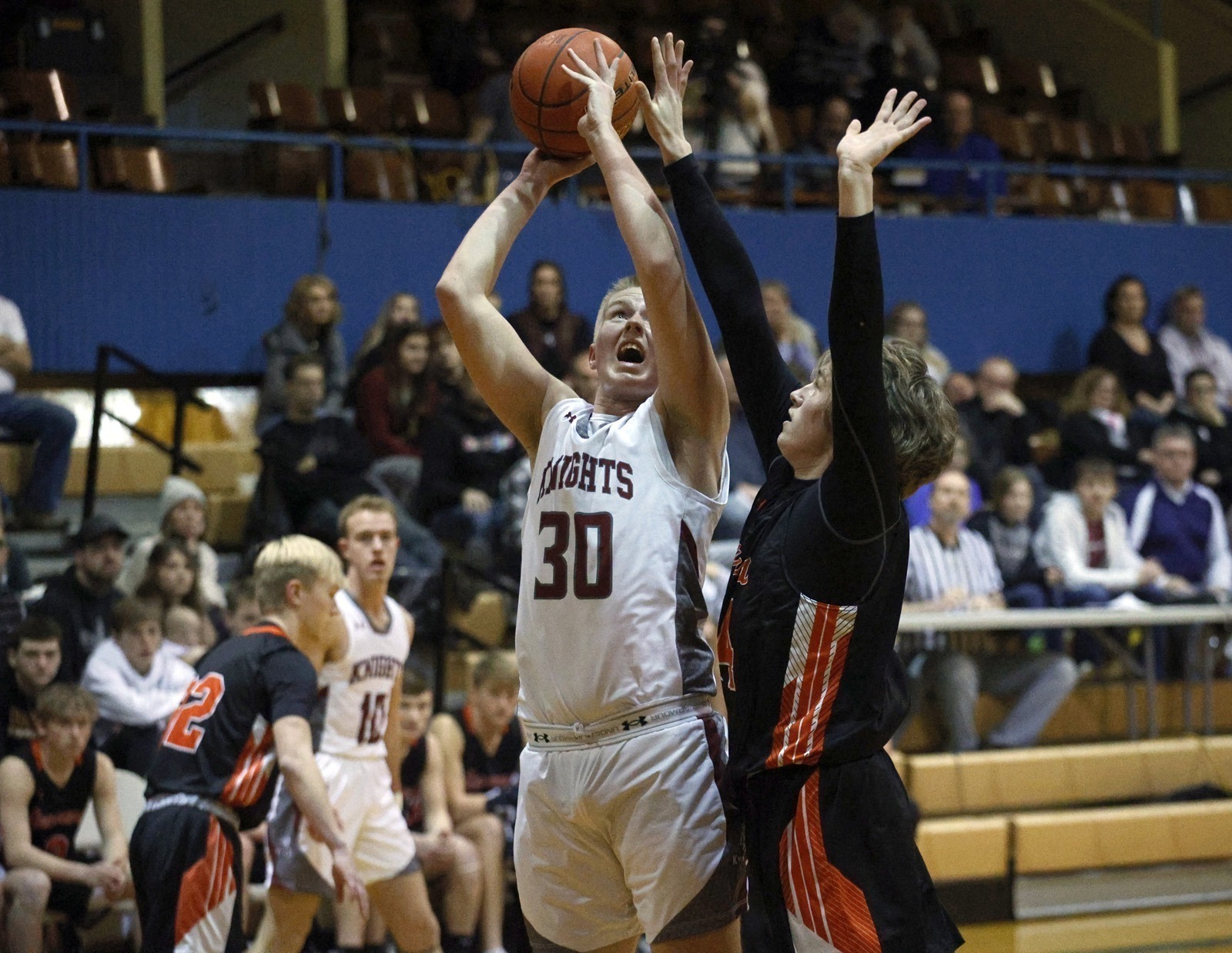 It was one of those rare games: hard fought, intense, and in the end, both teams walked away feeling it made them better.
Class A Dell Rapids handed Class B top-rated Aberdeen Christian its first loss of the season in a 59-51 non-conference boys' basketball victory Saturday afternoon at the Aberdeen Civic Arena.
"I think today was a game where both teams definitely got better," said Dell Rapids coach Ty Hoglund. "This was a post-season game."
From the opening whistle to the final horn, there was an electricity surrounding the contest which saw Christian leading by as much as six points in the opening half and the Quarriers leading by as many as 11 midway through the third period.

"It's exactly what we wanted. They're a good team, good atmosphere, this was kind of a state-level game," said Christian senior Kaden Clark. "These are the kind of games that will get us prepared for the post season. It wasn't the result we wanted, but a great atmosphere."
Dell Rapids appeared to be on the verge of taking control throughout much of the second half, only to have the Knights battle back.
Christian trailed by nine points with a minute left before Ethan Russell scored on a drive, Dell Rapids turned the ball, and Malek Wieker made two free throws. After the Quarriers turned the ball over on an inbounds pass, Jackson Isakson nailed a three-point field goal to cut the margin to 53-51 with 47 seconds left.
However, that would be Christian's final scoring as Dell Rapids made six consecutive free throws (two each from Brayden Pankonen, Rhett Kloth and Camden Justice) for the final margin of difference.
"Great atmosphere and a fun game," said Christian coach Matt Rohrbach. "Unfortunately, sometimes in fun games you don't come out on the right side. Dell Rapids played a great game. They're very athletic obviously and they gave us some problems."
Still, the Knights held their own against one of the top Class A teams in the state.
Hoglund knew what was in store against the Knights before the game even started.
"I know these guys are Class B, but they are definitely one of the top teams in the state. There's no question about that. We knew that coming in," Hoglund said. "We knew we were going to have our hands full, but I'm happy that a lot of dudes on our team stepped up and we pulled away with it."
One of those dudes was Pankonen, who finished with a game-high 30 points, including 12 in the second quarter and 11 in the third. Whether hitting deep three-point shots or driving into the lane, the senior point-guard had his fingers all over the Quarriers' victory.
"The thing about him is, the bigger the game the bigger he plays. Being 5-9 or 5-10, he doesn't always get the easiest looks, but the kid is just an absolute dude," Hoglund said. "He figures out how to win. He's a winner and we're pretty lucky to have him on our side."
Jack Henry added 14 points, and 6-foot-8 center Rhett Kloth hauled down 13 rebounds to go along with a pair of blocked shots.
Christian countered with 16 points each from Russell and Wieker, and 15 from Isakson.
In the end, the Knights did not have quite enough to get over the hump.
"We didn't execute the little things, too many turnovers, too many maybe bad shots, not making free throws, giving up offensive rebounds," Rohrbach said. "Those little things, they add up."
As a result, the Quarriers were able to secure a hard-fought road victory and improve to 13-2 on the season.
"This wasn't necessarily a high school game," Hoglund said. "There were some collegiate athletes out there today, and there were some high-level athletic plays being made."
The Knights, now 14-1 on the season, host Ipswich on Tuesday with tip-off scheduled for about 8 p.m. following the girls' game. They will take lessons learned from Saturday with them for the remainder of the season.
"We did get better today," said Clark, who led the Knights with seven rebounds. "Obviously, we're going to be down for a little bit. We never like losing. We hate losing, but again a great game for us."
DELL RAPIDS (13-2): Brayden Pankonen 9 7-8 30, Tad Tjaden 1 0-0 3, Jack Henry 5 2-2 14, Rhett Kloth 1 2-6 4, Camden Justice 1 5-8 8. Totals 17-44 16-24 59.
ABERDEEN CHRISTIAN (14-1): Jackson Isakson 5 3-7 15, Ethan Russell 6 2-5 16, Malek Wieker 5 5-6 16, Kaden Clark 2 0-1 4, Konnar Furman 0 0-2 0. Totals 18-43 10-21 51.
Dell Rapids 12 30 44 59
Aberdeen Christian 13 25 37 51
3-point field goals – Pankonen 5, Tjaden, Henry 2, Justice; Isakson 2, Russell 2, Wieker. Fouled out – Tjaden; Furman. Total fouls – Dell Rapids 15; Aberdeen Christian 24. Rebounds – Dell Rapids 32 (Kloth 13); Aberdeen Christian 27 (Clark 7, Wieker 6). Turnovers – Dell Rapids 7; Aberdeen Christian 11. Assists – Aberdeen Christian 5. Steals – Aberdeen Christian 5.