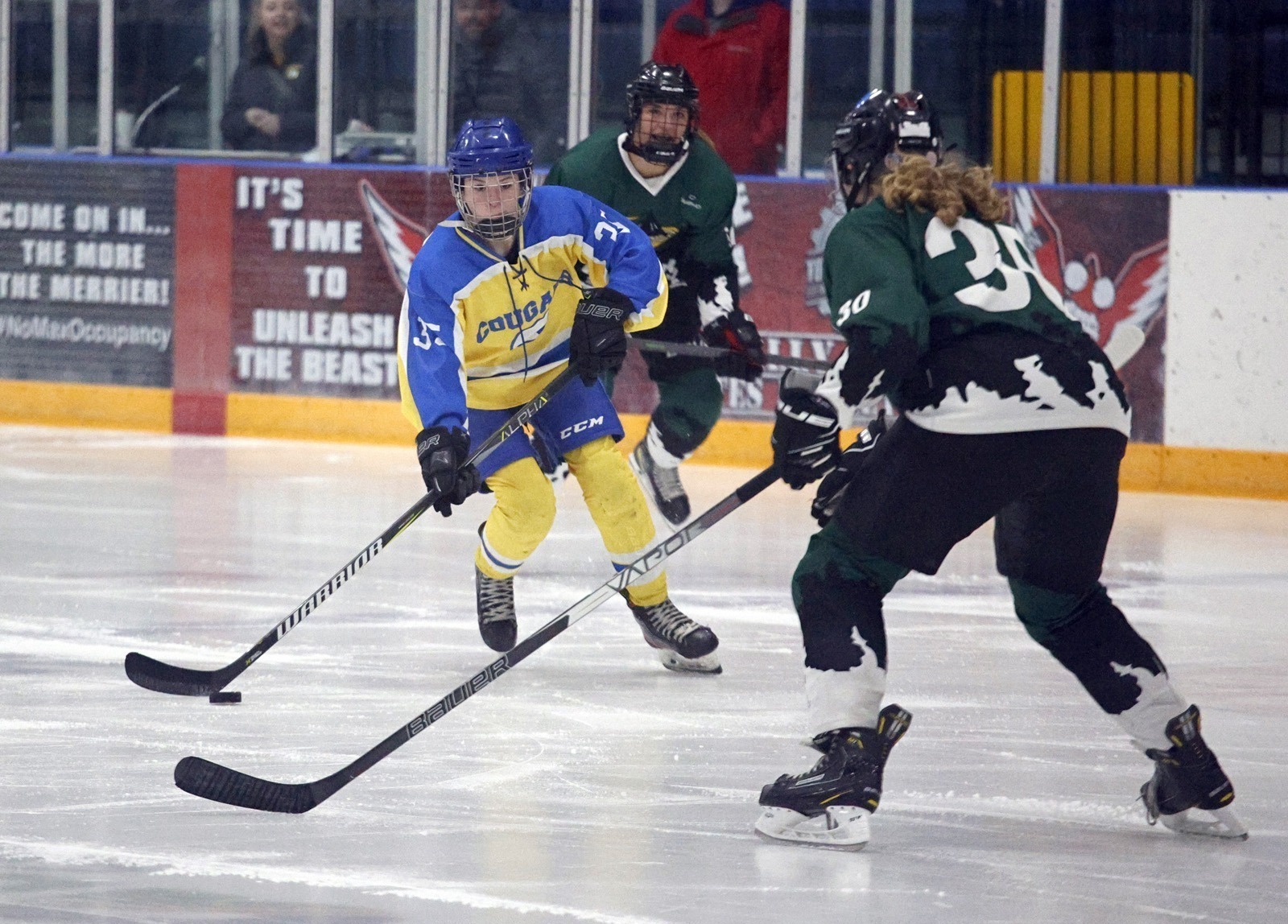 PIERRE – The Aberdeen Cougars found a way to win a key road girls' hockey contest, which allowed the team to capture the State League Championship on Sunday afternoon.
Aberdeen entered the day in a tie for first place in the league standings with Sioux Falls. The Cougars pulled off a 3-1 win over the Oahe Capitals, while Sioux Falls fell to Brookings, ensuring the league title for the Cougars.
The state league crown is the eighth in the past nine years for the Cougars. Sioux Falls won it last year. Aberdeen has won the league title every other year since 2015.
"It's good to win the league championship. I think that is harder than the state tournament sometimes, because it's over the course of time," said Cougars coach Rob Weinmeister. "But it will give us the (number) one seed going into the state tournament. We will still need to put together three solid games regardless of who we play."

The Cougars had a hard time putting away Oahe, despite outshooting the Capitals by a 41-11 margin.
Ema Rehder put Aberdeen in front with the first goal of the game on an assist from Sydney Hofer. Oahe evened the score later in the period and it remained 1-1 heading into the final period.
Alyssa Roehrich found the back of the net on an assist by Kailyn Poppen for a short-handed goal midway through the third period to put the Cougars back in front. Aberdeen played with that one-goal lead the rest of the way until Poppen added a late insurance goal in the final minute of play with assists from Rachel Siefken and Roehrich.
"It was a good win. The girls worked hard," Weinmeister said. "We weren't getting a lot of puck luck, but they were able to pull together and we got the shorthanded goal to go ahead in the third."
Chloe Vikander had 10 saves in goal for Aberdeen.
It marked the second win over Oahe in three days for the Cougars.
"I wouldn't say it was our best win," Weinmeister said, "but we figured out how to get the win in the end."
The Cougars finished league play at 15-1 and are now 24-4 overall.
Aberdeen still has two non-league contests remaining on the schedule before next month's state tournament. The Cougars will play two games in Minnesota on Feb. 25-26.
Aberdeen Cougars 1 0 2 – 3
Oahe Capitals 1 0 0 – 1
First Period: 1, AC, Ema Rehder (Sydney Hofer), 12:36; 2, Oahe, Brylee Kafka (Brenna Ullmann, Emily Nemec), 9:08.
Second Period: No scoring.
Third Period: 3, AC, Alyssa Roehrich (Kailyn Poppen), 8:23; 4, AC, Poppen (Rachel Siefken, Roehrich), :39.
Shots on Goal: Aberdeen Cougars 41; Oahe Capitals 11.
Goalies: Aberdeen Cougars, Chloe Vikander (10 saves); Oahe Capitals, Abagail Stewart-Fromm (38 saves).