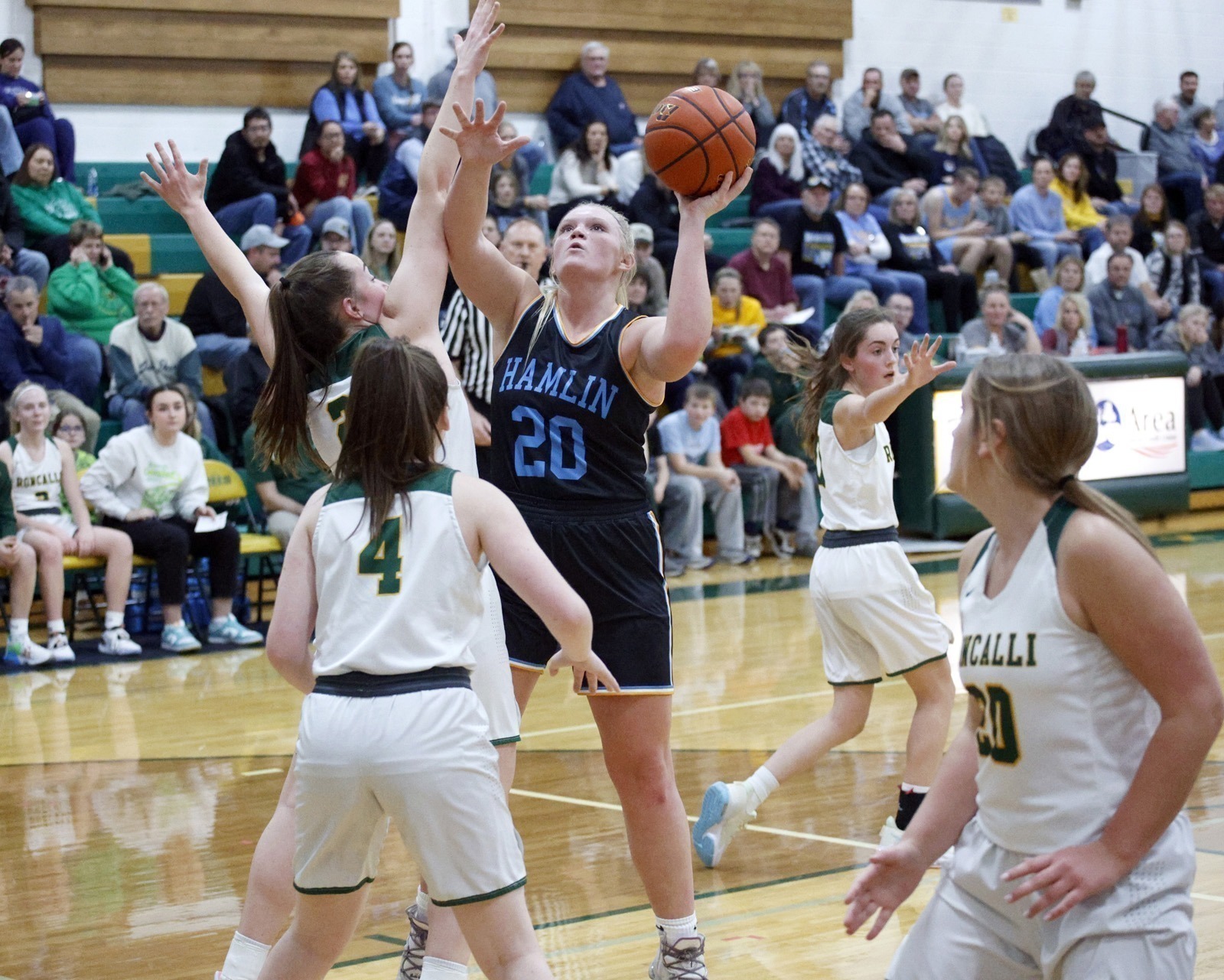 A pair of adjustments, one on offense and the other on defense, put Hamlin in total control of Tuesday night's girls' basketball game at Roncalli Gym.
The top-rated Chargers broke free from a 13-11 lead and remained unbeaten on the season with a 64-21 Northeast Conference girls' basketball win over Aberdeen Roncalli.
Things started to turn when Hamlin began feeding the post from a different angle which allowed Kami Wadsworth to get inside looks. That spelled major trouble for the Cavaliers.
"A lot of their offensive sets that we saw on film were right entry. We denied right entry and early in the first quarter she didn't get as many of those touches," said Roncalli coach Derek Larson. "Then they decided well, we're just not going to go to the right side anymore and we'll just get our touch from the top, and it was hard for us to get stops from that spot."

Wadsworth did major damage in the paint, scoring with either hand on the way to making 11-of-14 shots and finishing with 27 points. The University of Sioux Falls commit credited her teammates for her point production.
"They do a great job reversing the ball," Wadsworth said, "and then I just pick my times when I want to set in and pin, and they do a great job of reversing it and getting it in at the right time."
Hamlin's guards were able to move the ball around the perimeter to find those prime entry pass positions.
"Sometimes in the games we have to figure out where the double-teams are coming from and make the adjustments there," said Hamlin coach Tim Koisti. "I thought my guards did a nice job of moving the ball a little bit quicker, so that they couldn't get to those doubles and looking into Kami."
The other adjustment came on defense. After Roncalli's Ava Hanson scored seven points in the opening quarter, the Chargers switched up defenders and put Addie Neuendorf on Hanson.
"Our team defense is what we focus on a lot and once we got Addie going on Ava, that helped a lot," Wadsworth said. "Addie did a great job and then we helped off and closed out to the shooters, made them go left and boxed out. The second half our defense got a lot better."
So much better, in fact, that Roncalli managed just six points in the entire second half.
Meanwhile, Wadsworth continued her dominant play with 10 points in the third quarter as the Chargers pulled away.
"Wadsworth is a load in the post," Larson said. "It was impossible for us to stop her, obviously."
Neuendorf and Marissa Bawdon both added 11 points to the Hamlin total.
The Chargers, 12-0, are in the middle a tough stretch of basketball, with unbeaten Sisseton up next on Thursday evening, and then a top foe next weekend at the NEC-Dak XII Clash.
"Things don't get easier, but that's what we want," Koisti said. "I've got a veteran squad with lot of kids coming back. We wanted to challenge ourselves so that we're used to the pressure of a close game and good opponents."
Hanson finished with 11 points to top Roncalli, 6-5 on the season. The upcoming path isn't exactly an easy one for the Cavaliers, either.
"We have a tough road ahead," Larson said of the team's next contest at third-rated Class B Timber Lake on Friday night. "It's not going to get any easier going on a three-hour drive to go to Timber Lake against a one-loss team."
HAMLIN (12-0): Addie Neuendorf 5 0-0 11, Brooklyn Brandriet 2 0-0 5, Ally Abraham 2 0-0 4, Kami Wadsworth 11 4-4 27, Marissa Bawdon 4 0-0 11, Emily Everson 1 0-0 2, Shayne Fritz 1 0-0 2, Ruby Uecker 1 0-0 2. Totals 27-45 4-4 64.
ABERDEEN RONCALLI (6-5): McKenna O'Keefe 2 0-0 4, Claire Crawford 1 0-1 2, Ava Hanson 5 0-2 11, Rylee Voeller 1 0-0 3, Sophia Feickert 0 1-2 1. Totals 9-41 1-5 21.
Hamlin 11 29 47 64
Aberdeen Roncalli 9 15 17 21
3-point field goals – Neuendorf, Brandriet, Wadsworth, Bawdon 3; Hanson, Voeller. Total fouls – Hamlin 10; Aberdeen Roncalli 4. Rebounds – Hamlin 29 (Wadsworth 8); Aberdeen Roncalli 22 (Bain 6). Turnovers – Hamlin 6; Aberdeen Roncalli 26.