WARNER – Aberdeen Christian, playing in its first game as the state's the top-rated Class B boys' basketball team, overcame a slow start before picking up its 11th straight win to start the season.
The Knights, who earlier in the day took over the top spot in the media poll, eventually got things rolling on the way to a 64-41 Lake Region Conference victory over Warner.
"I thought our shot solection tonight wasn't as good," said Christian coach Matt Rohrbach. "I really would have liked to see us maybe attack the rim a little bit more and find some cutters. Whether that was tired legs or whatever it is, we just need to make sure we're ready to go for (Tuesday)."
Leading just 14-11 in the final seconds of the first quarter, Andrew Brennan nailed a three-point field from the corner to jump start the Christian offense.
"The play wasn't designed for me. It was designed for Malek (Wieker), but then I saw the opening in the corner," Brennan said. "I got the ball, I saw the hoop and I shot it."
That shot seemed to give the Knights a spark as Christian began hitting shots from all over the court. The Knights made 8-of-11 shots to start the second quarter, including three three-pointers, to open 36-17 advantage. Wieker, Ethan Russell and Jackson Isakson combined to score all of the team's 19 second-period points.
Still, the Monarchs stayed within striking distance and trailed by just 13 at the break.
"We hung around," said Warner coach Derek Hoellein. "Our kids played hard. I was proud of their efforts."
He pointed out his team's work on the glass in the opening 16 minutes.
"We had seven offensive rebounds at half," Hoellein said. "That's an effort deal."
However, the Monarchs were never able to make a serious second-half charge. Wieker added 10 more points in the third period and Christian was well on its away to another victory.
Wieker finished with a game-high 19 points, Russell followed with 17, Isakson added 10, and Brennan contibuted eight.
Brennan was his usual energetic self, sprinting all over the floor.
"He's an energy-giver. We talk about being energy-givers all the time and not energy-takers," Rohrbach said "He's not an energy-taker. He's always upbeat. He's always spry. He's always sprinting up and down the floor, so I'm happy to see him getting a couple of looks tonight and knocking them down."
Hunter Cramer topped Warner with 14 points, Brodey Sauerwein netted 11, and Drew Bakeberg came off the bench to score eight.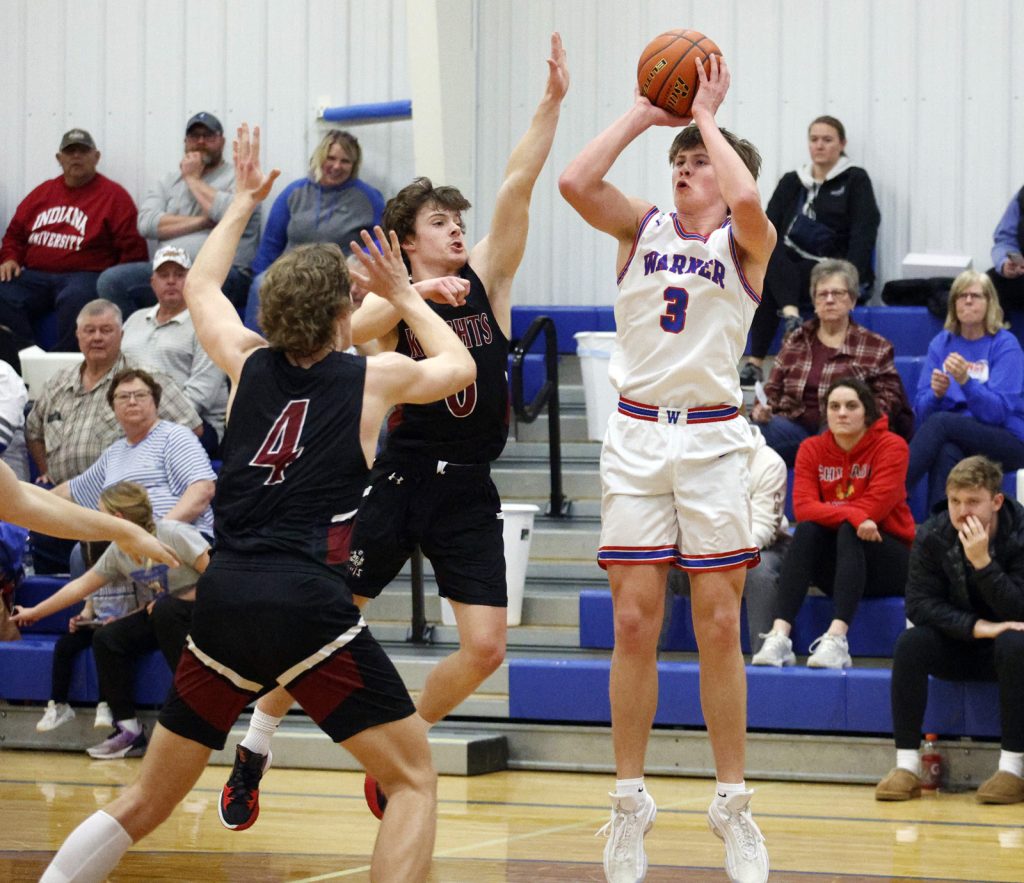 Christian continues to play solid defense, which has helped to fuel its undefeated start to the season.
"I feel like last year we had to rely on the shot more," Brennan said, "and this year we didn't start shooting the ball well right away in the year and we relied on our defense and that always helps, and now we're starting to shoot good, so we've got both."
What they're also getting is other team's best efforts as they look to hand the Knights their first loss of the season. That target is just fine with them.
"We want that, because we aren't going to get any better playing games that aren't going to challenge us and make us run some real offense and stuff like that," Rohrbach said. "I'm glad that we definitely have that and I know our guys want that target. We just have to make sure we are making the right decisions to continue to get better and making sure that we're ready for the post season."
The Knights will face another team with a winning record this evening when they host Herreid-Selby Area around 8 p.m. at the Aberdeen Civic Arena.
"We know they're going to be athletic," Brennan said, "and we're definitely going have to box out."
ABERDEEN CHRISTIAN (11-0): Andrew Brennan 3 0-0 8, Jackson Isakson 5 0-2 10, Ethan Russell 7 0-0 17, Malek Wieker 8 0-0 19, Kaden Clark 1 0-0 2, Abe Holscher 2 0-0 4, Konnar Furman 1 1-2 3, Joey Johnson 1 0-1 2. Totals 28 1-5 64.
WARNER (6-5): Hunter Cramer 5 2-3 14, Brodey Sauerwein 4 0-0 11, Levi Scepaniak 1 0-0 3, Drew Bakeberg 3 0-0 8, Zach Evans 0 2-2 2, Isaac Hoeft 1 1-1 3. Totals 14 5-6 41.
Aberdeen Christian 17 36 55 64
Warner 11 23 36 41
3-point field goals – Brennan, Russell 3, Wieker 3; Cramer 2, Sauerwein 3, Scepaniak, Bakeberg 2. Total fouls – Aberdeen Christian 13; Warner 9. Turnovers – Aberdeen Christian 8; Warner 7.