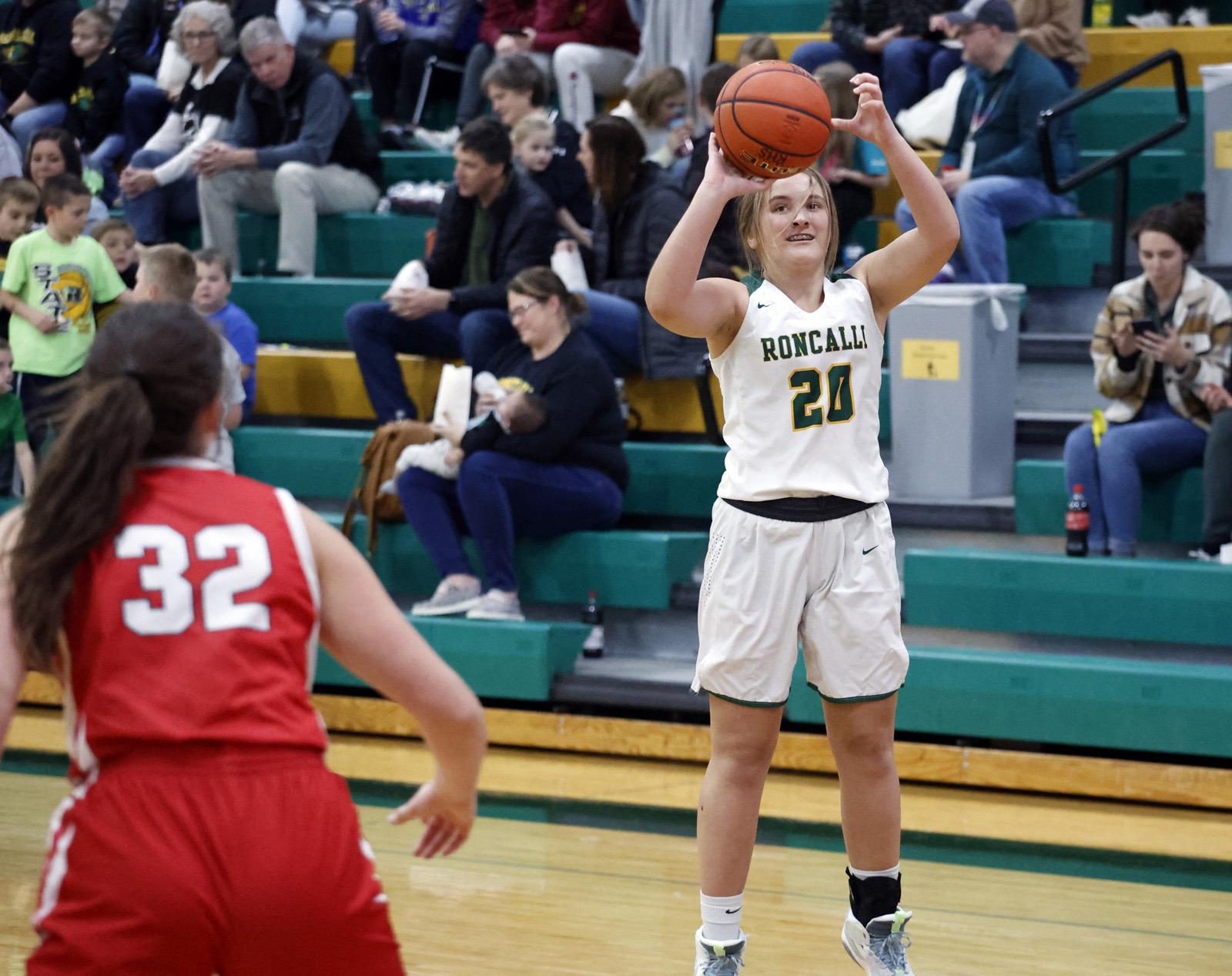 HERREID – Aberdeen Roncalli received at least six points from six different players on the way to a 49-38 non-conference girls' basketball victory over Herreid-Selby Area Wednesday night.
"It's something that I think is tough to defend when we can have all people score," said Roncalli coach Derek Larson."
Reserve Rylee Voeller topped the Cavaliers with 10 points. Larson said the 5-foot-7 freshman played a major role on both ends of the floor, having to go up against Wolverine post players Jordyn Rossow and her sister, Jada.
"She was undersized big time, playing against a 6-1 Rossow player or her 6-foot sister," Larson said of Voeller. "I thought she did a really good job on the boards also, just getting in good position and not giving up second-chance opportunities."
The Cavaliers pulled away from an 18-14 lead in the second quarter with eight unanswered points. From there, the deficit never dipped below seven points the remainder of the contest.
Roncalli made 6-of-9 free throws in the final quarter to stay in control.
"I thought we shot free throws well down the stretch of the game," Larson said. "We played with that cushion, which we definitely needed."
The Cavaliers were once again solid on defense, holding HSA to single digit points in three of the four quarters.
"That's something that we take pride in is winning games on the defensive end. We continue to say that it seems like every night," Larson said. "I thought our guards did a really good job of getting ball pressure and then I thought we did a pretty good job guarding post players even though we were undersized."
While the Wolverines lost two players to fouls, Roncalli had some foul issues of its own.
"We had foul trouble it seemed like most of the night, a lot of people playing with 3-4 fouls," Larson said. "We just played smarter down the stretch of the game, didn't turn it over as much, valued the basketball a little more than we did early."
Ava Hanson scored nine points, Camryn Bain and Claire Crawford eight apiece, McKenna O'Keefe seven and Maddie Huber six for the Cavaliers.
Jordyn Rossow finished with 11 points, Jada Rossow 10 and Jennica Berens eight for the Wolverines.
Roncalli improved to 3-1 on the season with the victory.
"We are definitely extremely happy with the win," Larson said.
The Cavaliers, who had not had a game in more than 10 days, hosts Webster in a Northeast Conference game Friday night at Roncalli Gym.
"We haven't hardly practiced it feels like and now we're playing two games in three days, but we're not the only ones," Larson said. "Everyone else is in the same boat that we are with very little practice."
ABERDEEN RONCALLI (3-1): McKenna O'Keefe 2 3-4 7, Camryn Bain 3 0-0 8, Maddie Huber 2 2-4 6, Claire Crawford 3 2-2 8, Ava Hanson 3 1-3 9, Morgan Helms 0 1-2 1, Rylee Voeller 3 3-4 10. Totals 16 12-19 49.
HERREID-SELBY AREA (1-2): Jennica Berens 3 1-3 8, Jordyn Rossow 5 1-4 11, Stephanie Allbee 1 0-1 2, Pausha Meidinger 1 0-3 2, Mya Ebel 1 2-2 5, Jada Rossow 5 0-0 10. Totals 16 4-13 38.
Aberdeen Roncalli 10 27 41 49
Herreid-Selby Area 9 16 30 38
3-point field goals – Bain 2, Hanson 2, Voeller; Berens, Ebel. Fouled out – Allbee, Ebel. Total fouls – Aberdeen Roncalli 17; Herreid-Selby Area 19.