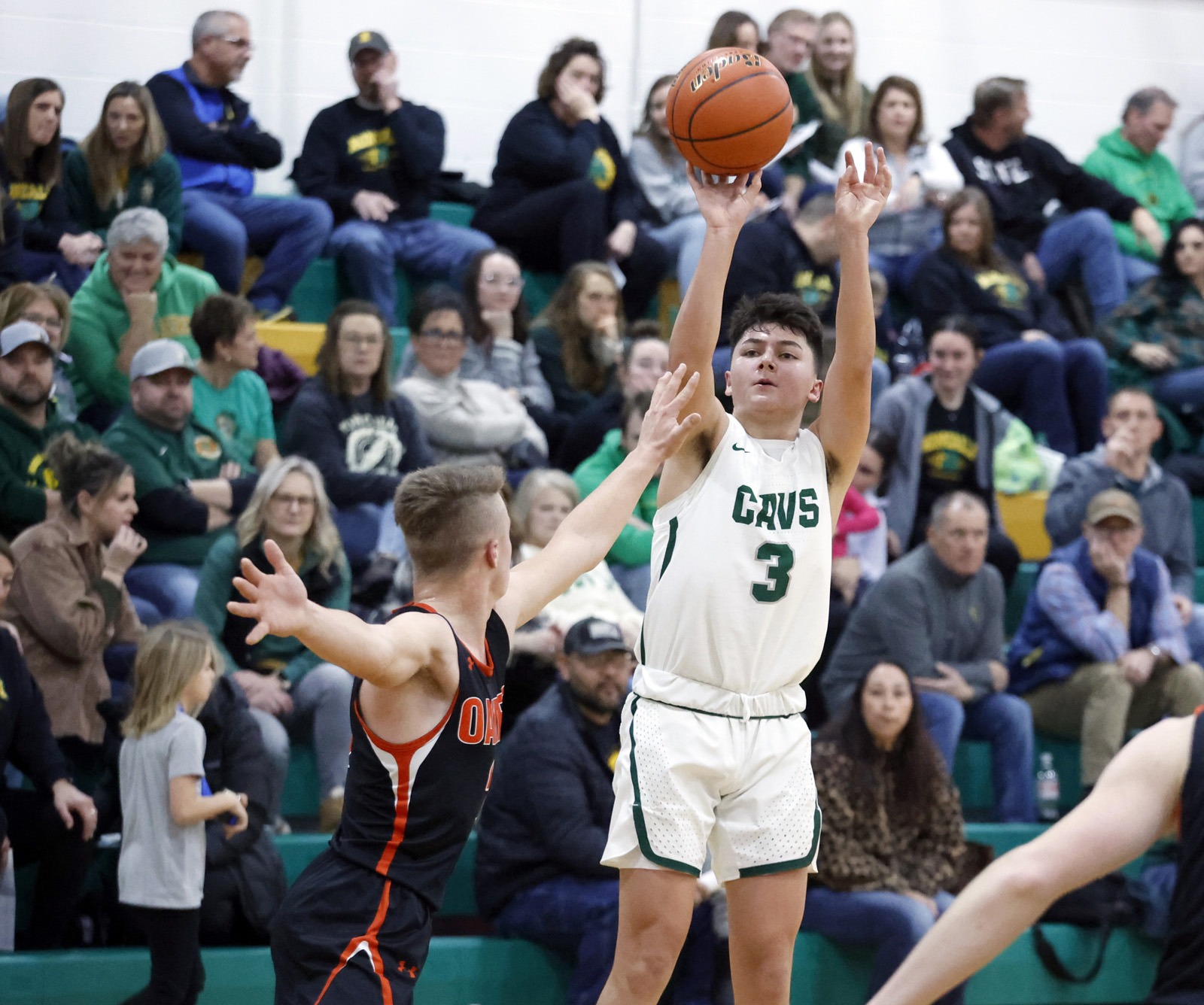 WEBSTER – Free throws can sometimes make a difference in close games and on Thursday night, they made all the difference.
Webster cashed in at the charity stripe to rally past Aberdeen Roncalli 59-53 in a Northeast Conference boys' basketball contest. The Bearcats made 10 of 15 free throws in the fourth quarter alone and 14 of 21 in the game. Meanwhile, Roncalli managed to make just 1 of its 12 attempts from the foul line.
"Unfortunately, today they just were not falling," said Roncalli coach Dan Gallagher.
Still, the Cavaliers had their chances.

Roncalli led 53-51 with 2:15 remaining after Maddox Miller drilled his seventh three-pointer of the contest. However, the Cavaliers were unable to score the rest of the way.
Meanwhile, Jaiden McCreary and Jeron McCreary cashed in from the free-throw stripe. Jaiden made five free throws in the final quarter and Jeron made four as Webster eventually overtook the Cavaliers to secure the win.
Roncalli had owned a 40-28 lead late in the third period before the momentum turned.
"We get up 12 and then all a sudden they scored 25 in the fourth quarter," Gallagher said. "Part of that was we stayed in a zone defense a little too long and they were able to hit a couple of threes in a row, and it kind of just spun out of control from there."
While Webster was heating up on one end, the Cavaliers were cooling off on the other, having to rely on perimeter shooting.
"We kind of settled for some threes as we got going. We're OK with those. We still want to make sure they're going in. We definitely didn't get the ball inside nearly as much as we would have liked," Gallagher said. "Maddox May was working down low and a couple of times we thought he was open and could have got him a touch. That would have created more space for everyone else, but that just didn't come about."
Turnovers also proved to be a factor. While the Cavaliers had two less than Webster, they came at inopportune times.
"We didn't take care of the basketball," Gallagher said, "and it lead to a couple of fast-break opportunities for them and it takes away shot opportunities for us."
McCreary finished with 18 points and Ian Lesnar followed with 16 to pace the Bearcats.
Miller led all scorers with 25 points for the Cavaliers. Caden Shelton and Darwin Gambler each contributed eight. The Cavaliers played without Jayden Munroe who went back to the Bahamas for Christmas.
Roncalli, 1-2 on the season, plays at Leola-Frederick on Thursday. The Cavaliers have had three tight games already to start the season.
"We don't have the height that a lot of teams have, but we can play scrappy and that scrappiness will probably lead to a lot of close games," Gallagher said. "Unfortunately, this was one that we didn't end up on top of, so it's something that we can look back and see some things that on our end we can kind of improve and see how to win the next close one."
ABERDEEN RONCALLI (1-2): Maddox Miller 9 0-0 25, Aiden Fisher 2 0-3 5, Maddox May 1 1-2 3, Caden Shelton 3 0-3 8, Darwin Gambler 4 0-1 8, Zane Backous 2 0-1 4. Totals 21-60 1-12 53.
WEBSTER (1-2): Jacob Keller 1 1-1 3, Matthew Mount 3 0-1 8, Jaiden McCreary 4 8-10 18, Ian Lesnar 6 1-2 16, Brent Bearman 3 0-1 6, Ethan Opitz 1 0-0 2, Jeron McCreary 1 4-6 6. Totals 19-50 14-21 59.
Aberdeen Roncalli 9 20 40 53
Webster 12 24 34 59
3-point field goals – Miller 7, Fisher, Shelton 2; Mount 2, Jaiden McCreary 2, Lesnar 3. Total fouls – Aberdeen Roncalli 19; Webster 16. Turnovers – Aberdeen Roncalli 18; Webster 20.