All winter sports teams will soon be coming off a break, but some have been off much longer than others.
By the time that the Aberdeen Central basketball teams play on Friday at the Pentagon in Sioux Falls, it will be nearly three full weeks since the Golden Eagles have had an official game.
"When we go out there it will be similar to that first game feel where you're not sure what you'll be good at again and what you won't a little bit," said Central boys' coach Brent Norberg.
Central was able to get two games in for both boys and girls before the weather started acting up. Since then, the Golden Eagles have had four games total postponed.
Because school was called off for a good share of that period, it also meant that teams were not able to gather for practices, either.
Then came the state mandated moratorium requiring all squads to take time off from all activities.
"We definitely didn't really see this long of break with no games coming," said Central girls' coach Mikayla Arechigo. "It's hard because with all those days off then you can't practice, so it's a little bit like you have almost two moratoriums."
The one positive about the situation so far has been that on the rare occasions when the players do get together, they have a strong a desire to compete.
Norberg said that the practices, while few and far between, have been good during this extended layoff.
"The silver lining is that when they do come back they've had breaks, so they're a little more into it," Norberg said. "I think everyone in the area and in the state would like to start playing some games here."
Arechigo said that when practices resume, part of them will be spent reviewing plans that were put into place a month ago before the season started.
"Those first three weeks you try to put a bunch of stuff in, then once you get to the games you kind of test some things out," Arechigo said, "and then as the season progresses, you're kind of fine tuning those things that you're having success with."
Needless to say, with the lack of games, that process has been hampered.
"It's crazy to think we only have two games in," Arechigo said.
The boys will face St. Thomas More on Friday and the girls will play Worthington, Minn. Both games will be at the Pentagon in Sioux Falls.
Central had started working on game plans for Sturgis and Spearfish at one stage before those games were postponed (Sturgis twice).
There are some teams, including Sturgis, that have yet to play their first game, which leads to another issue.
"When we were looking at playing Sturgis, it was like there wasn't even any game film out on them, so it's like you break out the old scorebooks and see who scored for them last year in the varsity game and the undercard games," Arechigo said. "You don't feel very good about what you're putting together for a scouting report."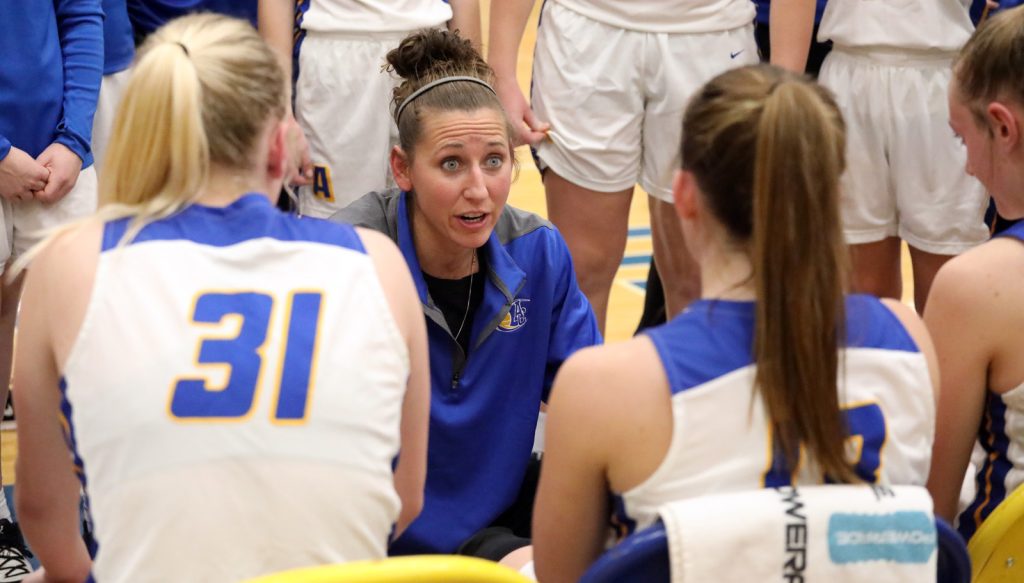 Then there is the issue of having postponed games added to the back half of the schedule, which could create a logjam of contests in the weeks ahead.
Norberg said that might impact coaches more than the athletes.
"When I was playing, I'd much rather play three times a week, than practice five times a week," Norberg said. "I don't think you'll hear a lot of complaining out of them."
Arechigo feels the same way. She believes that her players will bring a different level of intensity and excitement to the games once they start taking place.
"It's hard on coaches I feel, for planning, but kids are so adaptable," Arechigo said. "I think that in some ways the excitement level once they do finally get those games, is going to be a lot higher because of that."
Time will tell how the rest of the season will unfold, if the weather will cooperate or if more games will be postponed or perhaps even canceled. One thing is certain, though, Norberg is ready to roll with whatever the future holds.
"I think 10-15 years ago I would have probably handled it a lot different, but as you get older, there's nothing you can do about it," Norberg said. "There's no reason to get upset and all worked up. It's just practice when you can and play when you can, and that's what we'll do."