SIOUX FALLS – Getting to the top of the mountain is one thing – staying there is another.
Warner took Chester Area's best shot before landing the knockout blow and defending its Class B State Volleyball championship Saturday night at the Premier Center. The Monarchs secured the title with a hard-fought 25-23, 25-16, 14-25, 26-24 victory.
"We knew it was going to be a tough game coming in," said Warner junior Ava Nilsson. "Chester has a great program, but we needed that to really push us through and say, if we want this victory we have to work hard for it. I think we all knew that and we really worked hard."
The Monarchs controlled the first set and led 18-11 before the Flyers got their feet under them. Chester Area eventually tied the score at 19-19 and then again at 22-22 before Warner closed out the set.
Warner dominated the second set, only to have Chester turn the momentum in the third set.
The Flyers not only won that set, they also set the tone in the fourth set and led by four points before Warner regrouped.
"They forced us into a lot of mistakes and then we started playing a little scared it looked like. It was because of the pressure they were putting on us," said Warner coach Kari Jung. "Then we weren't trying to hit hard. We were trying to give them balls back and then they got to hitting harder, so I'm glad we got momentum back in set four. Being down the way we were, I was really proud that they turned it around in the middle of the set there."
A big reason why was the play of Kyleigh Schopp, who finished with a team-leading 22 kills, all coming on sets from Nilsson.
"I just think I connected very well with Ava tonight," Schopp said. "I think the communication, and just like being around each other and knowing each other very well, helped a lot tonight."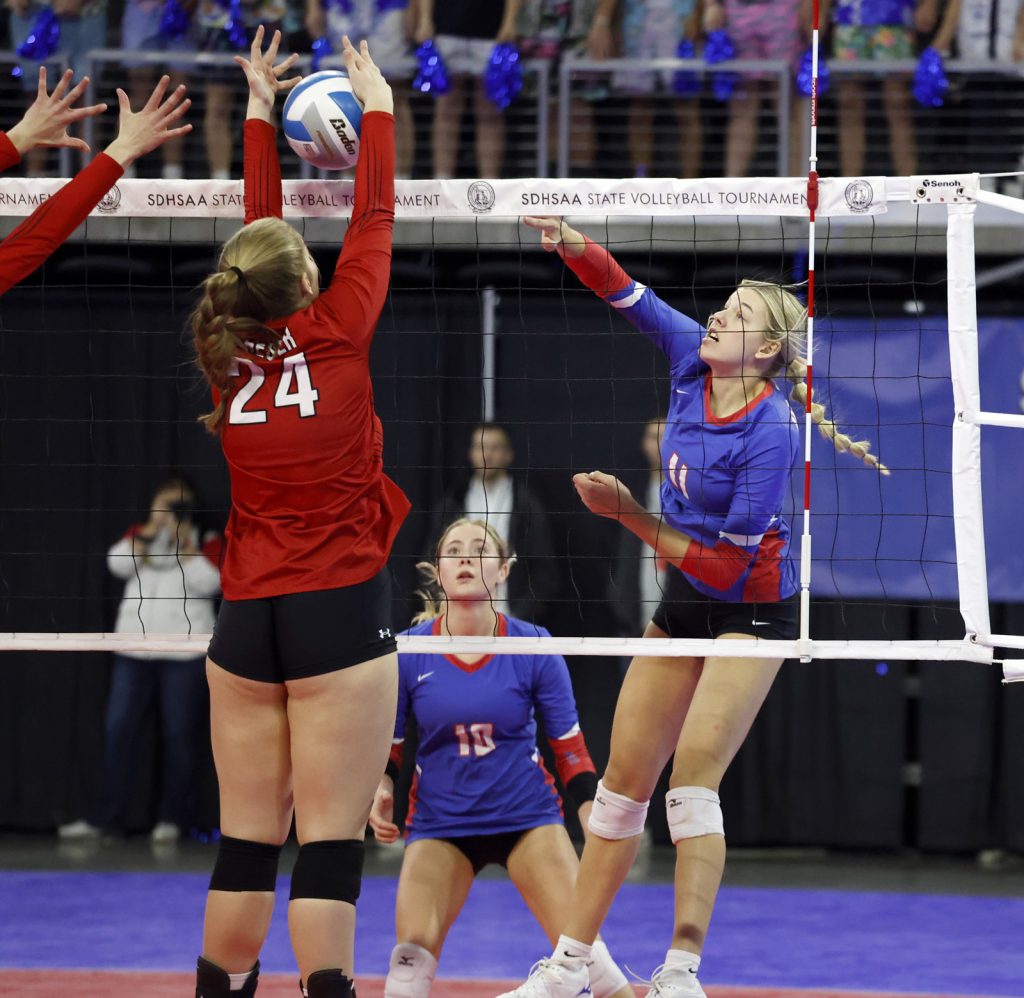 The squad worked on ways to get Schopp the ball during a morning practice. That strategy worked against the Flyers.
"We made a few adjustments (Saturday) morning with her," Jung said. "We told Ava, you have to get her swinging on the outside more instead of just on the middle, and she had some big hits over there."
Schopp not only led the Monarchs in hitting, she also topped the team with eight assisted blocks.
"Kyleigh had a great game. She really got on top of the ball," Nilsson said. "She got after every block and I think she just played her heart out."
The Monarchs needed every bit of that effort because the Flyers battled to the very end. Warner owned a 23-18 lead in the fourth set and had three match points erased by Chester Area, which ended up tying the score at 24-24.
The Flyers then had a serve sail just over the end line setting up another match point. This time the Monarchs found a way to finish, despite players running into each other in attempt to get the ball over the net.
"There were a couple there towards the end I don't know how we got it over," Jung said. "It was just pure effort and heart. They did not want to lose that fourth set."
Kyra Marcuson added 15 kills to the Warner total and Nilsson had 46 set assists to go along with six assisted blocks.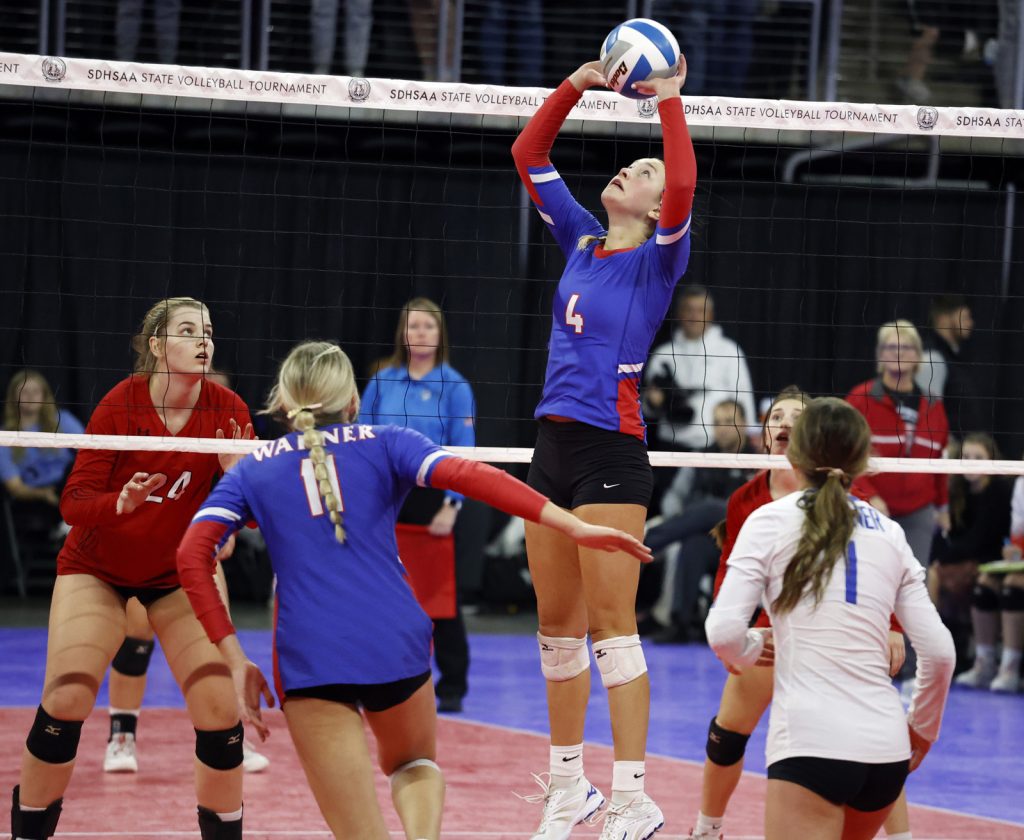 Nilsson said the team's defense played a key role in the victory.
"Our defense really played great today. Our blocking was awesome," Nilsson said. "Our middles really got from pin to pin and I think it was a great match overall."
In the end, it took a championship effort from the two-time defending state champs to finally subdue a worthy foe.
"They're just so darn athletic," Jung said of the Flyers. "You think the ball is down and they're chasing balls down over to the bleachers. They just are quick. We knew it was going to be tough."
The win capped off a 37-2 season as the Monarchs finished the year with 19 straight victories and maintained their position at the top of the Class B volleyball mountain.
"We just needed to come back and do that same thing we did last year and work together as a team," Schopp said. "I think us training in the off season and working together really got us there."
Serving: Chester Area 5 aces (Lily VanHal 3, Ramsie Shoenrock 1, Jacy Wolf 1); Warner 6 aces (Kamryn Anderson 3, Ava Nilsson 2, Jordyn Jensen 1).
Hitting: Chester Area 44 kills (VanHal 17, Emilie Bleeker 7, Addison Bates 6); Warner 51 kills (Kyleigh Schopp 22 kills, Kyra Marcuson 15, Lauren Marcuson 7).
Setting: Chester Area 43 assists (Wolf 26, VanHal 14); Warner 47 assists (Nilsson 46).
Digs: Chester Area 101 (Emery Larson 24, Wolf 17, VanHal 14, Kaylor Geraets 13); Warner 93 (L. Marcuson 22, Courtney Bjorgaard 18, Nilsson 14, Libby Scepaniak 10).
Blocks: Chester Area 3 solo 2 assists (Bates 1 solo 1 assist, Bleeker 1 solo 1 assist); Warner 18 assists (Schopp 8, Nilsson 6, Kendyl Anderson 2, Kamryn Anderson 2).
Records: Chester Area 28-6; Warner 37-2.