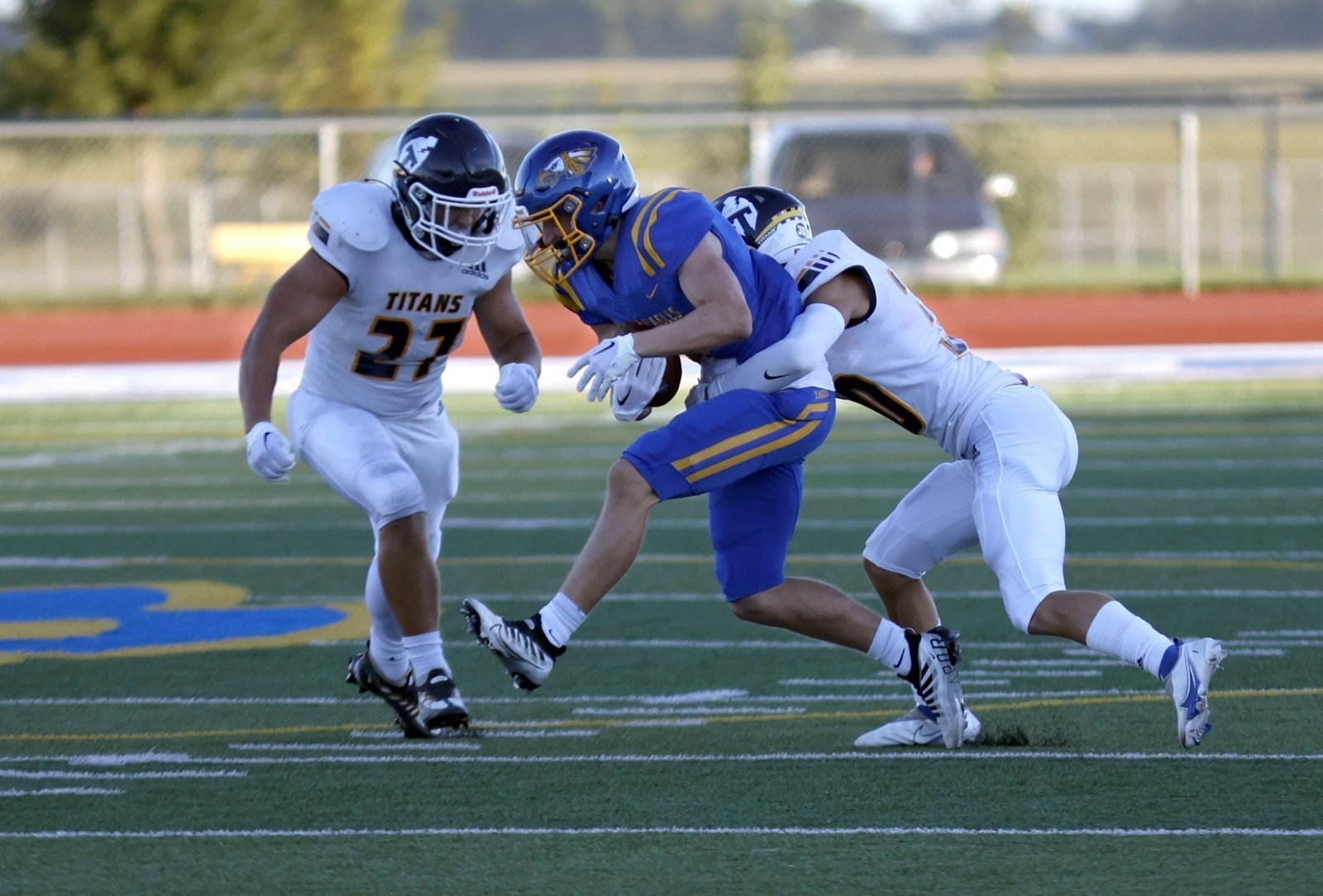 TEA – Aberdeen Central couldn't slow down Tea Area.
The second-ranked Titans put up 19 points in the first quarter and barely let up the rest of the night en route to a 44-7 win over the Golden Eagles in the semifinal round of the Class 11AA football playoffs Friday night in Tea.
The loss marks the end of Central's season, while Tea moves on to face Pierre in the state title game next weekend.
"Not the ending we wanted," said Central coach Justin Briese, "but it was a great journey. We talked about it all season. We got off to a slow start, but we came together as a team and got things rolling and played some really good football there for seven or eight weeks. And we had a lot of fun in the process."

That run came to a halt against Tea Area's high-powered offense.
The Titans scored on three of its first four possessions to begin the night and led 32-7 at the half. By the end of the night, however, the Titans had scored on seven of 12 possessions and put up 472 yards of total offense, while holding the Golden Eagles to just 142 yards of total offense.
"They came out pretty strong," Briese said. "We did not so much. It's hard when you go down by a couple scores right away in the first few minutes. We battled and fought. But they're a very, very physical, fast team, both offensively and defensively."
Of Central's 142 yards of offense, 76 came on a Spencer Barr catch-and-run touchdown pass from Dustin Hermansen in the second quarter, accounting for Central's lone score of the game. Barr, ironically, also scored Central's first touchdown of the season.
Karson Carda finished with 53 yards rushing for the Golden Eagles. Hermansen was 5-of-19 passing for 111 yards and the touchdown.
Tea Area was led by Blake Thompson's 210 yards on the ground. Chase Van Tol added 170 yards rushing. Both players finished with three touchdowns.
Aberdeen Central (6-5) 0 7 0 0 – 7
Tea Area (10-1) 19 13 0 12 – 44
First Quarter
TA – Blake Thompson 64 run (Chase Van Tol kick).
TA – Van Tol 50 run (kick failed).
TA – Thompson 21 run (pass failed).
Second Quarter
TA – Van Tol 28 run (kick failed).
AC – Spencer Barr 76 pass from Dustin Hermansen (Tayden Brownson kick).
TA – Thompson 44 run (Van Tol kick).
Fourth Quarter
TA – Van Tol 26 run (kick failed).
TA – Parker Mulder 20 pass from Maddix Slykhuis (kick failed).
OFFENSE: Aberdeen Central rushing 26-31 (Karson Carda 15-53), passing (Dustin Hermansen 5-19-0 for 111), receiving (Spencer Barr 1-76, Drew Salfrank 4-35); Tea Area rushing 49-413 (Thompson 15-210, Van Tol 19-171), passing (Slykhuis 5-7-0 for 59), receiving (Mulder 2-35, Van Tol 3-26).
DEFENSE: Aberdeen Central, Will Heinert 10 tackles, 1 sack, 1 forced fumble, Max Leberman 9 tackles, Tayden Brownson 9 tackles; Tea Area, Thompson 6 tackles.