The proverbial Covid year – the extra season of eligibility that the NCAA granted to its student-athletes for the "lost" 2020-21 competition season – is a quirky deal.
Some athletes took it, returning for a fifth or even sixth season. Some left it on the table.
Sally Gaul used hers to become the face of the Northern State volleyball program.
Gaul, a 6-foot-hitter from Des Moines, Iowa, was already making an impact for the Wolves from the moment she stepped on the court as a true freshman.
But, in her words, she was just the support system for a slew of established hitters.
"They were the dominators," Gaul said, referencing hitters like Haylie Busch, Jenna Rieff and Laura Snyder.
But Gaul wasn't invisible. Far from it, actually. In fact, Gaul was one of two players in on a match-winning block of Concordia-St. Paul All-American Brooklyn Lewis that sealed a Northern victory over the then-No. 1 Golden Bears on Gypsy Day.
That's the kind of play that etches someone into program lore.
But Covid? Covid turned Gaul into one of those dominators she looked up to as a freshman.
"I think that year off really helped me in a way," Gaul said. "Being able to just lift, and get faster, get stronger. It was in that year of Covid, I actually boosted my approach vertical. It was 9-foot-7 1/2 and after Covid I was touching 10-foot-4. It just helped me become a more physical, stronger player."
And not just at the net.
Northern coach Brent Aldridge called Gaul one of the top two right-side hitters in the ever hyper-competitive Northern Sun Intercollegiate Conference, but also noted that she has become an even more dynamic player since that 2020 season.
"She's expanded her role, and we've needed her to," he said. "She's playing back row for the first time this year. She's pretty good defensively, passing the ball."
And what's good news for the Wolves is generally bad news for the rest of the league. Gaul is coming off a career day Saturday, recording 15 kills on 16 attempts for a career-best .778 attack percentage.
"Physically, on the court, she's a go-to," Aldridge said. "She's a kid we lean on pretty heavily right now. These next six matches, that's probably not going to change."
For Gaul, however, her on-court success is just further confirmation she made the right choice. Gaul was recruited by some of the top teams in the league coming out of high school, including Winona State, Minnesota State Mankato and Southwest Minnesota State, but none of those institutions really sparked any interest for her.
But Northern did, and the interest became mutual.
"Honestly, coming to Northern was the best decision I could have made," Gaul said. "I have loved playing here since I first stepped foot on campus. I love being able to play at a super high level, and I love that I was able to come in and make an impact right away."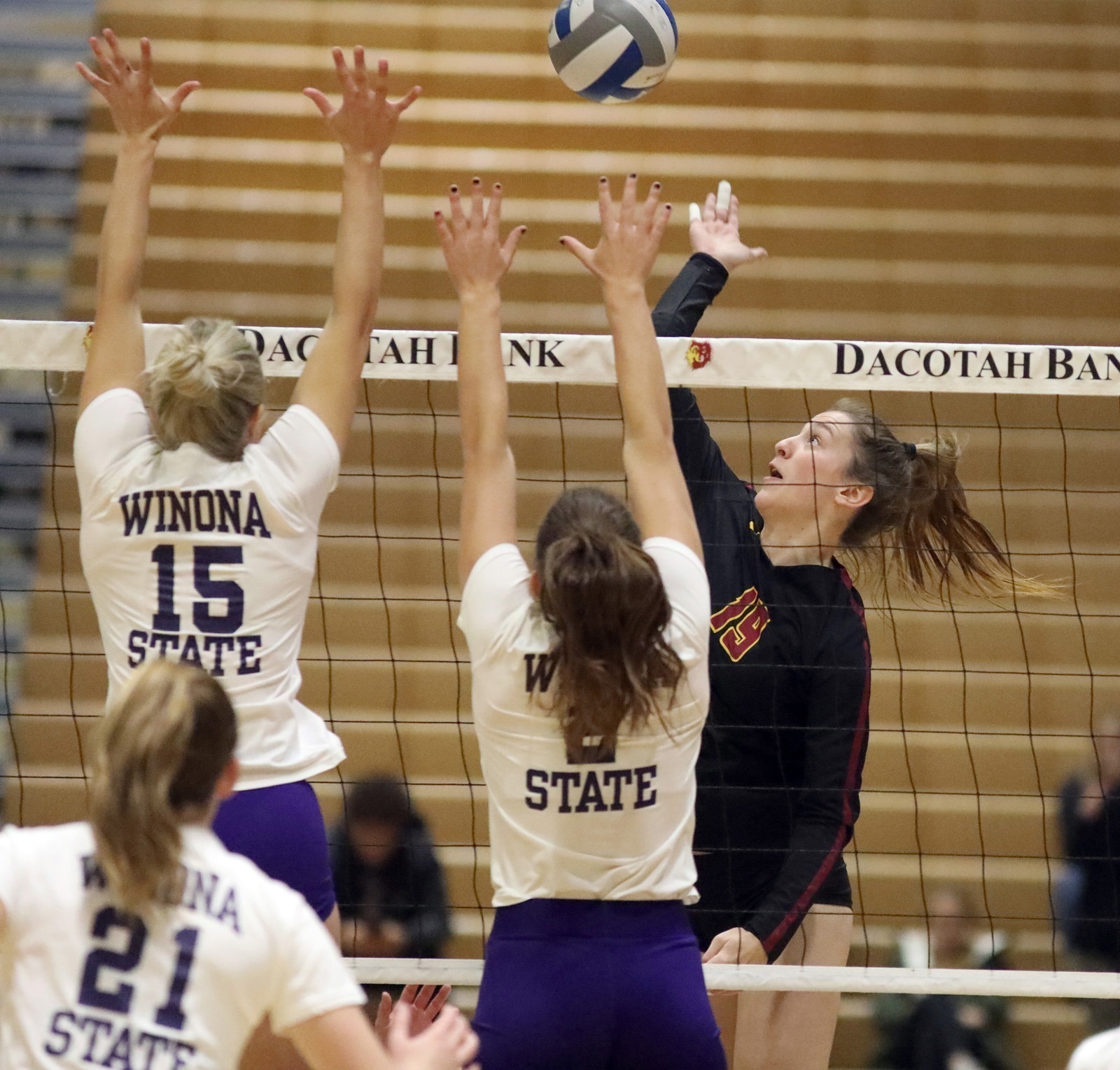 Gaul was part of a freshman class that included Warner's Peyton Ellingson, among others. The Wolves finished that season 26-5, advancing to the Central Region quarterfinals. Northern was 25-6 the following season and made the region semifinals.
Northern is currently 14-9 on the season and stands in sixth place in the NSIC standings. But Gaul hasn't swayed in her belief this year's team can come together for a late-season run.
"I think we have so much potential to be one of the top teams in our conference," she said. "A lot of people on our team believe that as well. When we go play people, coaches are like, we prepped for the last two weeks. People do see us as that dark horse."
And Gaul is here for all of it.
"Over the past five years, I've found my family here in Aberdeen," she said. "Sometimes I have more people here in the stands than I did sometimes in high school."
Gaul will, in all likelihood, finish her career in third place on Northern's all-time kills chart.
"She's going to leave a mark," Aldridge said. "Like so many kids I've had, she's going to be really difficult to replace."