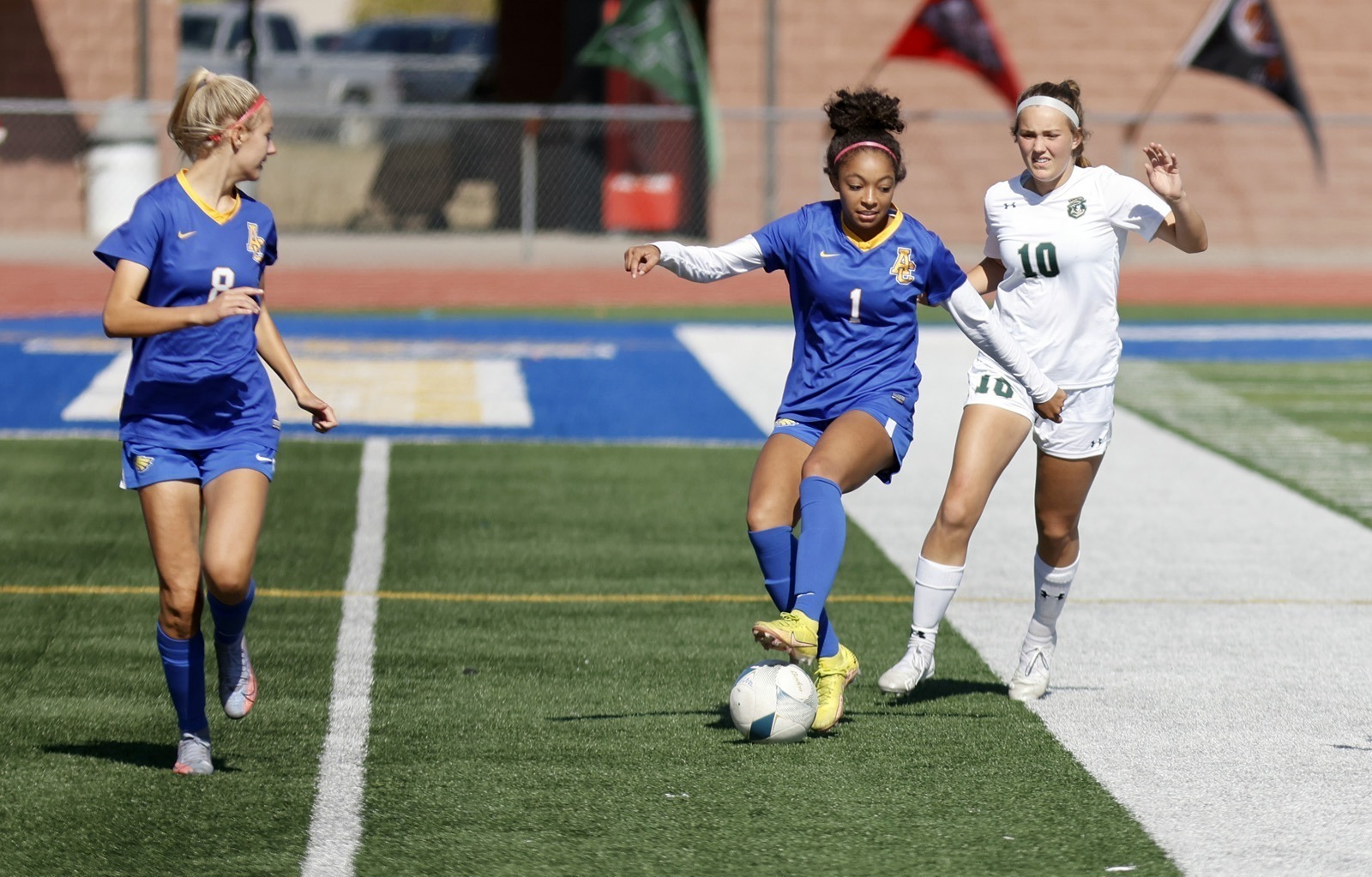 There would be no last-minute drama this time.
Aberdeen Central came out motivated, focused and dominated Sioux Falls Jefferson 5-1 in the quarterfinals of the AA girls' soccer playoffs at Brownell Activities Complex on Saturday afternoon.
Earlier this season, the Golden Eagles were on the verge of a victory against Jefferson before the Cavaliers scored in the final minute to earn a 2-2 draw. Central made sure that would not be the case again, putting the pressure on the visitors from the opening whistle.
"The biggest thing is we came out with a lot more intensity, a lot more pressure on them right away," said Central coach Merle Aske. "That's what we've been working on these last few weeks."

The Eagles have found that setting the tone early and putting opponents on the defensive has produced stellar results.
"We put pressure on other teams right away so they can't get into a rhythm and they're trying to defend more than they're trying to go forward," Aske said. "And once they're doing that, it's hard for them to get out of that pattern. So we just put them in that pattern and try to keep them there."
Kailyn Poppen scored in the 10th minute on a breakaway to give the Central offense some momentum and Deshani Peters added a goal less than three minutes later on a blast from about 25-yards out.
Spurred on by an energetic crowd, the Eagles seemed to play with some post-season urgency.
"I think that the playoff season, everybody is just so excited to see what comes next," said Central senior defender Claire Schaunaman.
That excitement seemed to fuel Central's overall performance.
"Having the crowd there cheering us on really sets the mood for the game," Schaunaman said. "I know everybody on the team appreciates people coming out and cheering for us."
The Eagles added two more goals within four minutes of each other in the second half when Taryn Hettich found the back of the net and Peters took a picture-perfect feed from Lauren Joosten for her second goal. Joosten finished with two assists in the contest.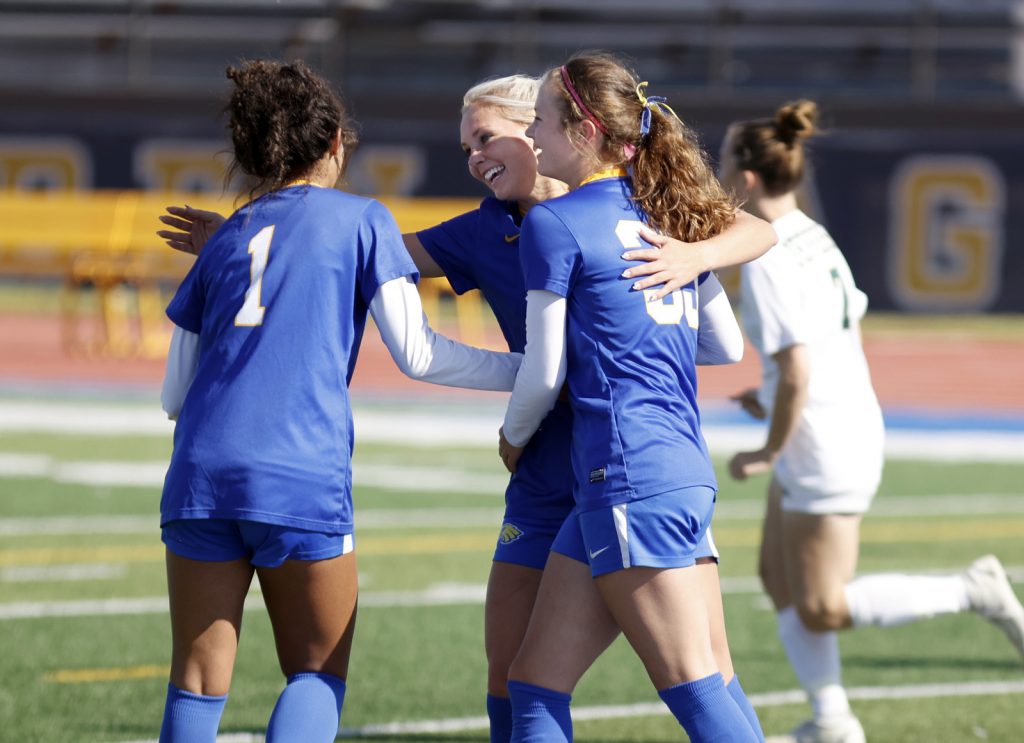 Meanwhile, Central's defense kept the Cavaliers well away from the Eagles' goal for the majority of the contest.
If Central wasn't motivated enough for the playoffs, the players had a bit of score to settle against Jefferson.
"A lot of motivation," said senior defender Alana Hansen. "We didn't want any goals scored on us and we just wanted to work together to make sure our defensive line was up when it needed to be up, and drop when it needed to drop."
Hansen said a big key to the defense is communication and knowing where each other is at.
"I just try and make sure everyone is communicating with each other and we're all on the same page," Hansen said, "so that when the ball does get past us, we're able to get back and not let them score."
While the backrow players do not get much attention for the job they do, they are content to stay in the background and let the goal-scorers take center stage.
"We're not really attention seekers," Hansen said, "so it's OK with us."
Jefferson eventually was able to get on the board in the 75th minute before Central capped the scoring on a long shot from freshman Kaylee Donat.
Central now finds itself back in the semifinals where it fell at home last season in its quest to get to the state championship contest.
"We lost in the semis last year and the girls want to get back to that title game. That's a big deal," Aske said. "It's always hard to do. Everybody wants to be there. It's hard to do, but we're in a position now where we've got one more to get in there."
The Eagles, 12-1-1 on the season, will play at Sioux Falls Lincoln at 7 p.m. Tuesday in the semifinals. The two squads have not faced each other yet this season.
"We only have one day to prepare," Aske said. "It's not like we're going to put a lot of stuff in. It's just a matter of getting ourselves (ready) and doing what we do."
Sioux Falls Jefferson 0 1 – 1
Aberdeen Central 2 3 – 5
First Half
1, AC, Kailyn Poppen (Lauren Joosten), 10th minute; 2, Deshani Peters (Poppen), 13th minute.
Second Half
3, AC, Taryn Hettich (Peters), 51st minute; 4, Peters (Poppen, Joosten), 55th minute; 5, SFJ Emma Behm (Sophie Ernster), 75th minute; 6, AC, Kaylee Donat.
Shots on Goal: Sioux Falls Jefferson 12; Aberdeen Central 14.
Goalies: Sioux Falls Jefferson, Onnalee Behm (9 saves); Aberdeen Central, Ciara Frank (10 saves), Taylor Thorstenson (1 save).