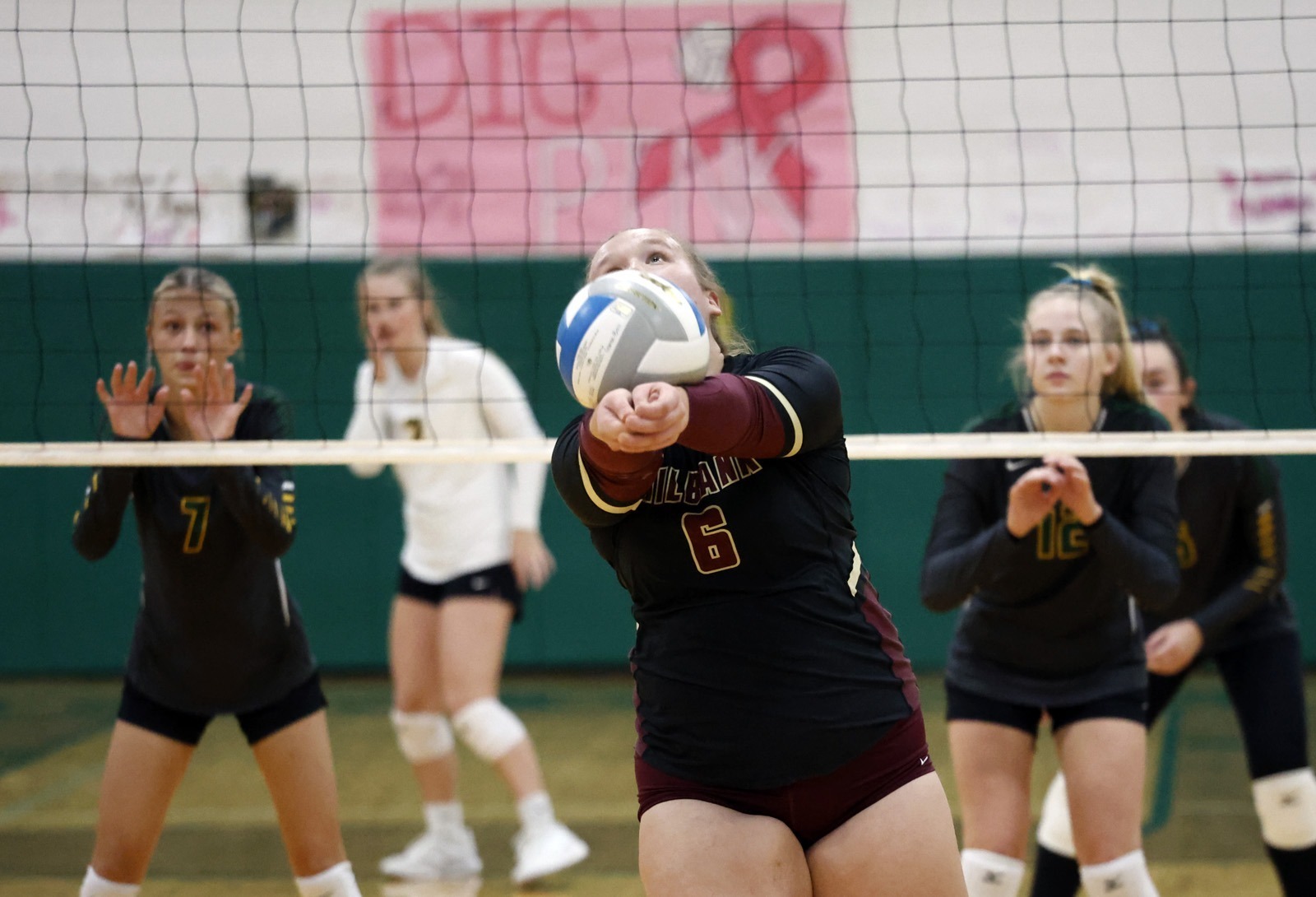 The volleyball post season doesn't start for another two weeks, but there was a playoff atmosphere inside Roncalli Gym Tuesday night.
Milbank Area came up big when it mattered most to secure a five-set Northeast Conference victory of Aberdeen Roncalli. The 14-25, 25-19, 25-18, 19-25, 15-10 victory came with key power points as the two squads battle for post-season position in Region 1A.
"It was very, very important," said Milbank Area senior Averie Engebretson. "It's going to give us a lot of seed points and momentum for the rest of our season."
It wasn't until the final half of the fifth set that the Bulldogs were able to pull away and grab the victory.

"Absolutely, momentum is huge," said Milbank Area coach Nancy Hoeke, "and just when you think you have a safe little lead, ah no, it goes the other way, and the pressure is there."
The Cavaliers won the opening set in convincing fashion, scoring seven of the last eight points. The second and third sets were both tight before the Bulldogs closed with a flurry, pulling away from an 18-17 edge in the second and an 18-16 advantage in third.
Roncalli then broke away from a 12-12 tie in the fourth to set up a fitting fifth and final set.
That's when Addisyn Krause, who led her team with six aces, staked the Bulldogs to a 3-0 lead and when Roncalli leveled the score, the visitors scored five unanswered points to take control.
"The first set I thought it looked like we came out strong and had control, and then we kind of just went into coast mode and let it happen," said Roncalli coach Mandy Smid. "It took us a little bit to get that energy back. I think set four we finally felt that rush, and we just started off in too much of a hole for a 15-point game."
Rachel Schulte led a balanced Bulldog attack with 18 kills, Claire Snaza added 11 and Skyler Skoog had 10, most coming off of sets from Engebretson.
"I think we had some of the best offense we've had or the most steady and consistent," Hoeke said, "and she found a number of different hitters and then they're able to go after the ball and do something with it."
Engebretson finished with 35 assists on sets that were just inches away from hitting the ceiling. She said her high-arching sets allow hitters a little more leeway on their attmpts.
"I set it high probably just so they have time to adjust their approach if it's off or so they can get under it and swing," Engebretson said.
Milbank Area improved to 16-10 on the season with the rare win on the Cavaliers' home floor.
"This is a huge win. I was going to go back and look at the last time we maybe beat them at home or beat them period. It's been a few years," Hoeke said. "They're a great team and put up a good battle."
Jaidyn Feickert topped Roncalli with 11 kills and drew the praise of Smid.
"I told her I thought she had a break-through type of night. She was playing really aggressively and was leading by her action," Smid said.
The Cavaliers are currently without Ava Hanson, who was recently injured in practice.
In her absence, other players stepped up.
"It's good to see different players kind of have those moments of that success and those breakthrough times," Smid said.
Ella Hanson finished with eight kills and 33 digs. Camryn Bain led the Roncalli defense with 35 digs.
The Cavaliers, 13-9, have one match remaining before the post season, playing at Deuel on Monday.
It's possible that Roncalli could face Milbank Area again in the post season.
"We're at the tail end of the season and at this point you do what you can do on each given night," Smid said. "We might see them again and hopefully we can see them again and correct this from our perspective, and learn from it and get ourselves healthy to go into post season."
Serving: Milbank Area (Addisyn Krause 28-29 6 aces, Averie Engebretson 14-17 1 ace, Hallie Schulte 8-8 1 ace); Aberdeen Roncalli 83-92 9 aces (Faith Danielson 15-16 2 aces, Maddie Huber 16-18 2 aces).
Hitting: Milbank Area (Rachel Schulte 54-63 18 kills, Claire Snaza 25-26 11 kills, Skyler Skoog 38-42 10 kills); Aberdeen Roncalli 185-203 36 kills (Jaidyn Feickert 31-33 11 kills, Ella Hanson 39-44 8 kills).
Setting: Milbank Area 130-131 35 assists, Krause 17-18 6 assists); Aberdeen Roncalli (Danielson 71-71 13 assists, Huber 86-86 11 assists).
Digs: Milbank Area (Krause 32, H. Schulte 27, Engebretson 26); Aberdeen Roncalli 128 (Camryn Bain 35, Hanson 33).
Blocks: Milbank Area (Snaza 1 solo 4 assists, Engebretson 3 assists); Aberdeen Roncalli 1 solo 6 assists (Huber 1 solo 1 assist, Hanson 2 assists).
Records: Milbank Area 16-10; Aberdeen Roncalli 13-9.