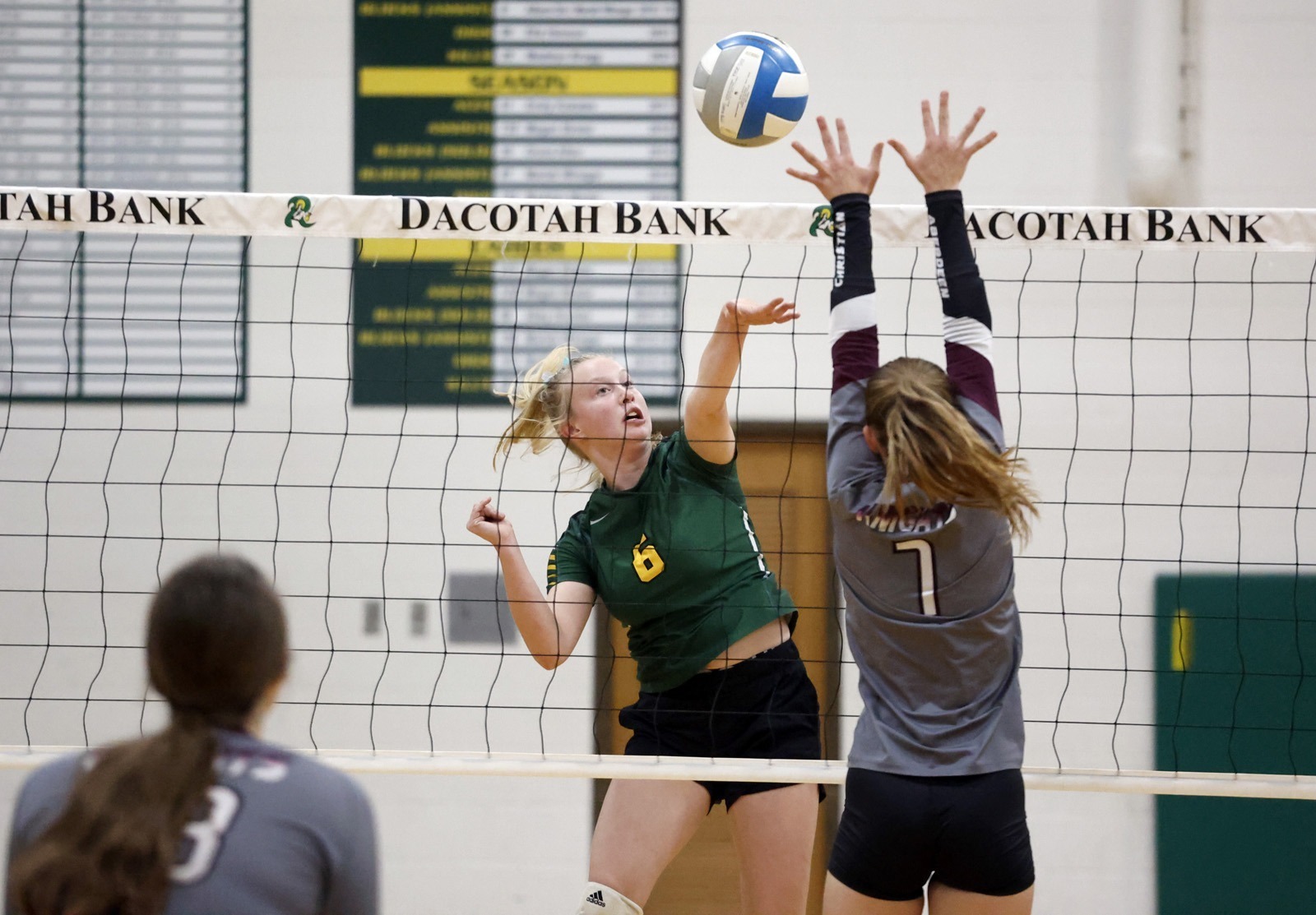 Aberdeen Roncalli received contributions from a variety of players to help fuel a sweep of Aberdeen Christian Monday night.
The Cavaliers did damage from the service line and all across the front row en route to a 25-10, 25-7, 25-9 non-conference volleyball victory at Roncalli Gym.
"I just got done telling the girls, if anything was gained from tonight it should just be that cohesion that comes from getting new people and new faces on the floor and having success with them next to you," said Roncalli coach Mandy Smid, "Having them feel comfortable in the situation that we might need them down the road, that we now have those people available and it just makes it more of that team effort."
While the Hanson sisters, Ella and Ava, were their normal steady selves, Jazmine Hart-Crissman did some damage with her left-handed hits throughout the match.

The senior finished with five kills, many coming in the same location.
"I kind of saw it and they kept on leaving it open," Hart-Crissman said, "so I figured, if it's open, might as well aim for it."
Crissman said the Cavaliers have been working at multiple looks to try and keep defenses on their toes.
"In practice we've been working on really just spreading the ball out, doing different routes," she said.
Having another attacker along the front line makes the Cavaliers a challenge to defend as Christian found out.
"We have sets now where Jazmine has been able to contribute and it mixes things up and takes a little bit of the pressure off some of our other hitters," Smid said. "It's nice to see her have a good night tonight and really contribute, and hopefully gain some more confidence so we can continue to move it back and forth across the net."
The Knights played from behind the entire night and were never able to get going, offensively or defensively.
"We can't get in a groove," said Christian coach Sara Powell. "We're struggling right now."
Roncalli set the tone early with its aggressive serving that resulted in eight aces. It followed that up with aggressive hitting on the way to 38 kills.
"It's all about control and as long as we could stay confident and aggressive with our attack and make them control the ball," Smid said, "that's kind of any game plan, cause some havoc on the other side, and I thought the girls did a nice job of staying aggressive."
The Cavaliers were pretty solid defensively as well, thwarting whatever attempts the Knights did have. Roncalli finished with 54 digs.
"We tried to kind of look for the open spots, push it to the deep corners, go cross-court, go downline," Powell said. "They're a great team."
Ella Hanson led the Cavaliers with 13 kills, three aces and 11 digs. Ava Hanson contributed seven kills, and Camryn Bain had 16 digs.
Roncalli improved to 5-4 and has won five of their last six matches, starting with a Tiospa Zina.
"After that first win against TZ, I think that's what we needed to light the fire under all of us," Hart-Crissman said.
Payton Skarin led Christian with three kills and five digs. Alexis Isakson had a team-leading 15 digs.
The Knights, who played four times last Saturday, are in action at Waubay-Summit tonight and host North Central Thursday.
"We're coming back from some girls being sick. They're tired, but I told them today in the locker room, we have to show up," Powell said. "We have to push deep, find our groove and just go, and it's going to be whoever wants to be on that court is going to be on my court (Tuesday)."
The Cavaliers travel to Sisseton Thursday and will look to keep their forward momentum going.
"We had a really tough start to the year with the matches that we played, but just kind of feeling that we're getting that ball rolling here and gaining some momentum," Smid said. "Hopefully, we can keep that going this direction here as we kind of hit the midway point of the season."
Serving: Aberdeen Christian 24-27 1 ace (Chloe Bosma 7-8 1 ace, Sophia Fogarty 4-4, Payton Skarin 2-2); Aberdeen Roncalli 67-73 8 aces (Ella Hanson 10-12 3 aces, McKenna O'Keefe 15-15 2 ace).
Hitting: Aberdeen Christian 56-66 10 kills (Payton Skarin 10-13 3 kills, S. Fogarty 11-11 1 kill, Jolie Fogarty 1-1 1 kill); Aberdeen Roncalli 71-77 38 kills (E. Hanson 25-26 3 13 kills, Ava Hanson 13-16 7 kills, Jazmine Hart-Crissman 9-9 5 kills).
Setting: Aberdeen Christian 86-89 10 assists (J. Fogarty 77-80 8 assists, Alexis Isakson 3-3); Aberdeen Roncalli 59-59 29 assists (Faith Danielson 24-24 15 assists, Maddie Huber 35-35 14 assists).
Digs: Aberdeen Christian 31 (Isakson 15, Skarin 5, Natalie Biel 3); Aberdeen Roncalli 54 (Camryn Bain 16, E. Hanson 11).
Blocks: Aberdeen Christian 1 solo (Emma Sand 1); Aberdeen Roncalli 2 solo 2 assists (Jaidyn Feickert 2 solo 1 assist, A. Hanson 1 assist).
Records: Aberdeen Christian 0-15; Aberdeen Roncalli 5-4.
JV Match: Aberdeen Roncalli 25-14, 25-5.