The final score was identical, but the results still showed improvement for Aberdeen Roncalli.
The local tennis team dropped another 8-1 decision to St. Thomas More on Monday, but this one was a bit different than the first matchup where Roncalli forfeited top flight singles and doubles matches. Roncalli's players all moved up one flight for the rematch.
"I definitely saw some decent tennis today and then there were some times when there were some lapses," said Roncalli coach Jason Haskell. "It's nice to see the good things and then we have some stuff to work on."
Roncalli's lone victory came at flight two singles where River Haskell reeled off six straight games to record a 10-4 win.

"I made less serving errors and I hit out in front of me," she said of her ability to pull away down the stretch.
She also frustrated her foe by hitting balls that barely cleared the net and stayed low once they did.
"I think I naturally hit very low, short shots," she said, "and they were working for me."
Both player and coach said that a key to the match was the sophomore's ability to maintain mental toughness.
"It was more of a mental battle, than physical," she said. "I think I learned stuff from that match."
Coach Haskell said that River continues to improve as the season progresses.
"She's been hitting the ball real well the last couple of weeks, catching it early, out in front, and being aggressive. That's good," he said. "If she can stay in that mindset, stay mentally strong, she's going to have some good matches to close out the season."
While Roncalli was unable to win any other matches, Coach Haskell pointed out the play of Keira Rivett at flight five singles. He said the freshman is getting better each week.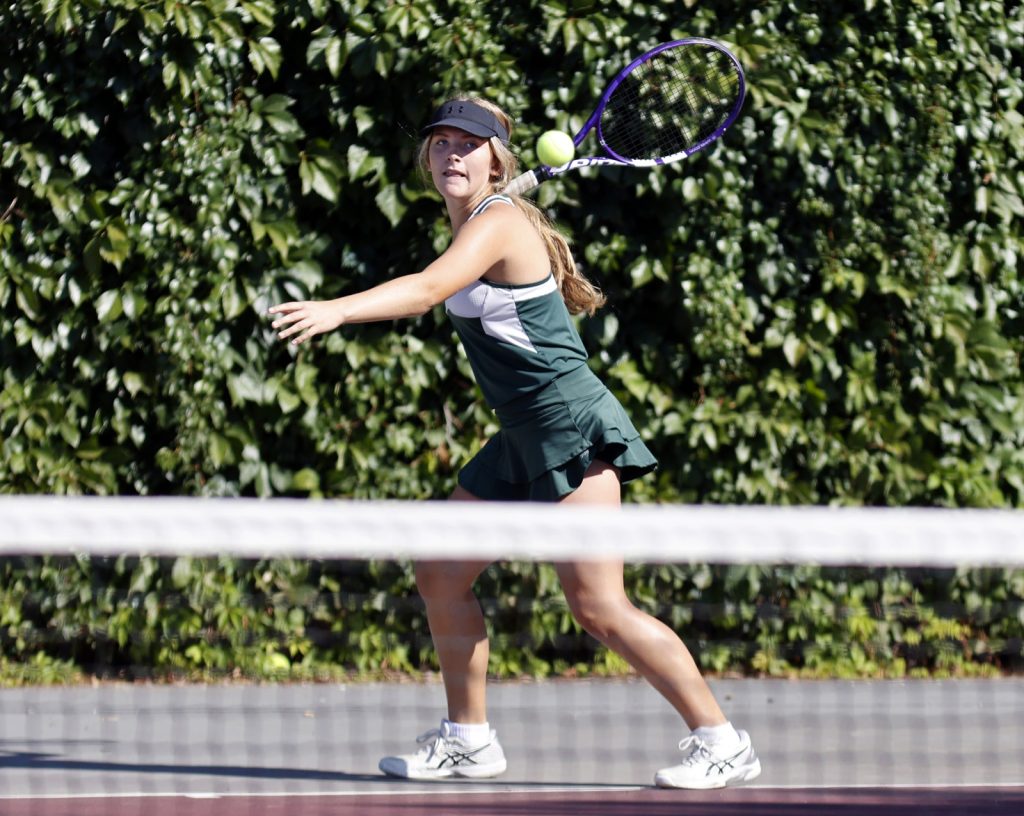 "Keira is probably that one person nobody thinks about, because she's down there at number five and doesn't get looked at a lot," Coach Haskell said. "She's probably my most improved player of the year. She's just really come a long way. She's starting to hit the ball with a little pace now and once she starts to get comfortable and relax into her shots a little more, she's only going to get better."
Roncalli takes on O'Gorman and Brookings at Brookings today, then hosts Rapid City Central and Rapid City Stevens on Friday, and competes in the annual Elliott Extravaganza on Saturday.
"I'm looking forward to see what my girls put together over the next couple of weeks," Coach Haskell said. "It should be fun."
St. Thomas More 8, Aberdeen Roncalli 1
Singles
Athena Franciliso, STM, def. Katherine Kretchman, 10-2.
River Haskell, AR, def. Shriya Gangenini, 10-5.
Katelyn Denholm, STM, def. Raley Haskell, 10-3.
Sophie Meyer, STM, def. Anna Mitzel, 10-2.
Amity Strand, STM, def. Keira Rivett, 10-2.
Madison Schmahl, STM, def. Josie Mitzel, 10-0.
Doubles
Denholm-Meyer, STM, def. Kretchman-River Haskell, 10-6.
Franciliso-Gangenini, STM, def. Raley Haskell-A. Mitzel, 10-4.
Strand-Schmahl, STM, def. Rivett-J. Mitzel, 10-1.