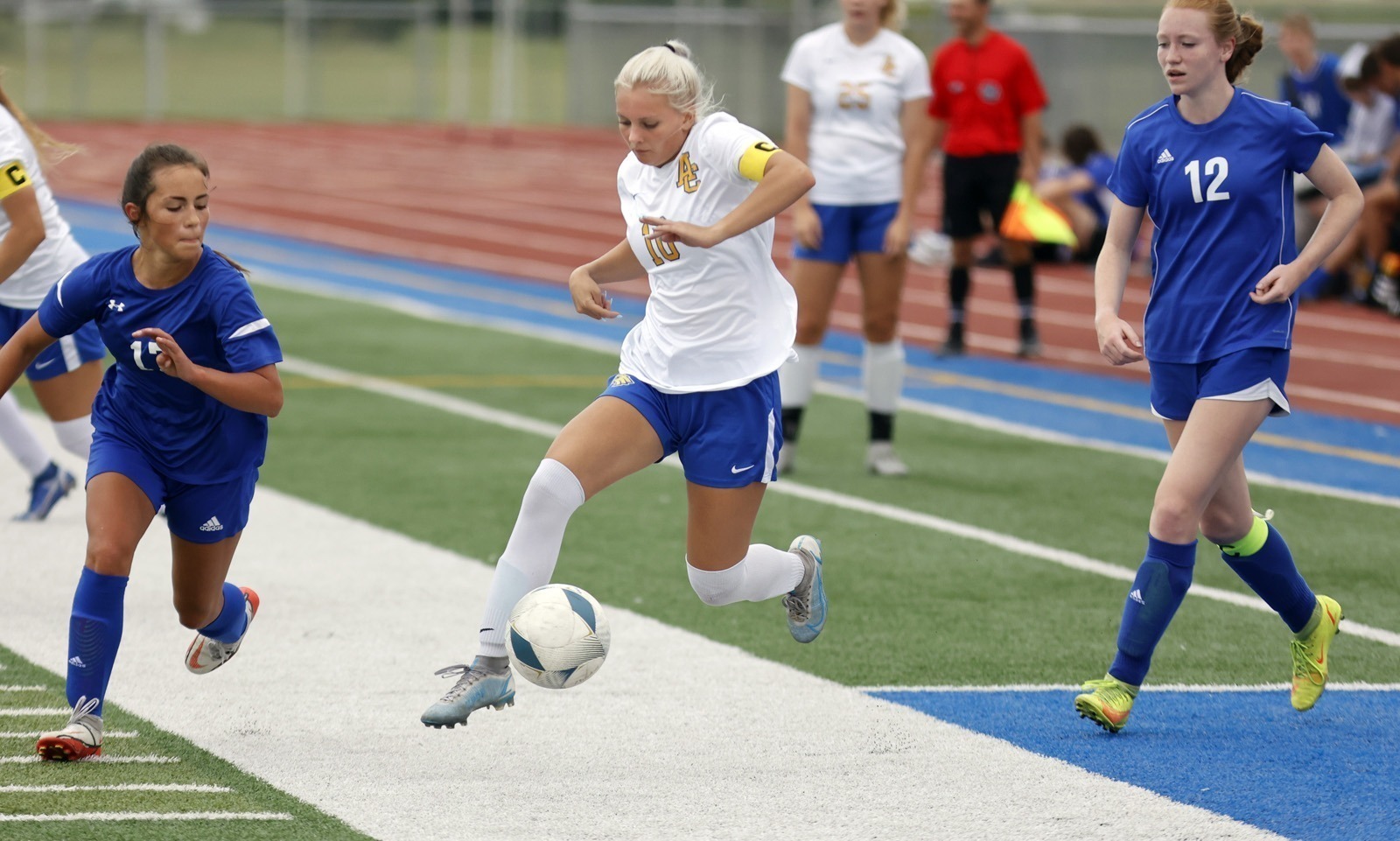 SIOUX FALLS – Aberdeen Central dodged a flurry of attacks early, regrouped and handed Sioux Falls Roosevelt its first girls' soccer setback of the season with a 2-1 victory on Tuesday.
The Golden Eagles never trailed, but had to overcome an opening onslaught from Roosevelt. Once they did, Central was able to take control.
"We had to weather the storm at the beginning. They were playing the ball over the top and we were having to chase too much," said Central coach Merle Aske. "We settled down, got our possession going, and had a few more chances. Courtney (Nipp) had a good finish from a Kaylin (Poppen) assist."
That goal in the 29th minute allowed the Eagles to play with an advantage before Central added an insurance goal from Deshani Peters in the 72nd minute on another assist from Poppen.
"We played better in the second half limiting their chances and were able to get our second before they scored," Aske said. "Kaylin found Deshani making a run through their back line."
The Rough Riders got on the board in the 77th minute, but were turned away several times during the contest.
"Ciara Frank played very well in goal in her second full game back from injury," Aske said. "She stopped a PK (penalty kick) and made a great reflex save off a deflection from a free kick in the second half. She also had a couple of good saves in the first half."
The Eagles improved to 6-1-1 on the season and will play host to Harrisburg at 2 p.m. Saturday at Brownell Activities Complex.
Aberdeen Central 1 1 – 2
Sioux Falls Roosevelt 0 1 – 2
First Half
1, AC, Courtney Nipp (Kaylin Poppen), 29th minute.
Second Half
2, AC, Deshani Peters (Kaylin Poppen), 72nd minute; 3, SFR, Katie Spicer, 77th minute.
Shots on Goal: Aberdeen Central 13; Sioux Falls Roosevelt 15.
Goalies: Aberdeen Central, Ciara Frank (14 saves); Sioux Falls Roosevelt, Sadie Hunter (5 saves), Calli Radel (6 saves).