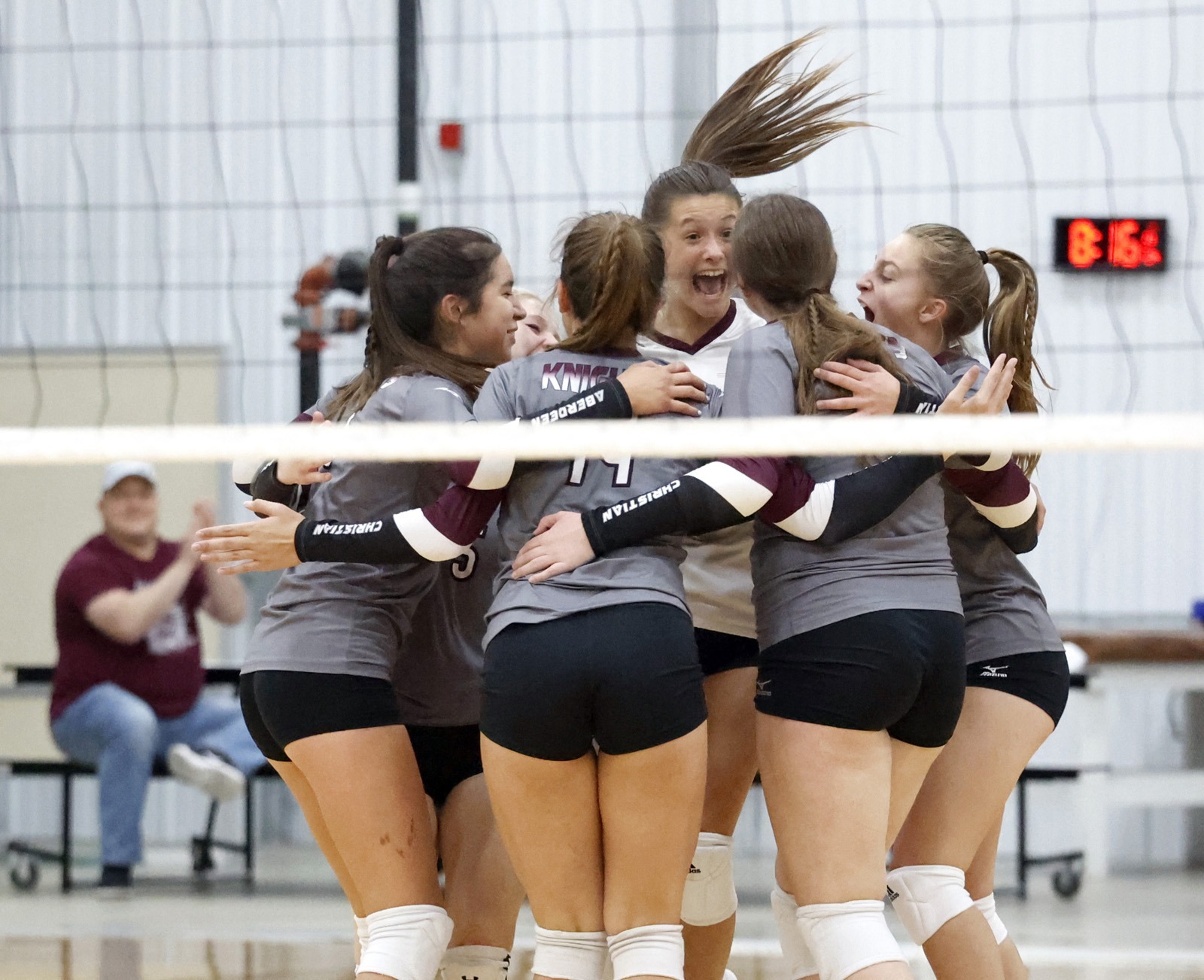 What a difference a few days can make.
Earlier this week, the Aberdeen Christian Knights were out of synch and struggling to find some energy. Thursday night, the squad had a bounce in its step, played with a purpose and won its second match in three days.
Christian came up big at the service line on the way to a 25-22, 23-25, 25-18, 25-22 Lake Region Conference volleyball victory over North Central at the Christian School Gym. The win comes on the heels of a win on Tuesday over Waubay-Summit.
"Tuesday was huge. It really was our spark," said Christian junior Chloe Bosma. "We were just trying to get into a groove and Tuesday was huge for that. That was nice."

The Knights have also discovered a way to finish off sets, something that plagued the team during the first half of the season. Christian overcame a 21-19 deficit in the opening set and pulled away from a 21-21 tie in the fourth to close out the match.
"When I called our time out the last time, I'm like we need to just finish it," said Christian coach Sara Powell. "That's been our biggest struggle all season was just to get a finish."
While three of the four sets were tight the whole way, a key factor in the match was Christian's proficiency from the service line, racking up 16 aces on the night.
"They were a tough team, really good servers," said North Central coach Ashley Grenz. "We just were not prepared enough for them."
Chloe Bosma led the Knights with six aces and Natalie Biel added three.
"We've worked a lot on zone serving so we can pick out the weakest players," Powell said. "Our girls have worked really hard at that and it's paying off for them."
Bosma was not only a force with her serve, she also pounded out a match-leading 14 kills.
"Every practice, every game, she just always comes with 110 percent effort every time," Powell said of the team's most experienced player.
Bosma had plenty of help on the evening as a variety of other teammates stepped up across the front line.
That helped to take some of the pressure off the team's hitting leader, and as Bosma pointed out, "it's super nice for everyone else to get kills, because it builds their confidence."
Jolie Fogarty finished with five kills and 29 set assists, Alexis Isakson contributed 45 digs, and Payton Skarin had 18 digs.
"I have just a bunch of them that are contributing to the team," Powell said. "It's not just one person that stands out. We have great teamwork out of everybody."
The Thunder also featured a balanced attack. Billie Jo Hoffman had 10 kills, Amree Vander Vorst nine kills and Natalie Bieber eight kills and four aces.
Grenz was pleased with the way that her squad responded after dropping the opening set.
"That seems to be a tough thing for our girls to come back after a loss," Grenz said, "so that was good for us."
The Knights are now 2-15 and are playing with some new-found confidence. Powell said a big part of it is the mental aspect of the game.
"We talked a lot about mindset and being good teammates, and just having a positive attitude and keep pushing forward," Powell said. "And we just don't give up."
Christian has a week off before hosting Faulkton on Thursday.
The Knights will look to continue their momentum after two straight victories.
"It's huge, just giving us more energy and more life and maybe some spunk to it," Bosma said, "so maybe we can come out with the next one and get a win, too."
Serving: North Central 77-88 7 aces (Natalie Bieber 13-13 4 aces, Amree Vander Vorst 16-16 2 aces); Aberdeen Christian 83-97 16 aces (Chloe Bosma 14-17 6 aces, Natalie Biel 15-15 3 aces).
Hitting: North Central 109-134 34 kills (Billie Jo Hoffman 24-31 10 kills, Vander Vorst 29-33 9 kills, Bieber 21-30 8 kills); Aberdeen Christian 128-145 40 kills (Bosma 57-59 14 kills, Julie Fogarty 6-6 5 kills).
Setting: North Central 30 assists (Kaitlyn Hoerner 25); Aberdeen Christian 32 assists (Fogarty 29, Alexis Isakson 3).
Digs: North Central 107 (Jenisa Jacobs 36, Vander Vorst 21, Sydnee Malsam 11); Aberdeen Christian 101 (Isakson 45, Payton Skarin 18).
Blocks: North Central 1 solo (Bieber 1 solo); Aberdeen Christian 1 solo 2 assists (Sophie Eichler 1 solo 1 assist, Fogarty 1 assist).
Records: North Central 4-10; Aberdeen Christian 2-15.