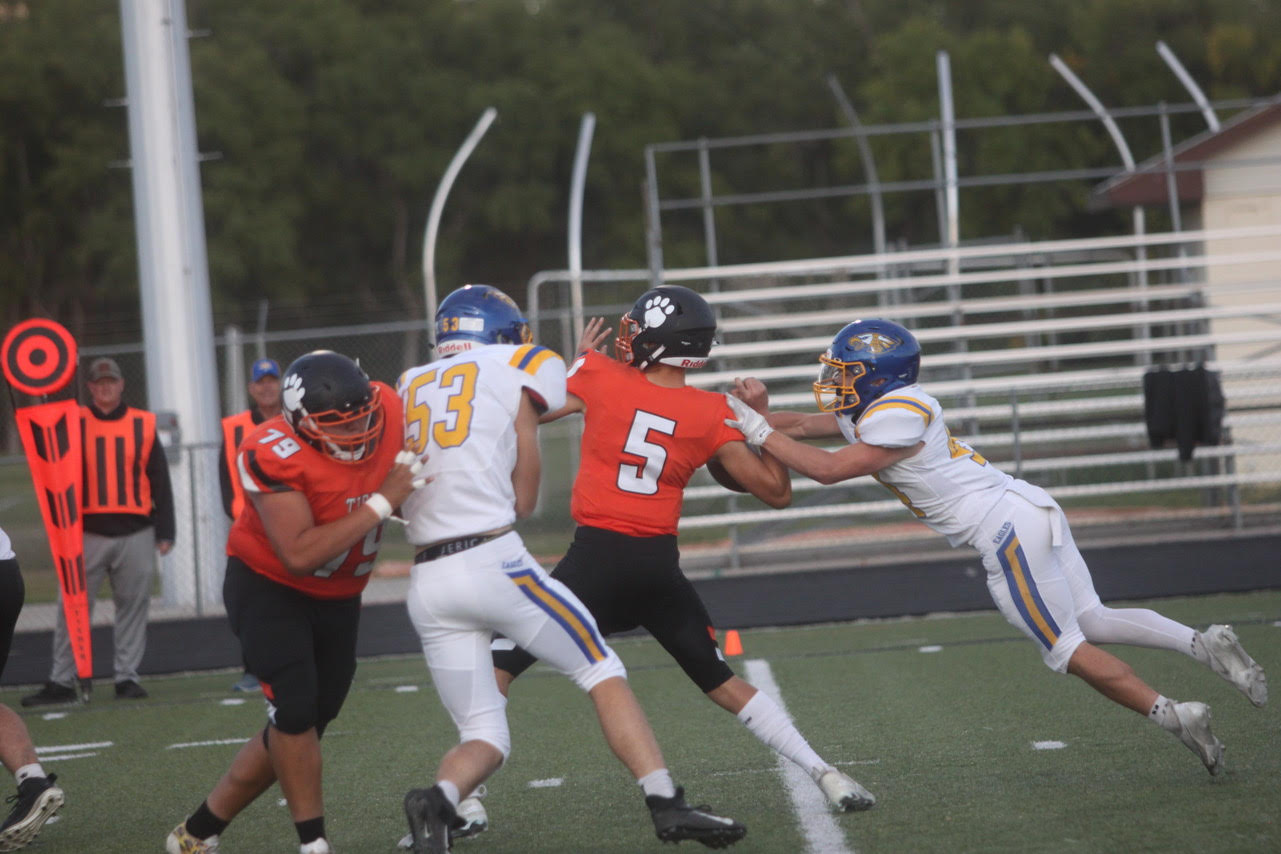 HURON – Aberdeen Central got the ball to begin the second half of play Friday night and essentially never gave it back.
The Golden Eagles limited Huron to just six offensive plays in the third quarter and dominated time of possession nearly three-to-one in the second half, steamrolling its way to a 24-7 Eastern South Dakota Conference football victory over the Tigers Friday night in Huron. The victory marks the second straight for Central, now 2-3 on the season.
Central led 7-0 at the half, scoring on a 17-yard pass from Dustin Hermansen to Drew Salfrank on the first play of the second quarter, but saw its other early scoring opportunities upended by penalties and miscues.
"We still have trouble getting off to a good start," said Central coach Justin Briese. "I don't know if that has to do with being on the road or what, but the end of the second quarter and in the second half, we looked pretty good."

Huron, for its part, had much of the same troubles. The Tigers thought they had a game-tying touchdown with less than a minute to play in the first half, but that score was wiped out by a holding penalty. Central then ended the threat with an interception.
Then came the second half, and Central's offensive drives proved wearing for Huron's defense, which had difficulties getting off the field. A Tayden Brownson field goal with just under three minutes to play in the third made it a 10-0 game, while the Golden Eagle defense held Huron to just two 3-and-out drives in the quarter.
"The end of the third quarter and especially at the start of the fourth quarter, it starts to wear on kids," Briese said. "We can switch out our entire offense and defense. (Huron) has a ton of kids playing both ways and that happens."
Central began the fourth quarter with the first of two Karson Carda touchdown runs, then immediately recovered a muffed squib kick in Tiger territory. Carda took advantage of the worn-down Tiger defense and capped that drive with another touchdown.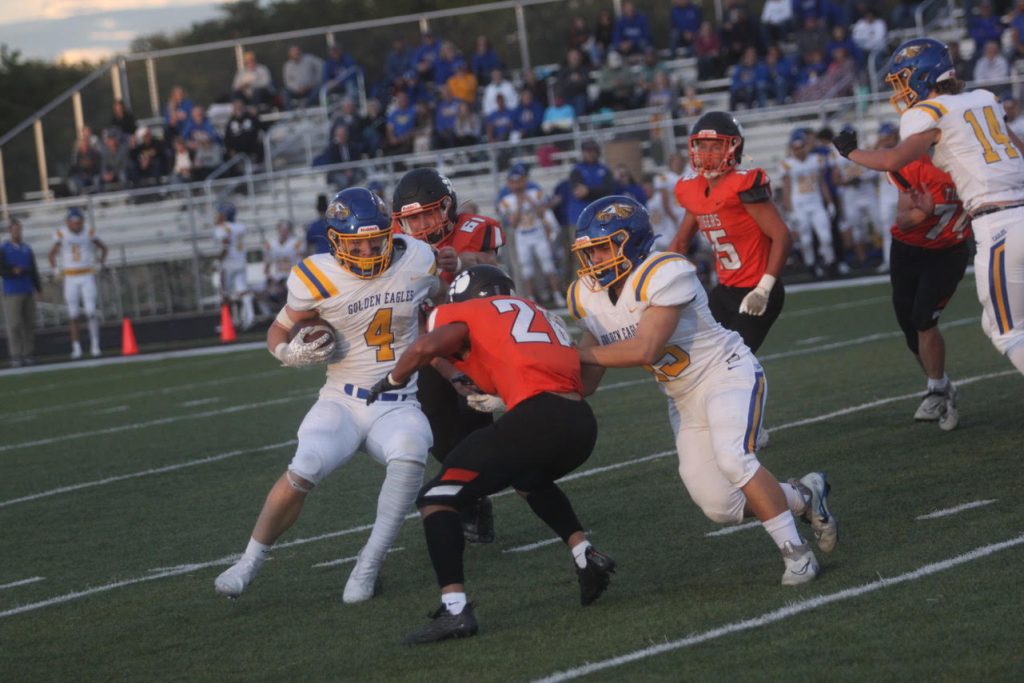 "We're always trying to find ways of getting the ball back in our offense's hands," Briese said. "Whether that's on defense or special teams. That just swings the game in our favor."
Huron's lone touchdown of the game came with less than two and a half minutes to play in the game on a 5-yard Mason Davis run.
Carda finished the game with 21 carries for 139 yards and the two scores. Salfrank had five carries for 32 yards and four catches for 101 yards and a score. Hermansen went 9-for-16 for 149 yards through the air.
Central remains on the road next week, heading to Watertown for another Eastern South Dakota Conference contest. Kickoff is set for 7 p.m.
Aberdeen Central (2-3) 0 7 3 14 – 24
Huron (1-4) 0 0 0 7 – 7
First quarter
No scoring.
Second Quarter
AC – Drew Salfrank 17 pass from Dustin Hermansen (Tayden Brownson kick).
Third Quarter
AC – Brownson 26 field goal.
Fourth Quarter
AC – Karson Carda 1 run (Brownson kick).
AC – Carda 7 run (Brownson kick).
HUR – Mason Davis 5 run (Nick Kleinsasser kick).
OFFENSE: Aberdeen Central rushing 212 (Carda 21-139, Avery Ligon 7-32, Salfrank 5-32), passing (Hermansen 9-16 for 149); Receiving (Salfrank 4-102); Huron rushing (Cashton Caudell 11-66, Quinston Luellman 9-20); Passing (Davis 9-19-2 for 99), receiving (Reilyn Zavesky 3-48, Dylan Lichty 3-25).