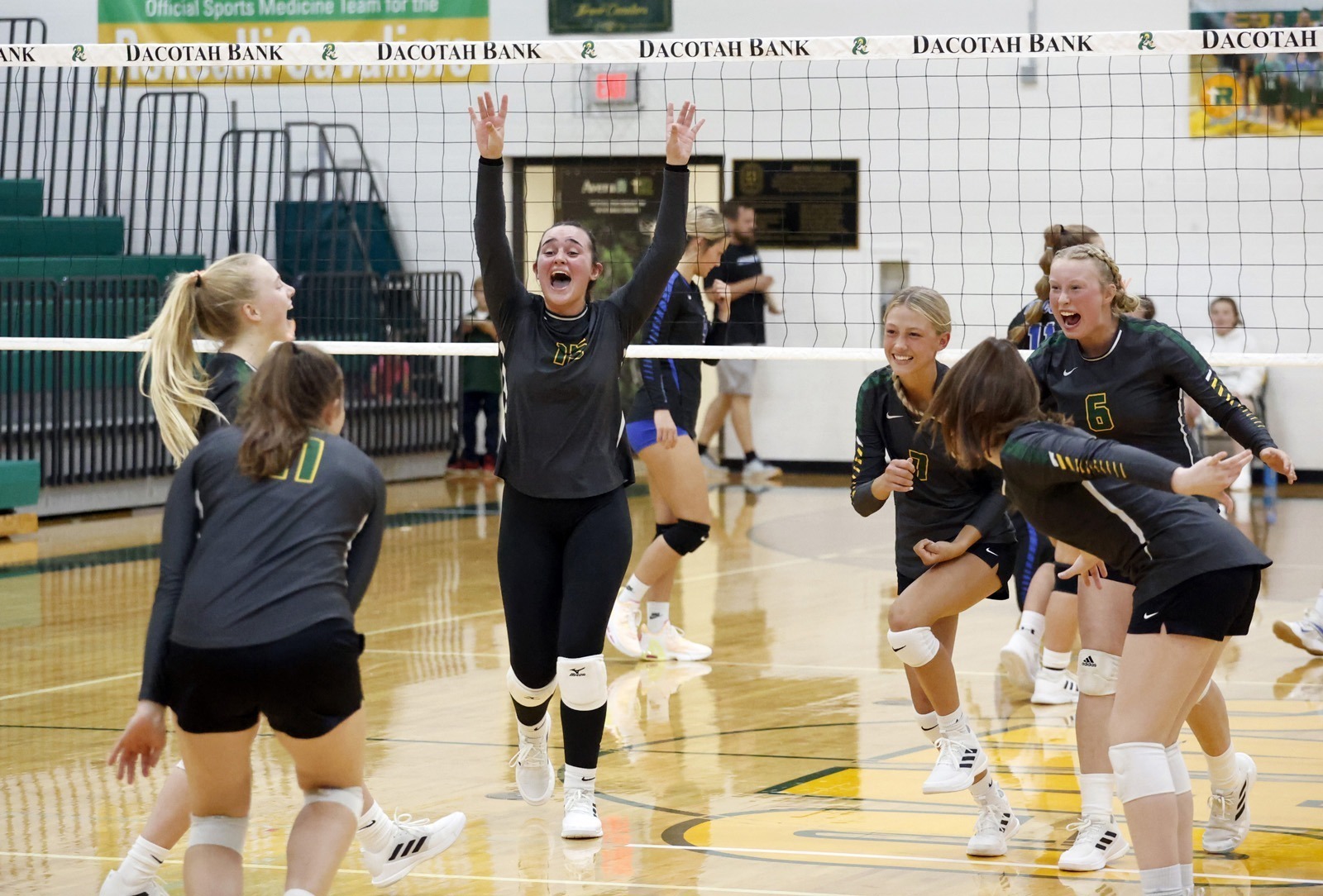 Aberdeen Roncalli used its strongest effort of the year to record its biggest win of the season Tuesday night.
The Cavaliers played with energy and focus on the way to handing Florence-Henry its first setback of the season in a 25-23, 25-21, 21-25, 28-26 non-conference volleyball victory.
"This is by far the best we've played so far this season as a team," said Roncalli senior Ella Hanson. "We really, really came together and we made some magic happen."
Each of the four sets was tight with Roncalli leading throughout the first three sets, and the Falcons always within striking distance.
The Cavaliers were able to withstand late rallies in the first two sets before Florence-Henry eventually broke through in the third. The fourth set a back-and-forth battle that saw the Falcons save two match points and Roncalli save one set point before the Cavaliers finally prevailed.
Roncalli coach Mandy Smid said the team, which lost its first three matches to begin the season, is starting to come together.
"I think the first three games of the season was just really hard for them to believe in themselves. We were able to put some stretches together, but not complete the whole match," Smid said. "We saw different bits and pieces of it, and different things throughout that time, but tonight I really felt like the pieces were all fitting together really well."
Meanwhile, for the first time this season, things were not clicking for the Falcons.
"It just wasn't coming together for us tonight," said Florence-Henry coach Heather Kerkvliet. "We weren't able to keep them out of system. That's been key in our games prior to this, and our hits – we were just off tonight. That's the way it goes sometimes."
Hanson had her fingerprints all over the match. She finished with 5 aces, 16 kills and 20 digs.
"Ella is just in every sense of the word a tone-setter. She is very competitive natured and is ready to get everybody along for the ride," Smid said. "It's so nice that she's able to do it in such a positive manner and is never negative with her teammates."
Hanson understands her role as a leader and takes it seriously.
"I try to stay calm, because I know that there's a lot of younger players that are new this year to varsity," Hanson said. "So if one person keeps their head and tries to bring it all in, then everyone kind of follows and our team really did that today."
As a result, the Cavaliers were able to record a key victory and gain some momentum heading into the middle of the season. Hanson said the players were motivated when they hit the floor against the undefeated Falcons.
"Every single person on the team knew they wanted this. They wanted a big win," Hanson said. "We knew that Florence-Henry was an amazing team coming off a big win against Redfield when we lost to them. I think that all of us girls knew what we had to do, and we got it done. It feels nice."
Ava Hanson added 15 kills to the Roncalli total. Camryn Bain had a team leading 29 digs. McKenna O'Keefe contributed 19 digs.
Macey Lane had 14 kills to lead a balanced attack for Florence-Henry. Taylor Watson, Trinity Watson and Caylin Kelly each had 10 kills.
The Falcons slipped to 4-1 on the season.
"We just need to regroup," Kerkvliet said. "We'll certainly try to rebound from this and get back at it."
Roncalli, 2-3 on the season, plays at Groton on Thursday.
The Cavaliers plan on building onto their new-found momentum.
"It's a good foundation," Smid said of the win over Florence-Henry. "It's a good place to settle ourselves and really go up from here."
Serving: Florence-Henry (Caylin Kelly 19 1 ace, Taylor Watson 18); Aberdeen Roncalli 86-98 11 aces (Ella Hanson 15-18 5 aces, Faith Danielson 14-16 3 aces).
Hitting: Florence-Henry (Macey Lane 14 kills, Taylor Watson 10 kills, Trinity Watson 10 kills, Kelly 10 kills); Aberdeen Roncalli 154-171 44 kills (E. Hanson 56-62 16 kills, Ava Hanson 36-38 15 kills).
Setting: Florence-Henry (Reese Schmidt 36 assists); Aberdeen Roncalli 165-165 35 assists (Maddie Huber 85-85 21 assists, Danielson 53-53 14 assists).
Digs: Florence-Henry 113 (Kelly 24, Karli Sharp 23); Aberdeen Roncalli 101 (Camryn Bain 29, E. Hanson 20, McKenna O'Keefe 19).
Blocks: Florence-Henry (Kelly 8, Trinity Watson 5); Aberdeen Roncalli 1 solo (A. Hanson 1).
JV Match: Aberdeen Roncalli 25-14, 25-15.
C Match: Aberdeen Roncalli 25-18, 25-16.