Halle Bauer of Great Plains Lutheran defended her individual crown, Ricky Berndt of Deuel powered the Cardinals to the team title, and Clark-Willow Lake won the girls' team crown at the Roncalli Invitational cross country meet Thursday afternoon at Lee Park Golf Course.
Aberdeen Roncalli had three of the top seven runners to finish runner-up in the boys' team points.
Bauer and Berndt took all the suspense out of the individual races, each bolting out to big leads and finishing comfortably ahead of their competitors.
"It's important to get out strong so you don't get caught up behind people, because that can really slow you down," Bauer said. "Getting out front at the beginning helps you set the pace for the rest."

The junior wears a watch, but said she never looks at her time, focusing instead on just running as hard as she can.
"If I look at it too much it will just distract me and get in my head, so I don't look at it at all, really," Bauer said. "I just run until I'm done."
Berndt also broke away from the field early and does not pay much attention to his watch for times, either.
"I have some really good teammates and really supportive coaching staff that just really helps me know where I'm at in races and pushes me along," Berndt said.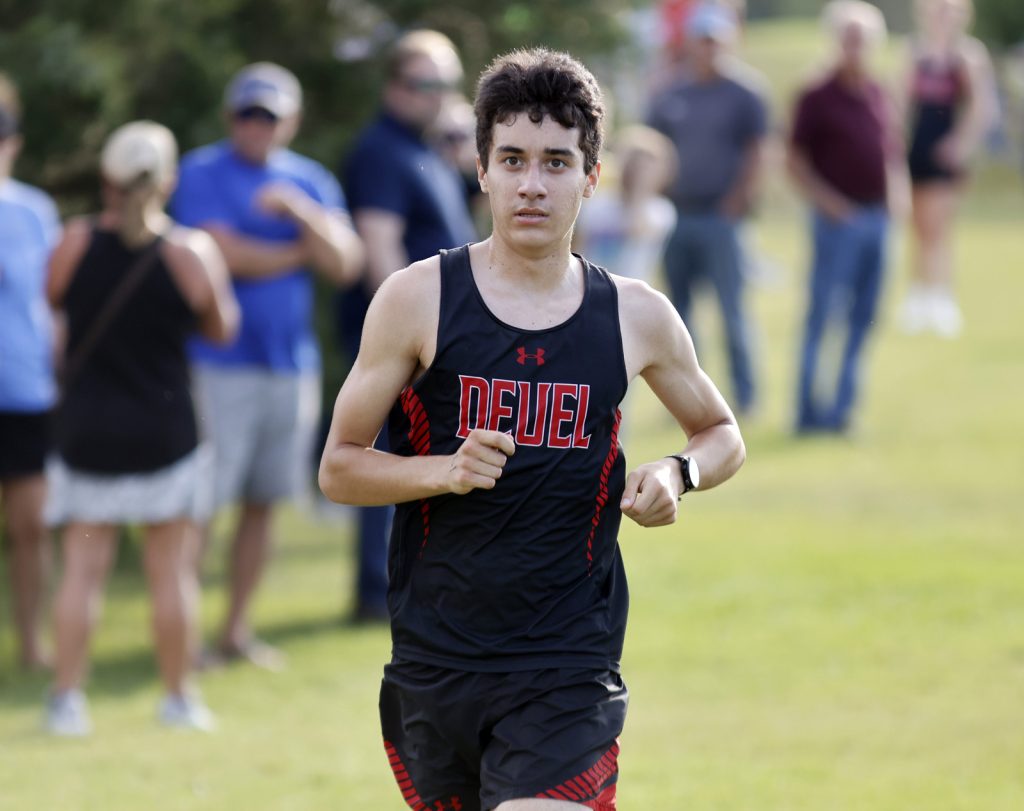 The senior ran a time of just under 18 minutes on the day. He said the race was a stepping stone on the way to the biggest upcoming meets of the season.
"I'd really love to place top five at the state Class A," Berndt said, "and I'd really love to go probably somewhere in the low 16s."
He believes he is on track to accomplish that time.
"I put in a really good summer," Berndt said, "so I think it's really doable."
Paul Gutenkauf led the Roncalli boys with a third-place finish with teammates, Matthew Peterson sixth and Garrett Griffin seventh.
Gutenkauf said he enjoyed competing in front of the home-town crowd.
"I like having more people that know me and are cheering for me," Gutenkauf said, "because it just helps me to get that extra boost."
The junior, who is coming off an illness, found a way past a pair of runners down the stretch to obtain his third-place position.
"I didn't really feel great," Gutenkauf said, "but I just had to bring that energy up."
Roncalli seventh-grader Addison Cassady finished fifth in the girls' race.
Last week she found herself running against Class AA competitors during the Salmi-Sahli meet.
"I'd say AA has a lot more competitive stuff, so they go a little faster because of the more people they bring," Cassady said of comparing the two meets. "I think that definitely makes a difference."
Cassady said running the same course a week apart also played a role in her race.
"Getting to know the course helps you to know what to do in your next one," she said.
Standing just 4-feet 9-inches, Cassady tries to stride out as much as she possibly can.
"I try to do long strides, but I don't think I do them that often ," she said. "I do try, though."
Roncalli coach Brady Lesnar was pleased with the way the Cavaliers ran at their own invitational.
"I thought our kids really came and competed at our home meet," he said, "and that's kind of what we talked about, this is our home meet, let's represent it well and be ready to go."
The Cavaliers will run again at Huron on Saturday.
Aberdeen Christian had three girls finish in the top 15 led by Grace Steger in 10th. Kathryn Steger was 13th and Rachel Beaner was 15th.
The meet literally took place in the Knights' backyard with the Christian School located just northwest of the course.
"It's a little less nerve-wrecking in some ways because it's small and local," Grace Steger said of the event, "but it's also a little harder because I'm in school all day and then I come here and I'm nervous at school."
The freshman was able to overcome those nerves and also some discomfort to be able to record a top-10 finish.
While she had her mile splits written down, it was all about determination at the end.
"I have paces down on my hand so I just kind of try to go off the pace," Steger said, "but when I'm in so much pain I just try not to let people from behind me pass me, I guess."
The trio of Knights started off the race a bit slow, but got stronger as the race wore on. That strategy was by design according to coach Livia Inches.
"The race started out pretty quick. All of the runners together were going pretty fast in the front, so I think that they were trying to conserve a little bit more," Inches said. "Then as the race went on they kept moving up places, which is perfect, because we've been talking about pacing and we've been talking about you want this time for your first mile, this time for your second mile, don't burn yourself out so you can go to the end at a good time. I think that they did that really well."
Christian competes at a meet in Clark on Thursday.
To see complete meet results, click on the following link:
https://www.athletic.net/CrossCountry/meet/212136/results/all