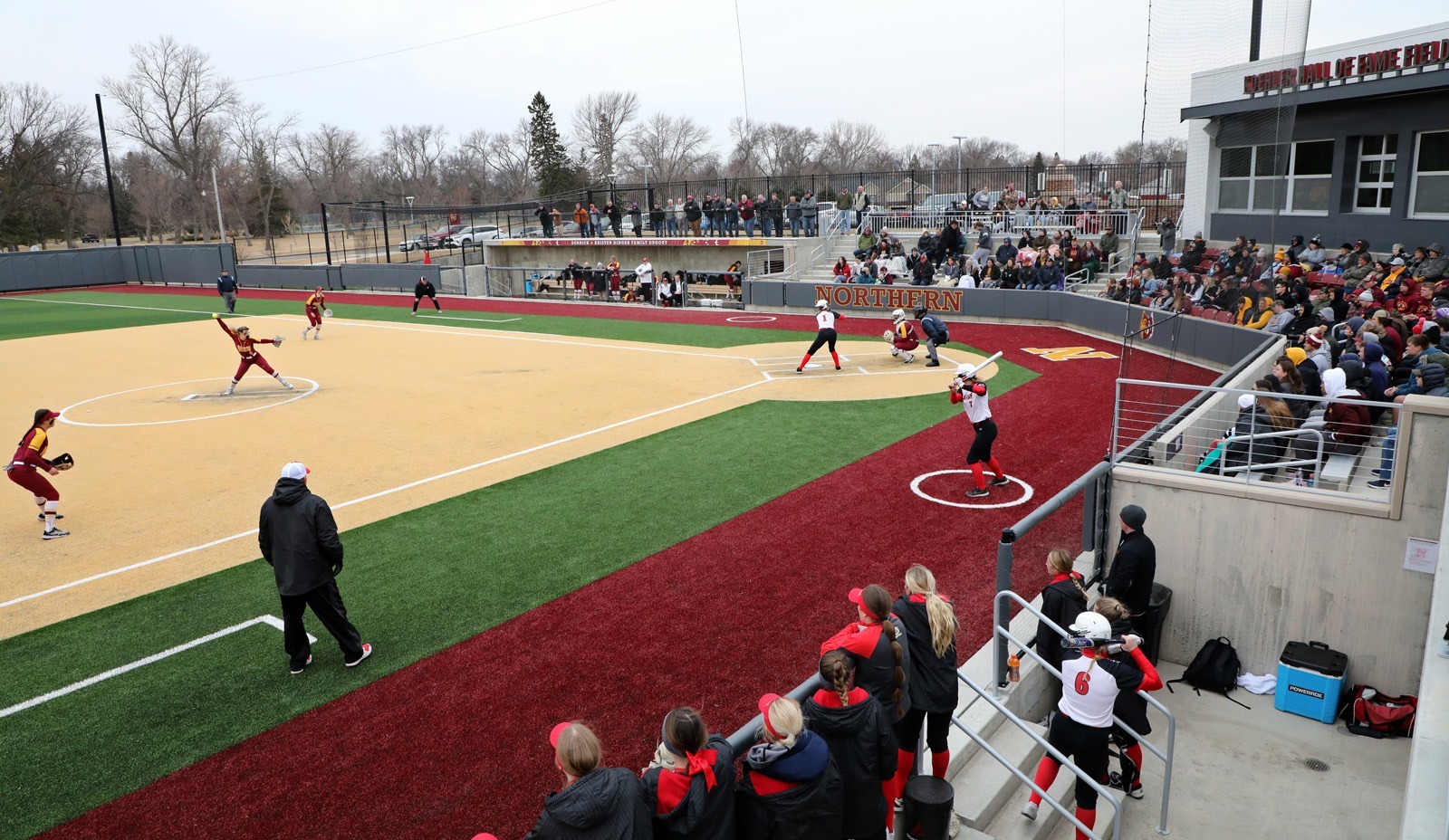 July 1: Chuck Iverson has retired as athletic director at Mount Marty after 41 years at the school. He came to the school in Yankton in 1991 as the AD and the women's basketball coach (252-241 in 17 seasons through 2008. Iverson is a Vermillion native who was one of the greatest USD players in history with 1,536 points and 1,241 rebounds. He also was considered one of the greatest rebounders in the history of the North Central Conference. Iverson once had 36 rebounds in a game.
July 1: Amanda (Young) Schelske of Mitchell shot a 66 to set a women's course record at Lakeview Golf Course. Maggie Murphy of Sioux Falls held the previous record of 68 which she shot in 2007. Schelske was a standout golfer for Dakota Wesleyan.
July 1: A ground-breaking ceremony was held for a new multi-million dollar baseball complex in Milbank that has been in the planning stages for the last few years. Milbank was the birthplace of American Legion baseball in 1925. The 27-acre site will be a multi-sport area built in five phase with a total cost around $8 million. The first phase kicked off this week will be the main baseball field which is expected to be completed in time for use next season.
July 1: South Dakota athletes did well at the prestigious six-day 100 th Greeley (CO) Stampede that featured a total purse of nearly $500,000. Winners included Chance Schott of McLaughlin in bull riding and Rickie Engesser of Spearfish in break-away. Lisa Lockhart of Oelrichs finished second in barrel racing and Shorty Garrett of Eagle Butte finished third in saddle bronc.
July 1-3: Rapid City area residents Adam Weaver and Rene Ohms were part of a team that set a world record for miles traveled in a single trip in a cave. They spent 60 hours traveling 12.4 miles of the Fort Stanton Cave in New Mexico.
July 3: In only her third competition, Aberdeen Central senior Katie Witte placed third at the USA Weightlifting National Junior Championships in Las Vegas.
July 3: Watertown is beginning construction on a new $4 million football field and track near its public high school. Officials hope it to be completed by the end of the year. A possible second phase, featuring a fieldhouse, of the project of equal cost or more to follow depending on fund-raising efforts.
July 3: Tyler Reddick, 26, of Georgia won his first NASCAR Cup series race in the Kwik Trip 250 in Wisconsin. On July 16, 2009, the then 13-year-old Reddick raced in a World of Outlaws Late Model Race at Dakota State Speedway in Huron, finishing last (24 th ) and earning $700.
July 3: A 15-year-old South Dakota girl won the Daisy BB Gun National Championship in Arkansas. Zoe Dissing of Hartford and the Humboldt Sharpshooters Club set a national record by scoring 494 points out of 500 shooting from four positions (standing, kneeling, sitting and prone) and scoring 100 percent on her safety test. She defeated more than 350 boys and girls from 39 states.
July 8: Pro skateboarder and rallycross racer Bucky Lasek of Baltimore surprised fans by visiting Innoskate Sioux Falls. Lasek, a 10-time X Games gold medalist, made the stop at the festival that celebrates skateboarding thanks to Schulte Subaru of Sioux Falls.
July 9: He may have been the youngest Late Model driver on the track, but he executed a veteran move that allowed him to grab the biggest win of his racing career. Bryce Sward of Nelson, MN, performed a slide on a restart to grab a lead on the way to winning the $10,000 Dacotah Bank Insurance Rumble title at Brown County Speedway in Aberdeen. The 18-year-old knew he was running out of time before a restart with 19 laps remaining in the 50-lap event opened the door. One the green flag dropped, Sward slid under race leader Ryan Mikkelson of Alexandria, MN, for a lead he never lost.
July 10: Team Wilson defeated Team Stewart 134-112 in the 13 th annual WNBA All-Star Game. The winners were coached by Rapid City native and Las Vegas coach Becky Hammon.
July 11: Jabari Henry of the Sioux Falls Canaries was named the MVP after he led his West Division team to a 7-6 win in the American Association All-Star Game in Chicago. Henry hit a game-winning three-run homer with two outs in the ninth inning.
July 12: SDSU has scheduled to play Oklahoma State for the first time in football for the 2024 season opener in Stillwater, OK.
July 14: Named as one of the 10 greatest players in Sioux Falls Storm history was Aberdeen native Cory Johnsen. The Central graduate is the team's sack leader (64.5) who helped the Storm win eight championships and is now an assistant coach with the team that started its indoor football league franchise in 1999. Argus Leader veteran Matt Zimmer, who has covered the Storm for almost two decades, picked the team.
July 14: After 14 seasons with USD, Dan Fitzsimmons is the new head coach of the track and field and cross country programs at Mount Marty. Fitzsimmons was the head coach of the USD cross country teams and a top assistant for the Coyote track teams. He was a part of 18 conference titles at USD. He replaces retiring Randy Fischer (Salem native who was an All-American at SDSU), who came to Mount Marty in 2007.
July 15: Hanson High School in Alexandria is preparing to play its 2022 season at its new $4.1 million turf football field and stadium that includes an eight-lane track as well as other top-notch features.
July 16: For only the second time in franchise history (23 years), the Sioux Falls Storm did not make the indoor football playoffs.
July 20: SDSU had the best team cumulative grade point average (3.837) in the nation last year among NCAA Division I women's basketball teams. Paiton Burckhard of Aberdeen Central helped the Jacks win the WNIT national title last spring and she will be a senior this season.
July 20: SDSU and WNAX have agreed to a five-year deal that will keep the Yankton-based radio station covering Jackrabbit football and basketball through the 2026-27 season. WNAX, which turned 100 years old this year, has been covering SDSU athletics for more than 50 years. The two partnered up in 1965 until 1988, when WNAX started covered USD athletics in nearby Vermillion. In 1991, however, WNAX returned to covering SDSU athletics and has been with the Jackrabbits ever since.
July 21: Ethan native Karly Gustafson of Dordt is the Great Plains Athletic Conference's nominee for the national NAIA Emil Liston Award for athletic and scholastic achievement. Gustafson is a three-time all-conference player with a 3.7 grade-point average who was the 2022 NAIA national tournament Hustle Award winner in the Defenders' national runner-up effort in 2022.
July 23: Thayne Elshere of Hereford finished second in saddle bronc at the High School National Rodeo Finals in Gillette, WY. Isabel Risse of Martin finished third in the nation in goat tying as the two helped Team South Dakota finish sixth in the nation.
July 23: Bergen Reilly of Sioux Falls O'Gorman led the under 19 Team USA volleyball team to the gold medal at the Pan American Games in Oklahoma. Reilly was named tourney MVP and also won the best setter award. The Nebraska recruit will be a senior this fall for the Knights.
July 24: USD 2020 graduate Chris Nilsen earned a silver medal in the pole vault at the World Athletics Track and Field Championships in Eugene, OR. He cleared 19 feet, 5.75 inches to finish second to Mondo Duplantis of Sweden, who broke his own world record by clearing 20-4.25.
July 24: Mitchell native Emma Christopherson and her horse, Diesel, finished 40th in the Tevis Cup, one of the biggest endurance equestrian events in the world. They were one of 59 teams (131 started) who completed the 100-mile course in the Sierra Nevada Mountains in under 24 hours. Christopherson, a 19-year-old DWU student, and Diesel finished in 23 hours and 13 minutes.
July 25: Onida native Chloe Lamb was selected as The Summit League's nominee for the 2022 NCAA Woman of the Year. Lamb led her USD basketball team to the Sweet 16 last season and the Sully Buttes graduate will be an assistant coach for the University of Mary team this fall.
July 26: Parkston native Riley Reiff signed a one-year deal worth up to $12.5 million with the Chicago Bears. The 33-year-old left tackle has started 139 NFL games in his 10 seasons. A 2012 first-round pick by Detroit, Reiff spent his first five seasons with the Lions, four in Minnesota and last season with Cincinnati. He had only one penalty in 2021, can play multiple positions and has missed only 14 games over the last nine seasons.
July 27: The USD volleyball team announced it will hold its home opener at 7 p.m. Aug. 26 at the Sanford Coyote Sports Complex against Louisville, which advanced to the Final Four last season. The Cardinals lost 3-2 to eventual national champion Wisconsin, their only loss in a 32-1 season. Louisville has two Sioux Falls Washington graduates on its roster: Phekran Kong and Sydni Schetnan.
July 27: Pierre senior quarterback Lincoln Kienholz announced he will play football for the University of Washington in the fall of 2023. Kienholz was a Division I recruit in football, basketball and baseball, and one of the most highly sought after football players in high school state history. Milbank native Kalen DeBoer will begin his first season as the Washington football coach this fall.
July 28: South Dakota's first high school girls' fast-pitch softball state tourney will be held in Aberdeen June 1-3, 2023. There are 55 schools signed up to play in the state's first sanctioned season in three classes (AA, A and B). The main field used for the tourney will be the new NSU softball stadium.