WARNER – The finishing touches are being applied to a new artificial turf football field in Warner.
The field comes on the heels of a new eight-lane track and jumping pits next to the school.
"A year ago, this wasn't even in the cards," said Keith Knuppe, Senior Vice President at BankNorth and assistant football coach for the Monarchs who helped to organize a fundraising campaign for the field. "This wasn't even a thought."
When the school board decided to approve the new track and pits, it ended up limiting the practice area for the football team. The Monarchs, who didn't want to practice on its competition field because of the wear and tear throughout the season, tried practicing at the nearby baseball diamond, but the space was inadequate. They also tried south of the gymnasium, but that space didn't work out either.

Cost to recrown the existing field would have cost hundreds of thousands of dollars and still wouldn't have addressed the practice situation, so Knuppe began brainstorming, but knew he had to act quickly.
"The school board was a month away from accepting bids on doing the recrowning," he said.
Knuppe went to the board and floated an idea: "Hey, what if I made a push to see what kind of energy we'd have to turf this thing?"
Being an ag banker, Knuppe didn't want to burden local taxpayers. Instead, he started asking to see if people would be interested in donating to the cause.
"I've been here about 20 years and this is about as generous a community as I've ever seen towards the school," Knuppe said. "If there is something that is in need here, the community rallies around it."
What Knuppe found out in his conversations was that locals wanted to be involved.
"I went around to a lot of people. I was like, is this dumb?," Knuppe said. "I had nobody tell me this was a dumb idea. It just sort of built that momentum as I started talking to people."
The amount needed to be raised was near $1 million and soon donations started to make a significant dent in that total.
"I knew about the first week into it, this was going to happen," Knuppe said, "because the community got behind it."
BankNorth owned by the Williams family of Casselton, N.D., and Dial-A-Move owned by the Wood family of Warner became anchor sponsors and the field will be named after them.
Knuppe also pointed out that allowing local residents to have a choice to donate instead of forcing them to do it through raising taxes also helped bring the turf field to fruition.
As a result, the Monarchs will have a chance to practice and play on a field that will be unmatched by nine-man football teams in the region. In fact, Warner will be the smallest school in the state to have an artificial turf football field.
"The ability to practice is the number one thing. Obviously, it is beautiful. It's going to be pristine," Knuppe said. "From practice one to the last playoff game here, it is going to look the same. It is going to look absolutely beautiful."
Knuppe envisions the field to be used for more than just football. He said it will provide a space for the marching band to practice, the baseball team to use if its field is muddy, and perhaps even a spot to host events like graduation.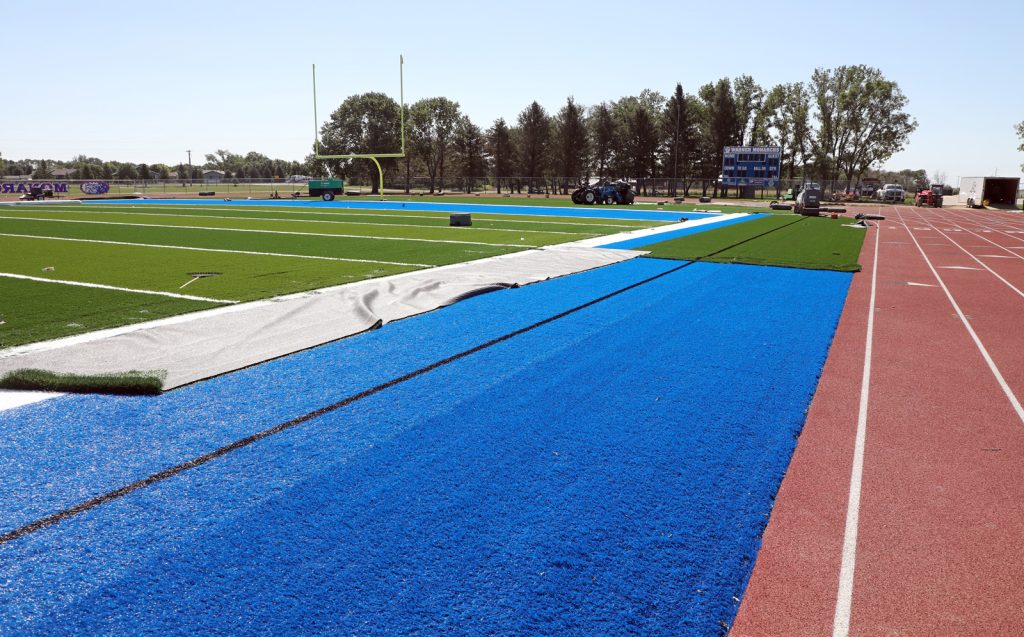 The athletic complex has new bleachers and a press box, and the scoreboard will also be replaced with a new one in the near future.
All told, Warner students will have an ideal environment in which to learn and compete.
"You look around the Warner school, talk about an unbelievable facility for education, music, vo-tech, football," Knuppe said. "I don't know what else we could ask for."
While Knuppe was the one who spearheaded the project, he is not about to take credit for the new field.
"I would really stress that this is a community project," he said.
The field is just another example of what Warner area residents are capable of accomplishing.
"I'm just super appreciative of what this community has brought together," Knuppe said. "It's amazing."