A trio of out-of-state drivers found the fastest paths in order to claim feature victories during the opening night of the Dacotah Bank Insurance Rumble at Brown County Speedway.
A driver from Canada and two from North Dakota topped their respective fields on the way to the checkered flag.
Shane Edginton of East St. Paul, Winnipeg, Manitoba, won the 40-lap Structural Builders WISSOTA Late Model Challenger race. Edginton navigated the oval like a regular despite the fact he hadn't raced in Aberdeen in a dozen years.
"Scott Ward helps me out," Edginton said of the Watertown driver. "He races around here quite a bit, so he kind of gave me an idea of what to do."
Edginton trailed briefly before he found a groove to his liking, using different a path on opposite ends of the track.
"I saw the bottom on three and four was really a good lane down there," Edginton said, "so I was running the top of one and two and the bottom of three and four, and it worked out pretty good."
Once Edginton had the lead, the only real challenge was upcoming lap traffic. He pick and chose his spots and never relinquished the lead on the way to the victory. Ward finished second.
"I was watching Jake (Redetzke of Menomonie, Wis.), and Jake runs pretty good usually wherever he goes and he was making it through them, so I figured if I could just maintain with him I should be good," Edginton said of the slower cars. "It was a cluster back there because they were three wide. I wanted to go, but I didn't want to wreck anybody or hit anybody or cut a tire down, so I was kind of just trying to be as patient as I could and let it come to me, and it all worked out."
Edginton earned $3,000 for his victory.
"That's definitely a good win," he said. "That will pay for some fuel and tires. I can't complain with that."
There will be another Challenge Series race this evening that pays out $3,000 in addition to the $10,000 to win Rumble feature.
Son beat father for the second straight week in the Street Stock division as Jaden Christ held off Billie Christ. The Jamestown drivers waged a competitive battle, but the younger Christ never gave up the lead.
"He was giving me a run for my money, that's for sure," Jaden said.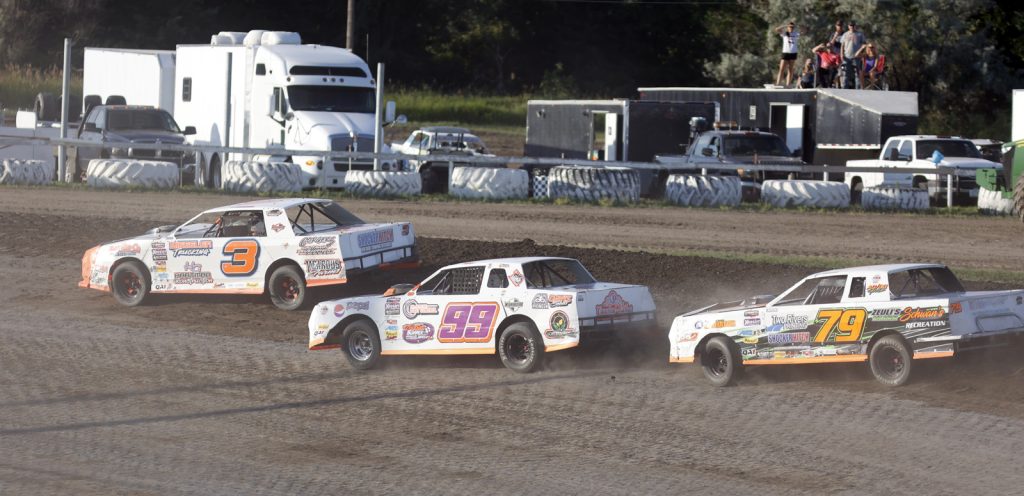 The 20-year-old third-generation driver said it's fun to compete against his dad.
"You just know that he's going to give his all towards you, but he's not going to wreck you which his really nice," Jaden said. "We both have to work on the car together at some point and we know we're not very good when we wreck each other."
Jaden said he has finished behind his dad on numerous occasions, despite winning the last couple of battles.
"He's beaten me plenty of times," Jaden said. "He'll probably beat me a few more times, but hopefully I can beat him a few more times, too."
Nobody was going to beat Brennon Weight in the Midwest Modified feature. The LaMoure, N.D. driver led from start to finish on the way to his feature triumph.
"Hats off to the track," Weight said. "They farmed it right before the features there and got it back to being smooth. It was a pretty fast race track. That comes to our liking."
Weight jumped out to an early lead and soon began pulling away.
"In three or four laps, we were already in lap traffic," he said, "so things were clicking right along there."
Of course, lap traffic can cause a whole different issue. Weight was able to find a way through the slower cars to maintain his lead on the way to the victory.
"You just never know where the second-place car is coming from. You just have to get through those cars as fast as you can and pray for no wrecks," Weight said. "You can only see so far ahead of you and when they're all bundled up like that and they're all fighting for positions, you just have to squeeze through there and hopefully you can make it through with no wrecks."
Racing action continues at 6 tonight and will also include the Buffalo Wild Wings NOSA Sprint Cars.
To see Friday's complete results, click on the following link: