This was a long time coming for Mark Abeln.
The Groton Super Stock driver won his first feature race in a dozen years at Brown County Speedway Friday night.
"It's been about 12-13 years since I've been in a car. We just started back this year," Abeln said. "This is the fifth show in it."
Abeln returned to racing thanks to a spur of the moment decision this past off-season. What he found was that it took some adjusting once he got back into a race car.

"It was very tough," Abeln said. "The first two nights, it felt like I basically never drove one before."
While Abeln had fun opening night, he also knew he had some work to do.
"The first night I think we got second to last," he said. "I was like, 'Hey, the car is straight, we had fun, but we've got to figure out what to do.' "
Abeln put a new motor in his vehicle and then started getting reacquainted with the cars and also with the competition.
"The tracks have changed, but as far as these cars, we've got spoilers now. When I quit there were no spoilers. Just little things," Abeln said. "The younger crowd has moved up and are good racers. Trevor Nelson is amazing. He's one of the best Super Stock drivers around and I was pretty tickled tonight to stay ahead of him."
Abeln won the make-up Super Stock feature from a couple of weeks ago. Nelson, of Warner, grabbed the regularly-scheduled feature later in the evening.
While it was a dozen years since Abeln's last feature win, it was only two weeks between feature victories for Josh Skorczewski of Aberdeen.
The Late Model driver, who won two weeks ago in Miller, won the make-up feature before finishing second to Tyler McDonald of Huron in the scheduled feature race.
The make-up feature was run before the sun set and track conditions were a bit different than later in the evening.
"The track actually was slicked off, a little choppy with a little bit of a cushion, so it was really, really technical, which is always fun," Skorczewski said. "It kind of helped me out tonight."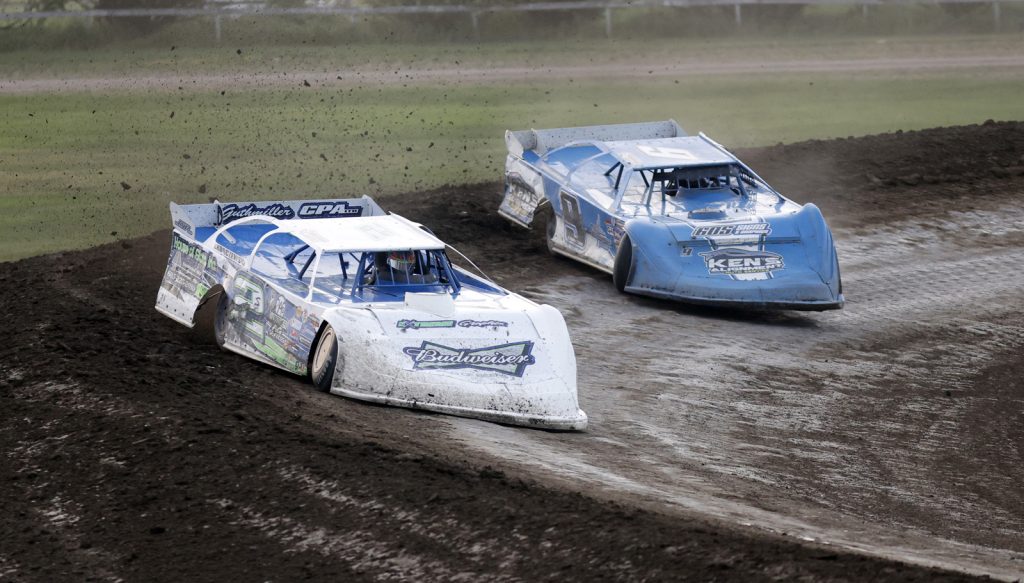 Skorczewski said the track conditions made him think more about strategy.
"It makes you make smarter moves, smarter decisions," he said. "You can't just blast it in there all the time and hope it sticks on those type of deals. You kind of have to know what you're doing and keep the car underneath you for sure."
The feature victory was the sixth of the summer for Skorczewski, one short of the most he has ever had in one season.
"I'm having the best year of my career so far," he said.
Clear Lake's Tony Konold held off Kent Arment of Aberdeen to win the Modified feature in a tightly contested race.
Konold was hooking up on the high side of the oval while Arment was running on the bottom. However, whenever a caution caused a restart, Arment was able to inch in front until Konold built enough momentum up high after a lap or two.
"The restarts were tough because I couldn't get it wound up quite enough to hit the top in one as hard as I needed to," Konold said. "I knew I needed to go up there to protect my line. I knew the bottom wasn't as good for as long as the top was, so I had to stay up there and not get flustered when he got past me."
While Arment led briefly on restarts, Konold never left his top line and each time was able to surge past Arment on the way to winning his first feature race of the season.
"Kent drove me nice and clean," Konold said. "He could have slid up there once I think and he left me a lane up there, and it was a battle."
Other feature winners on the evening included Billie Christ of Jamestown, N.D. in Street Stock, and Rusty Kollman of Carrington, N.D. in Midwest Modified.
Racing continues at 7 p.m. Friday.
To see complete results, click on the following link: