The Aberdeen Smittys had chances Thursday evening at Fossum Field, but came up empty.
Sioux Falls East grabbed a 3-1 win in eight innings before dominating game two 12-1 in American Legion baseball action.
The Smittys did not help themselves, committing five errors between the two contests.
"Those mistakes, you can't afford to make against a team like this," said Smittys coach Brandon Kusler. "Sioux Falls East is a good team. We have to come ready to play."
Aberdeen went toe-to-toe with East in the opener. After the visitors scored a run in the top of the fifth inning, the Smittys matched it in the bottom of the frame on a single and a pair of walks, before scoring on a double play.
Aberdeen had chances to win the game in the last of the seventh, but stranded two runners on base.
East then took control in the eighth when Mason Tolrud drove in a run with a triple and scored on a groundout.
Drew Salfrank did not walk a single batter in 7 and 1/3 innings on the mound for the Smittys.
"I thought in the first game we did a lot of things well," Kusler said. "Drew Salfrank pitched his butt off for us. He gave us a chance to win. At the end of the day, we just didn't come through offensively when we needed it."
The Smittys committed back-to-back errors to start the second contest that fueled a six-run first-inning for East. The frame featured three Sioux Falls hits, three Aberdeen errors, a hit batter and a walk.
"Those three errors in the first inning really killed us. We dug too deep of a hole early. You can't do that against a team like this," Kusler said. "But even after that happens, we have to find a way to turn the page and find a way to start chipping away, and we just didn't do that."
Again, the Smittys were unable to find a timely hit when they needed it. They left the bases loaded twice and stranded 10 runners total over five innings.
Aberdeen got on the board in its final at-bat when Ethan Kjenstad drove in a run with a single. Kjenstad also had a pair of hits in the opener.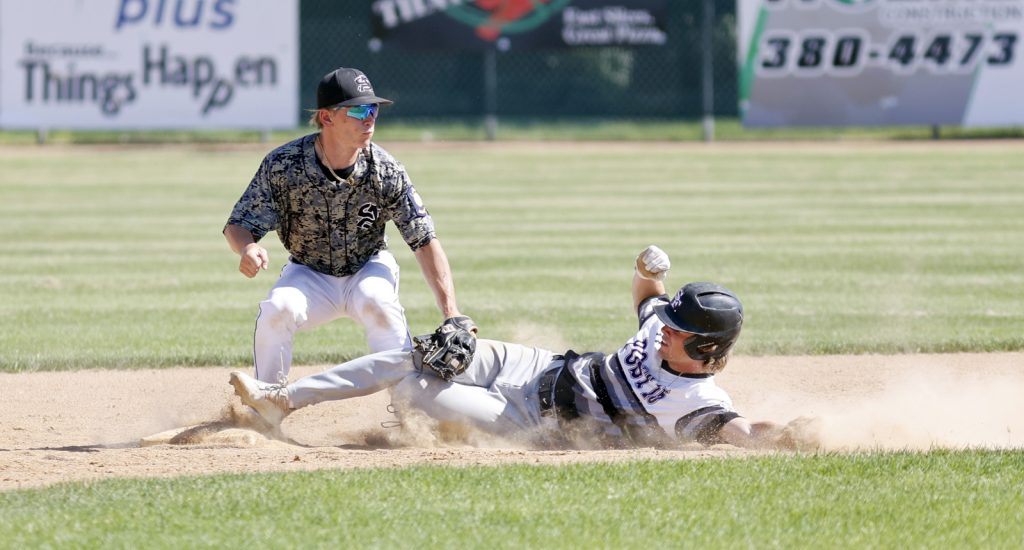 The Smittys, 16-14, are right back at it again today, hosting Renner in a twinbill starting at 4 p.m. at Fossum Field.
"I'm excited for (Friday), another opportunity," Kusler said. "We don't have any days off to sulk these losses, so I'm really happy that we're playing again (Friday). We have a really good opportunity against a good team."
Kusler said Renner will be much like Sioux Falls East.
The Smittys showed they can play with quality clubs like that, they just need to find a way to get over the hump.
"I think that first game is a good example. We're right there. We've told the guys that, countless times this year," Kusler said. "We're right there, but we're kind of sick of being just right there. We have to take a few steps up and find a way to go beat these good teams, because at the end of the year we're going to have to do it."
Sioux Falls East 000 010 02 – 3 9 1
Aberdeen Smittys 000 010 00 – 1 6 1
Andrew Glovich, Ethan Bruns (8) and Fitzsimmons; Drew Salfrank, Casey Vining (8) and Brian Holmstrom. 2B – Sioux Falls East, Lincoln Vasgaard; Aberdeen Smittys, Josh Steinwandt. 3B – Sioux Falls East, Mason Tolrud, Sawyer Tolk.
Sioux Falls East 603 12 – 12 10 1
Aberdeen Smittys 000 01 – 1 4 4
John Dekkenga and Fitzsimmons; Brian Holmstrom, Carter Dingman (3), Andrew Richardson (5) and Andrew Woehl. 2B – Sioux Falls East, Andrew Glovich, Lincoln Vasgaard.