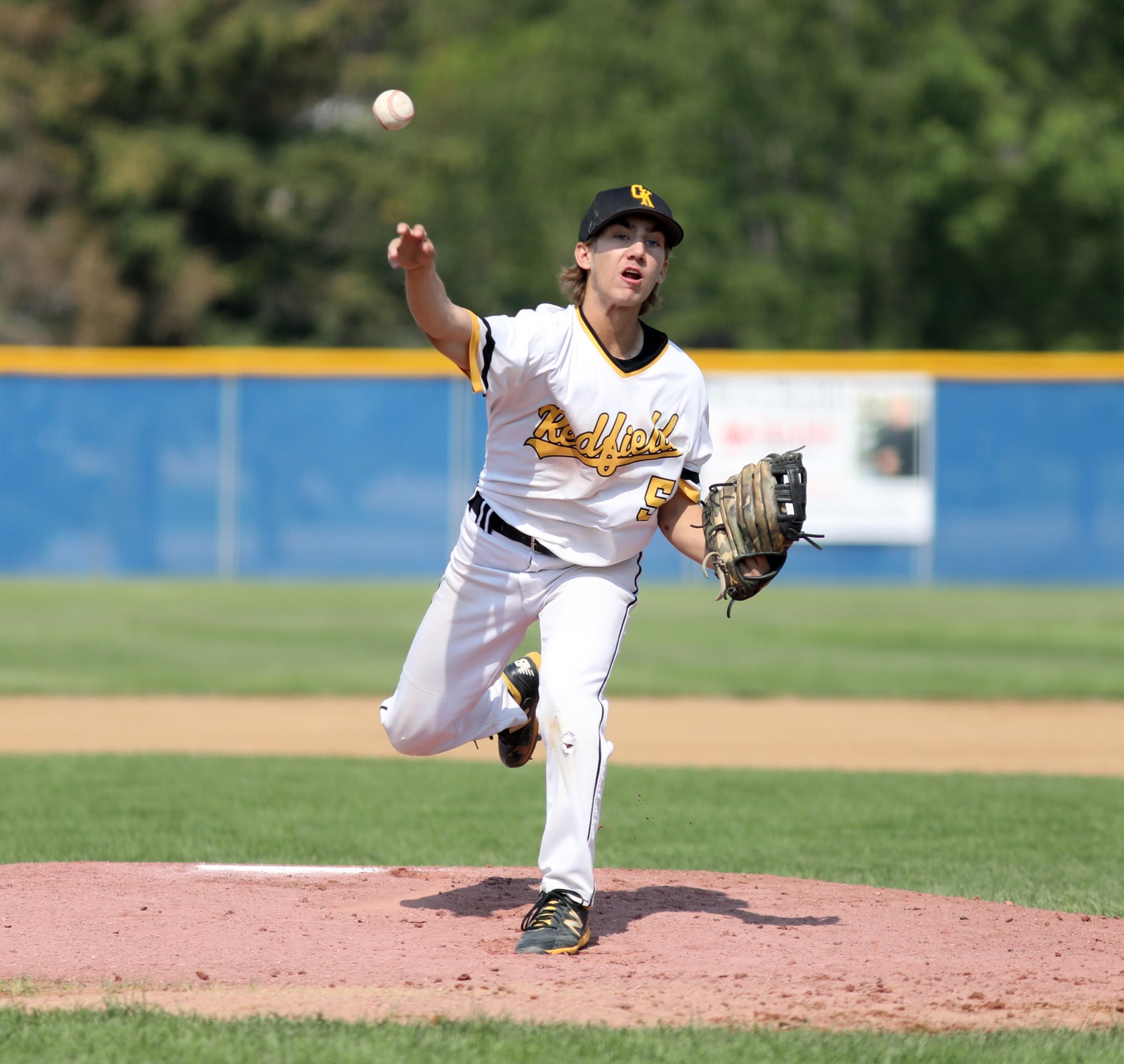 REDFIELD – Redfield took advantage of 24 baserunners over six innings on the way to a 12-2 victory over the Aberdeen Smittys in American Legion baseball action Monday night.
The hosts pounded out a dozen hits, collected 10 walks and had two hit batters to fuel the victory.
Meanwhile, Owen Osborn scattered seven hits and did not allow an earned run to power Redfield on the mound.
"We couldn't get anything going tonight offensively," said Smittys coach Brandon Kusler. "You have to give credit to the Osborn kid for commanding the strike zone and creating a lot of weak contact for our hitters. We need to get back to being more aggressive offensively, looking to do damage, and taking advantage of pitchers' mistakes."
Redfield, which improved to 7-1 on the season, scored twice in the bottom of the first inning, then took control with four runs in third. Osborn helped his cause with a run-scoring double, before Erik Salmen drove in a pair with another double, and Seth Siebrecht also had an RBI hit.
The Smittys closed the gap to 6-2 in the fourth, one run scoring on Ethan Kjenstad's sacrifice fly, before Redfield answered with one in the bottom half of the frame and then put the finishing touches on the win with five runs in the sixth.
Keaton Rohlfs had a run-scoring single, Easton Millar drove in a pair with a hit, and the hosts scored the final runs of the game on a bases-loaded hit-by-pitch and bases-loaded walk.
"On the mound, we're just falling behind in too many counts, and a good hitting team like Redfield is going to make it hurt," Kusler said. "We can't afford to walk 10 guys, either. That's really the difference in the game in my opinion – we gave up 10 free passes and they only surrendered one."
Camden Osborn, Owen Osborn, Salmen and Siebrecht each finished with two hits to lead Redfield.
Casey Vining and Josh Steinwandt each had two hits for Aberdeen.
The Smittys, 13-11, will now prepare for a tournament Friday through Sunday in Sioux Falls. The squad will play Sioux Falls Post 15 and Lennox on Friday, Crookston, Minn., on Saturday, and a team from Lincoln, Neb. on Sunday.
"We just have to get back to work this week," Kusler said, "and make some adjustments before the tournament on Friday."
Aberdeen Smittys 000 200 0 – 2 7 2
Redfield 204 105 x – 12 12 1
Josh Steinwandt, Drew Salfrank (4), Brian Holmstrom (6) and Andrew Woehl; Owen Osborn and Elijah Morrissette. 2B – Aberdeen Smittys, Casey Vining; Redfield, Erik Salmen 2, Owen Osborn.